MrBeast's collaboration with Fortnite has made headlines worldwide. To celebrate the occasion, two different cosmetic bundles have been made available for players to purchase in-game. One can also buy certain cosmetics individually.
Players who purchased the "Wrapped and Revved Glider," also referred to as the "MrBeast Wrapped Tesla," will get a refund of 400 V-Bucks. If that sounds too good to be true or like some sort of trick, rest assured it's not.
---
How to get 400 V-Bucks refund for free in Fortnite
Due to an internal error, the Wrapped and Revved Glider was wrongly priced at 1,200 V-Bucks. Since this collaboration was iconic in nature, players assumed that the high price was normal.
However, it turns out that someone at Epic Games had listed the price incorrectly. Soon after the fault was discovered, the developers took to Twitter to mention the same in a post via their Fortnite Status account. Their tweet reads:
"We're aware of an issue where the Wrapped and Revved Glider was priced higher than intended. This has been fixed. We will be granting 400 V-bucks to players who previously purchased the Glider separately from the MrBeast6000 Bundle at a later date."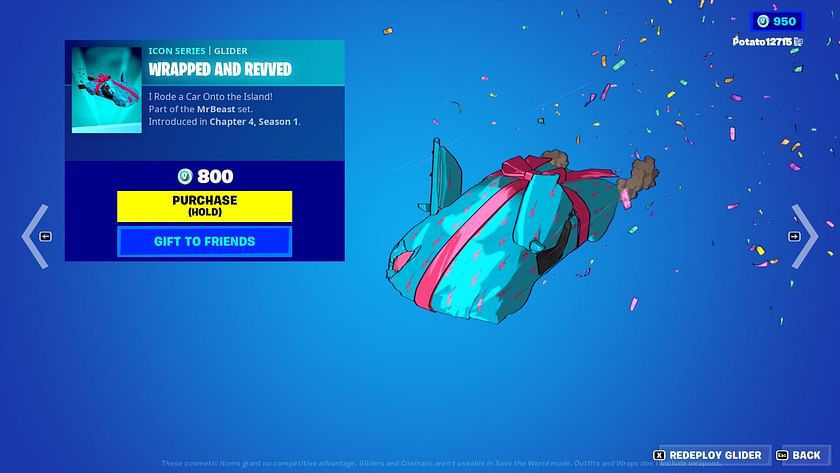 While a fix was implemented and the price dropped to 800 V-Bucks, numerous players had already purchased the Wrapped and Revved Glider from the Item Shop for 1,200 V-Bucks.
Since the cosmetic was priced incorrectly, individuals who purchased it at the initial price will be eligible for a refund of 400 V-Bucks.
However, Epic Games has not mentioned the specific date on which this refund will occur. It's likely that it will be refunded after the collaboration ends.
---
Will you get 400 V-Bucks refunded after buying the MrBeast6000 Bundle in Fortnite?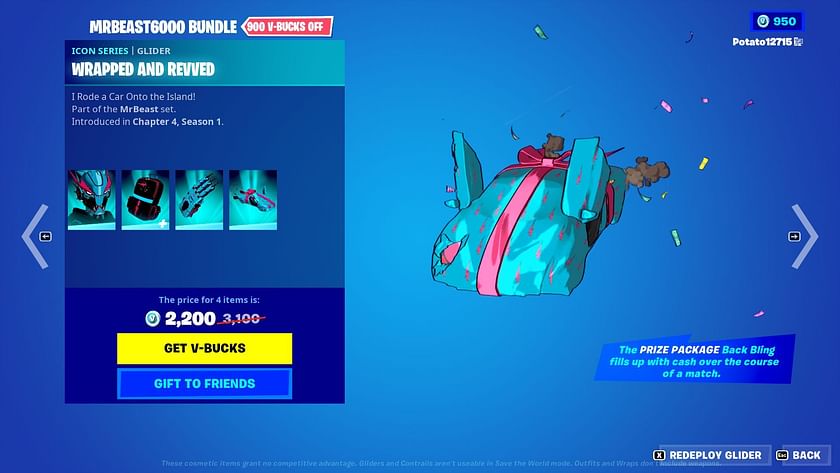 No, since the bundle contains the Wrapped and Revved Glider at a discounted price, no refund will be offered to players who have purchased the bundle. The refund only applies to those who were initially overcharged.
Furthermore, with the price now corrected, buying the cosmetic item separately will not make players eligible for a refund of 400 V-Bucks. They will either be able to claim it and add it to their Locker or use a Refund Ticket to get back the V-Bucks spent.
---
How long will MrBeast cosmetics stay in Fortnite?
With the MrBeast Competition ft. $1M Prize going live on December 17, 2022, it's safe to assume that the cosmetic items will be listed in the Item Shop for quite some time. However, with the My Hero Academia collaboration going live today (December 16, 2022), some of the initial momentum and hype created will get diluted.
Nevertheless, they will have different sections, so finding them in the Item Shop will not be difficult. Furthermore, with more collaboration skins set to return soon, it's very likely that all of them will feature in-game until the new year.
Edited by Matthew Wilkins