Fortnite Chapter 4 Season 1 has introduced a few key things to the game. For starters, there are many new changes to the map, gameplay, and battle pass. One of the biggest gameplay modifications is the introduction of augments.
Augments are a new Chapter 4 mechanic that functions essentially as perks. Perks can be accessed that will slightly alter the gameplay on an individual basis. These are random and different for each individual, so an enemy might have a different perk activated.
There are 22 perks available, here's how to unlock and use them.
---
How to unlock all of the brand new augments in Fortnite Chapter 4
Upon playing the first match, Fortnite gamers will see that they have some augments unlocked. These will be the ones they can choose from each time the game allows them. This happens about every two and a half minutes.
Each time a new perk can be chosen, more are unlocked. The key to unlocking all the 22 augments isn't a challenge or anything like that, it's just playtime.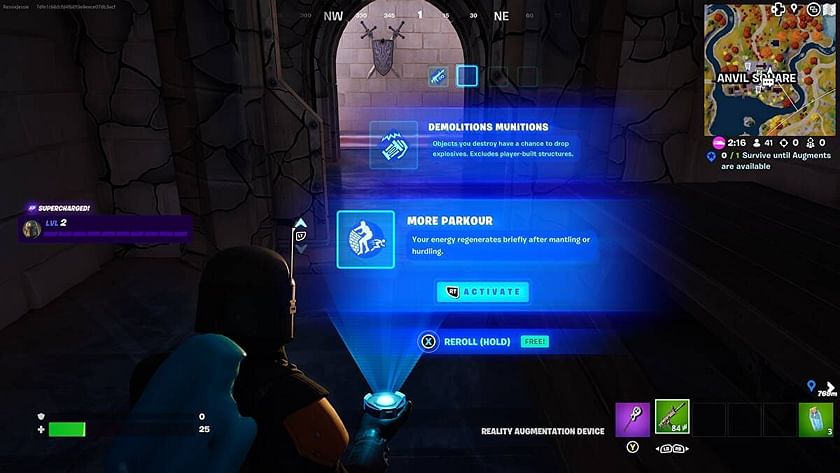 After each new perk, there should be another available. Now, access to these is random. Each time the game allows players to choose an augment, it's random. It might not bring a new one each time, but all of them will be unlocked over time.
---
Full list of augments currently available in Fortnite Chapter 4
Here is every augment currently available in Fortnite Chapter 4 and what they do:
Aerialist: Redeploy glider is active.
Bloodhound: Enemies hit with bows and snipers are briefly marked.
Bow Specialist: Attack and reload speed for bows increases.
Bush Warrior: Large foliage grants full health and partial shield over time.
Chug Gunner: Grants the Chug Gunner weapon.
Demolition Munitions: Destroying non-player built builds can drop explosives.
First Assault: The first bullet from an AR does more damage.
Forecast: Always see the next storm circle on the map.
Jelly Angler: Grants a fishing rod that only catches jellyfish.
Light Fingers: Reload every weapon faster.
Mechanical Archer: Grants a Mechanical Explosive Bow and Mechanical Shockwave Bow.
More Parkour: Jumping replenishes stamina.
Party Time: Gain balloons over time.
Pistol Amp: Pistol magazine size increases.
Rifle Recycle: Medium bullet weapons sometimes won't use any ammo when firing.
Rushing Reload: Shotgun will reload slowly when sprinting.
Soaring Sprints: Lower gravity effect applied while sprinting.
Splash Medic: Chug Splashes can come out of everything you open.
Storm Mark: Can briefly see the area with the most enemies when the storm is clear.
Supercharged: Vehicles do not run out of fuel and their health increases over time.
Tactical Armory: Grants a Tactical AR and a Combat Shotgun.
Tricked Out: Chonkers and Cow Catcher are applied to the cars and trucks automatically.
Players can check on the map to see which ones they have unlocked. If they're unlocked, then they can theoretically get them during the game. Re-rolling the options is free once but costs 100 gold bars after that.
Edited by Sijo Samuel Paul