Dr. Slone, one of Fortnite's most hated characters, is getting a brand new dazzling all-black outfit. This new outfit was recently revealed following the leak of a new batch of survey skins. It's unclear whether this concept will be included in the game, but its existence is reason to be optimistic.
Given that her previous outfits have been traditional styles associated with the IO faction, this one stands out, but in a good way. This skin's concept artist imagined her in an alien-futuristic outfit. The all-black outfit has a silver engraving with yellow hints on it.
While it may initially resemble Chrome, that's not likely the case. By the looks of it, the outfit looks out of this reality altogether. That being said, it wasn't the only one in the survey. In addition to the all-black, another white and golden outfit was discovered.
Like its counterpart, it also looks out of this reality. It doesn't fit in with the theme and looks extremely different from the current cosmetic trends in-game. Based on rumors, there may be an explanation for the same.
---
Fortnite's most hated character maybe returning as a hero
A few months ago, 4Chan leaks spoke of Doctor Slone returning to the island in Fortnite Chapter 3, Season 4. As most players must have noticed by now, it did not come true. Given how Mecha smashed her Titan Tank with her inside of it, she's probably in hiding, licking her wounds.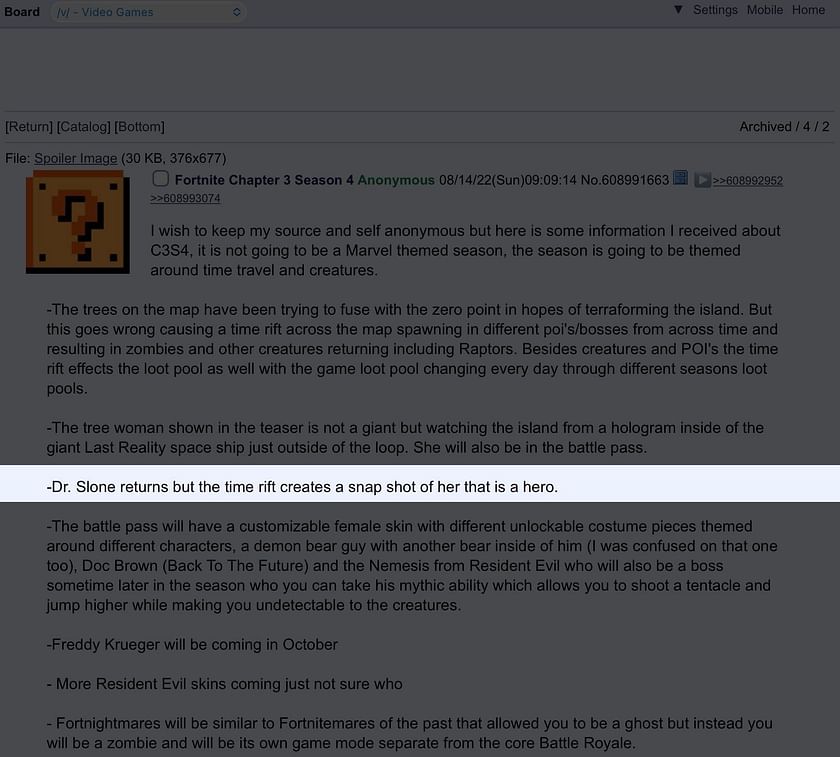 However, the discovery of these two outfits may be the first tangible proof that the character is making a return. Considering that The Paradigm recently used Zero Point to travel to her reality, it can be speculated that it caused a rift somewhere in the current reality. As stated in the leak on 4Chan:
"Doctor Slone returns, but the time rift creates a snapshot of her that is a hero."
If this is true, the gold and white outfit found in the survey might be the first look at an upcoming skin for a heroic version of Doctor Slone. In contrast, the all-black outfit may be another version of her who will feature as a mini-antagonist on the island.
That said, this is all based on speculation and rumors. However, taking into consideration that Doctor Slone is a major character in-game and has been part of the storytelling, her return is inevitable. Though the Imagined Order might be in disarray after losing the war in Fortnite Chapter 3, Season 2, they are far from defeated.
In all likelihood, they have retreated to their underground bases and are preparing to attack again when the time is right. Furthermore, with Geno still undefeated, his organization is not going to crumble that easily. While The Seven may have won multiple battles against them, the war is far from over.
In all probability, after The Herald is dealt with in Fortnite, Epic Games will reintroduce Doctor Slone to the community. Perhaps this time, the supposed heroic version of the character will do more good than harm.