Ajmal, popularly known as AJ's GamingZone, is a well-known Indian Free Fire YouTuber who produces entertaining and engaging content related to the game in Malayalam. He has established a dedicated fanbase and has amassed great numbers on his channel.
The prominent content creator currently boasts an incredible subscriber count of 583k and a view count of over 49 million. His popularity is not limited to YouTube, boasting 156k followers on his Instagram handle.
---
Assessing the exploits of AJ's GamingZone on Free Fire MAX: ID and stats
AJ's GamingZone's Free Fire MAX ID is 158401894, and his IGN is "TITAN-AJMAL." He is currently ranked Bronze I and Silver III in the Battle Royale and Clash Squad game modes of the battle royale title.
The YouTuber's stats are as follows:
BR Career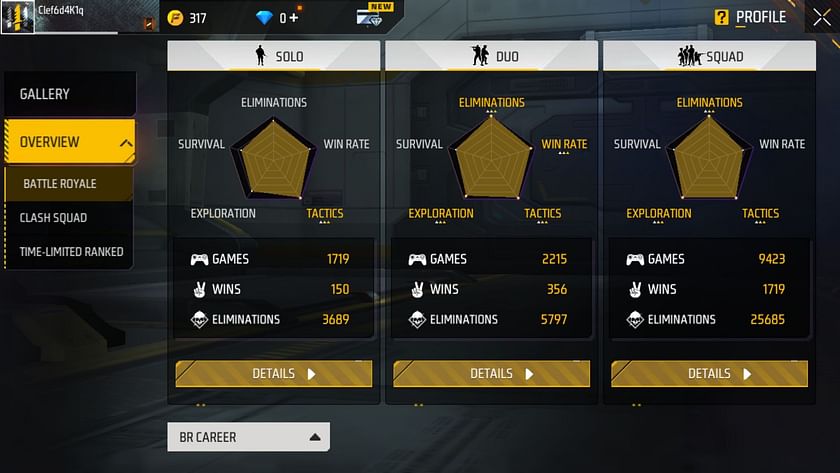 AJ's GamingZone has played 1719 solo games inside Free Fire and has precisely 150 Booyahs, giving way to a win rate of 8.72%. With 3689 kills and 850 headshots, he has a K/D ratio of 2.35 and a headshot percentage of 23.04%.
Meanwhile, in the duo mode, the YouTuber has competed in 2215 matches and has remained unbeaten in 356, retaining a win percentage of 16.07%. He has bagged 5797 frags, alongside 1347 headshots for a K/D ratio of 3.12 and a headshot rate of 23.24%
The content creator has also played 9423 squad games, with his squad securing wins in 1719 of them and holding up a win ratio of 18.24%. At a K/D ratio of 3.33 and a headshot percentage of 35.52%, he has 25685 kills and 9124 headshots.
---
BR Ranked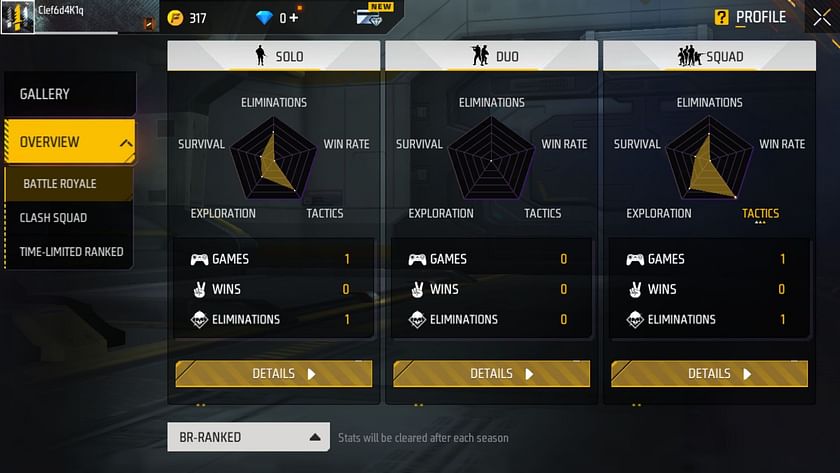 Within the ongoing ranked season of Free Fire MAX, AJ's GamingZone has played one solo match, and that too without a victory. He has one kill with no headshots for a K/D ratio of 1.00.
The player also participated in one squad game but couldn't notch up a win. There is one kill and one headshot to his name at a K/D ratio of 1.00 and a headshot rate of 100.00%.
---
CS Career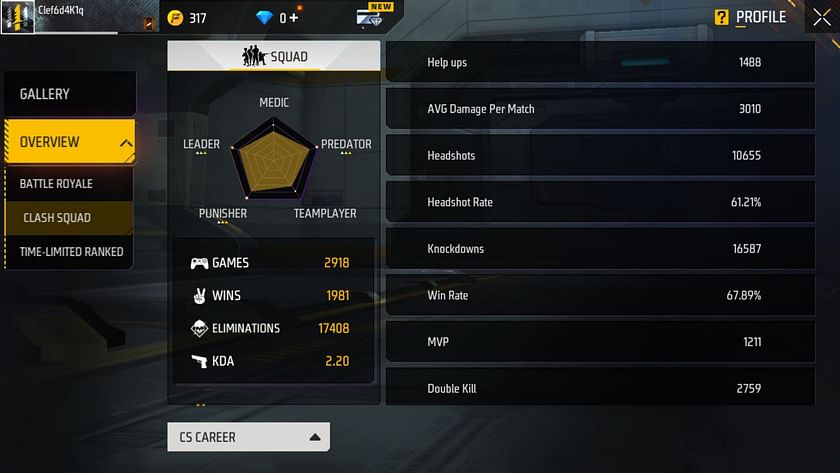 Within Free Fire MAX's Clash Squad mode, AJ's GamingZone has played 2918 games and accrued 1981 wins, maintaining a win rate of 67.89%. He has registered 17408 eliminations and 10655 headshots for a KDA of 2.20 and a headshot rate of 61.21%.
Note: AJ's GamingZone's Free Fire MAX stats were recorded when writing, and they will change as he plays more games.
---
Monthly income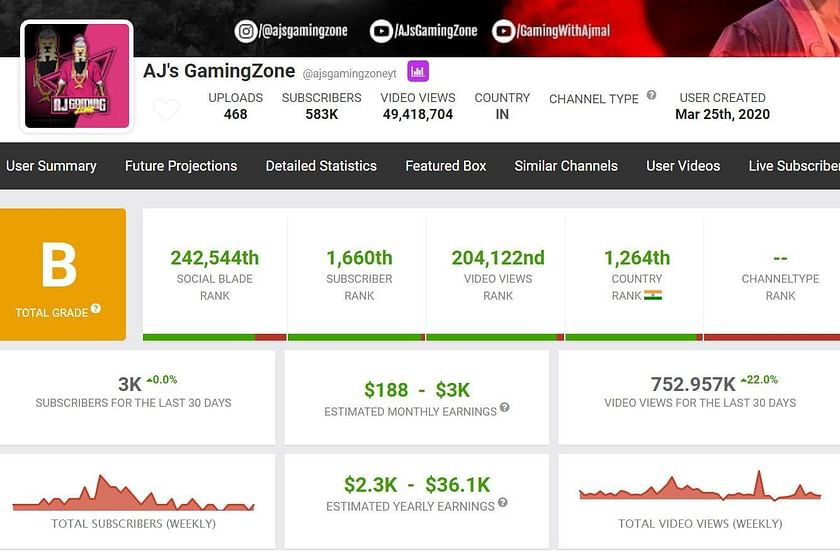 AJ's GamingZone has maintained an impressive monthly income from YouTube, ranging from $188 to $3K. Currently, the content creator's estimated yearly earnings are projected to be between $2.3K and $36.1K.
Note: The relevant stats were picked from Social Blade.
---
YouTube channel
AJ's GamingZone has consistently posted videos surrounding the game over the past few years and has achieved great success. There are currently 468 uploads to his name, the most popular of which boasts 816k views.
As per Social Blade, AJ's GamingZone has gained 3k subscribers in the last 30 days. Meanwhile, his view count has also increased by 752k over the same period.
In addition to his main channel, Ajmal runs another channel named "KING AJMAL." It has 65.3k subscribers and over 1.6 million views.
Check out the latest Free Fire MAX redeem codes here.
Edited by Sijo Samuel Paul