Luck Royale is one of the methods by which players can obtain exclusive items in Free Fire MAX. One of these Luck Royales is the Gold Royale, which allows players to use Gold to try and obtain a costume bundle and other rewards.
Recently, a new version of the Gold Royale was added to the Indian server, featuring the Pop Host bundle as a special reward. In addition to this, other miscellaneous rewards have been improved, and users can now obtain various skins and bundles.
More information on the new Gold Royale can be found below.
---
New Free Fire MAX Gold Royale brings Pop Host bundle and other rewards
The latest Gold Royale commenced on Free Fire MAX's Indian server on April 6, 2023, and will remain active for 56 days. Previously leaked by data miners, the Pop Host bundle has finally arrived, and users can spin to have the opportunity to receive it and other items from the prize pool.
The updated prize pool for the Gold Royale is as follows:
Pop Host Bundle
Pumpkin Warrior Bundle
Cunning Witch Bundle
Kopassus Bundle
Funflair Hare (Bottom)
Funfair Hare (Bottom)
Funflair Hare (Top)
Funfair Hare (Top)
Jeep – Stormbringer
Monster Truck – Sabertooth
Motorbike – K.O Night
Pickup Truck – Flame Draco
Full Stealth Backpack
The Baby Clown
Wasteland Backpack
Earth Elemental
Death's Loot
Box of Balance
Tin Can Loot Box
Breach Crate
Yellow Strike
Disease
Plant Destroyer
Wasteland Skyboard
Egghunt Paradise
Sunshine Coconut
Rapper Underworld Parachute
Melody Blast
The Brick Warrior (Avatar)
Sound of Music (Avatar)
Ruby Wolverine (Avatar)
Battle Viking (Avatar)
Brick Warrior (Banner)
Perfect Tempo (Banner)
Full Metal Wolverine (Banner)
Viking's War (Banner)
Pumpkin Warrior (Head) – 3 Days
Pumpkin Warrior (Shoes) – 3 Days
Pumpkin Warrior (Bottom) – 3 Days
Pumpkin Warrior (Top) – 3 Days
Cunning Witch (Head) – 3 Days
Cunning Witch (Shoes) – 3 Days
Cunning Witch (Bottom) – 3 Days
Cunning Witch (Top) – 3 Days
Kopassus (Head) – 3 Days
Kopassus (Boots) – 3 Days
Kopassus (Pants) – 3 Days
Kopassus (Top) – 3 Days
Armor Crate
Supply Crate
Leg Pockets
Scan
Bonfire
Airdrop Aid
Secret Clue
Bounty Token
Each spin in the Gold Royale will cost 300 Gold, whereas a total of 10 + 1 spin will require players to spend 3000 Gold. Gold Royale Vouchers can also be utilized for the same purpose. The more spins a player takes, the higher the chances of receiving the grand prize.
---
How to access Gold Royale and get the Pop Host bundle in Free Fire MAX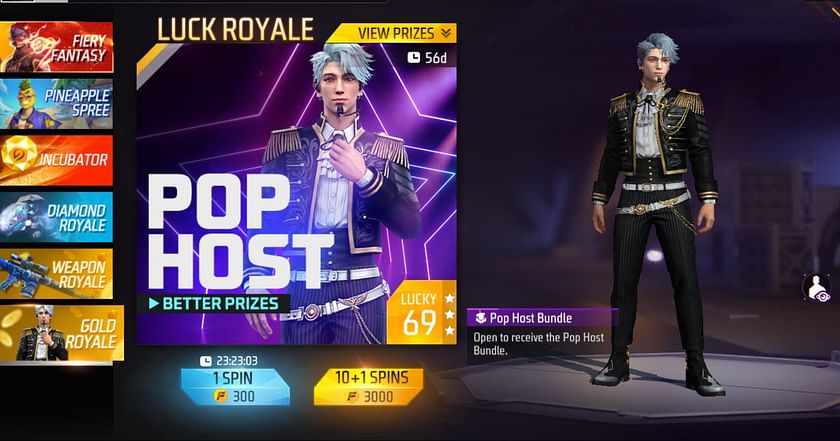 Follow the steps mentioned below to access Gold Royale in Free Fire MAX:
Step 1: Open the game on your device and visit the Luck Royale section by clicking its icon on the screen's left side.
Step 2: Next, head over to the Gold Royale. The Pop Host bundle will then appear on the screen.
Step 3: Finally, make the spins to have a shot at receiving the Pop Host bundle within Free Fire MAX.
Once you receive the bundle, you can equip it and enhance the appearance of the male characters present in the game.
Check out the latest Free Fire MAX redeem codes here.
Edited by Siddharth Satish