Free Fire redeem codes have proved to be a savior of non-spending players within the game. They have essentially provided the community with a range of free rewards that would have normally necessitated the use of Diamonds.
Every once in a while, developers release new codes for the battle royale title's various servers, and gamers must quickly use them to receive the rewards. They have to be fast primarily because Free Fire redeem codes expire shortly after they're released and are also subject to server restrictions.
Disclaimer: Players in India must not play Free Fire or even download the battle royale title on their devices due to government-imposed restrictions. However, the MAX version of the game can still be played since it wasn't included in the list of prohibited applications.
---
Free Fire redeem codes to get free pets and vouchers (January 23, 2023)
The codes mentioned below can provide players with free pets and vouchers within the battle royale title:
Pets
VNY3MQWNKEGU
ZZATXB24QES8
U8S47JGJH5MG
FFIC33NTEUKA
Vouchers
HHNAT6VKQ9R7
WD2ATK3ZEA55
XFW4Z6Q882WY
E2F86ZREMK49
TDK4JWN6RD6
HFNSJ6W74Z48
4TPQRDQJHVP4
FFDBGQWPNHJX
V44ZZ5YY7CBS
2FG94YCW9VMV
Note: The Free Fire redeem codes listed above may or may not work for all players due to their unknown expiry dates and server restrictions.
---
The process of using the Rewards Redemption Site
Players interested in redeeming codes must visit the game's official Rewards Redemption Site. The steps outlined below will guide you through what you need to do:
Step 1: Visit the Rewards Redemption Site on any preferred web browser using this link: https://reward.ff.garena.com/en.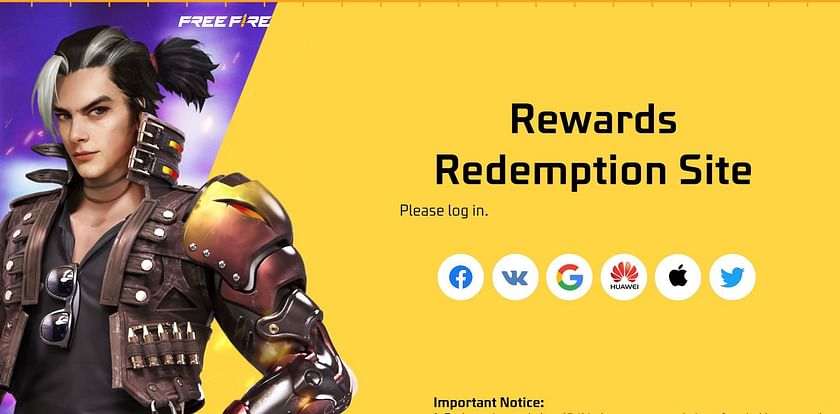 Step 2: Next, you will need to sign in. You must utilize the platform linked to your in-game FF ID. Facebook, VK, Google, Apple ID, Huawei ID and Twitter are the six login options that are available on the site.
Since guest account holders cannot use redeem codes, it is imperative to link such profiles to any of the aforementioned platforms. You can complete the binding process for such accounts by accessing the in-game settings.
Step 3: After you're done logging in on the redemption website, you will be required to enter your desired redeem code into the text bar on the screen.
Step 4: Subsequently, for the final step in the redemption process, click the Confirm button. A dialog box stating the status will appear, informing you whether or not the procedure was successful.
Garena will send the rewards to your in-game account via the mail section once the code you used works. They usually get delivered within 24 hours.
Check out the latest Free Fire MAX redeem codes here.
Edited by Soumyadyuti Ghosh