Free Fire redeem codes are an excellent resource to secure in-game items without paying. Garena regularly releases these codes, and players can utilize them by going to the official Rewards Redemption Site if they wish to receive premium rewards like skins, costumes, and more.
One must understand that each redeem code has a limited validity period, and its availability ceases once the expiration time has passed. Additionally, individuals can only redeem it on the designated server on which it was released and cannot be used by those who belong to other servers.
---
Free Fire redeem codes to get free diamonds and bundles (January 31, 2023)
Here are the codes users can utilize to get their hands on diamonds and bundles:
Diamonds
Bundles
3IBBMSL7AK8G
X99TK56XDJ4X
8F3QZKNTLWBZ
WEYVGQC3CT8Q
GCNVA2PDRGRZ
4ST1ZTBE2RP9
J3ZKQ57Z2P2P
B3G7A22TWDR7X
FF7MUY4ME6SC
Note: As a result of their unclear expiration dates and server limitations, the redeem codes stated above may or may not be functional for all gamers.
---
Free Fire: Detailed guide on using redeem codes
You must use the Rewards Redemption Site to employ Free Fire redeem codes and receive exciting rewards. Complete the procedure by following these straightforward steps:
Step 1: Access the Rewards Redemption Site by searching for it on any web browser on your device. Otherwise, clicking on this link will also take you to it.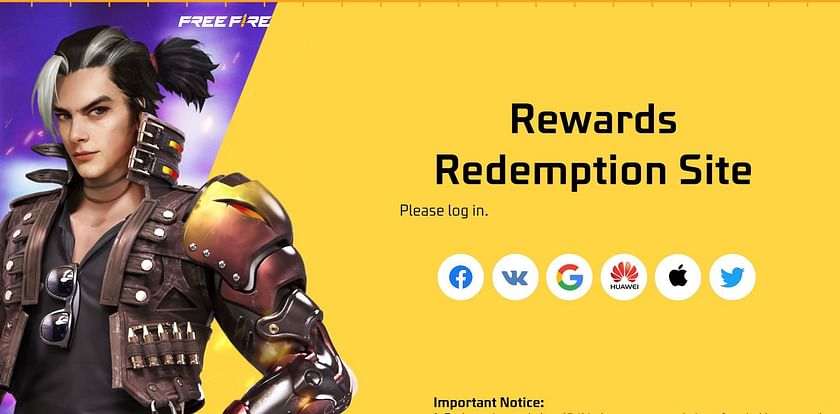 Step 2: Upon arrival, log in using the platform/sign-in option associated with your in-game account. The website offers support for six platforms, i.e., Facebook, VK, Google, Apple ID, Huawei ID, and Twitter.
It is important to note that those with guest accounts are not permitted to redeem codes on the Rewards Redemption Site. If you have a guest account, you must first link it to one of the supported platforms through the in-game settings. Once the linking is done, you can employ the codes.
Step 3: Input the redeem code into the designated text box and press the "Confirm" button. A notification window will appear indicating the redemption status.
Step 4: If the redemption for this particular code is successful, launch Free Fire on your device and go to the in-game mail section to claim your rewards.
Remember that it may take up to 24 hours for Garena to send the rewards to you. Do not be concerned if you do not receive them immediately.
---
Disclaimer: Players residing in India are advised not to play or install Free Fire on their mobile devices as the government has imposed restrictions on the game. Nonetheless, they can enjoy the MAX version since it was not on the list of prohibited applications.
Check out the latest Free Fire MAX redeem codes here.
Edited by Sijo Samuel Paul