Since the Free Fire MAX OB38 went live earlier this month, leaks have been pouring in constantly, providing players with a glimpse of what is to come in the game soon. A fresh batch of leaks about the upcoming Weapon Royale has come to light.
These leaks have come in from VipClown and several other popular data miners in the community, and thus, there is gravitas to the claims made. Read the following section to learn more about the upcoming Diamond and Weapon Royale.
---
Free Fire MAX Diamond Royale and Weapon Royale leaked
VipClown, a popular Free Fire MAX data miner, shared the grand prizes of the upcoming Luck Royales in one of his recent Instagram posts. If the leaks turn out to be true, the new Weapon Royale will feature the Sickly Sweet PARAFAL. At the same time, Diamond Royale will offer the Lady Baroque bundle.
The Sickly Sweet PARAFAL gun skin has a vibrant, eye-catching color scheme that flawlessly merges pink, blue, and gold. It is further enhanced with a captivating pink aura that appears to revolve around it, serving as an appealing VFX.
However, the highly-anticipated Lady Baroque bundle is the feminine counterpart to the already available Lord Baroque outfit. It features an elegant esthetic appearance with a white and gold color scheme that makes it quite desirable.
In addition to these developments, the poster shared by the data miner also reads that the price of spins will be revised in February 2023. While the specifics are yet to be revealed or formally confirmed, gamers should keep a lookout for the official announcement.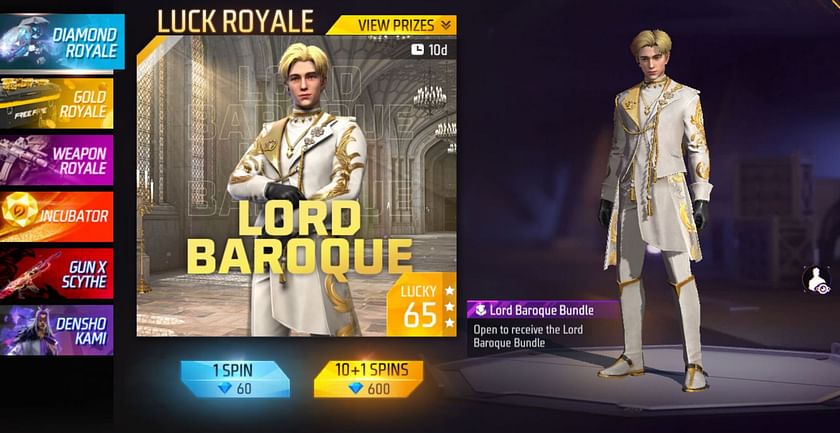 The current Free Fire MAX Diamond Royale expires in 10 days, whereas the Weapon Royale expires in only 6 days. Following that, the two new grand prizes will become accessible.
Subsequently, gamers can spend diamonds to make spins and receive the items randomly. Additionally, specially designed vouchers can be used instead of the game's premium currency. While there is no certainty of acquiring the rewards, the Luck element gradually increases the likelihood of winning.
It is worth noting that the outcome of the spins can be quite unpredictable. Some players may have to spend a few hundred diamonds to obtain the grand prize. In contrast, others may not be as fortunate even after expending many diamonds.
The details of the upcoming Free Fire MAX Weapon Royale and Diamond Royale mentioned in the article are leaks and may not be 100% true. While these are guaranteed to be refreshed in the coming days, the rewards may possibly be different.
Check out the latest Free Fire MAX redeem codes here.
Edited by Ritoban "Veloxi" Paul