Hockey Flashbacks: When Pakistan wons their 2nd consecutive World Cup on their arch rivals' home soil
267 //
15 Nov 2018, 14:31 IST
35 years after the nation was broken apart in two, Pakistan fulfilled their dream of winning the World Cup, and ironically, on the home soil of their arch rivals, from whom they broke apart, i.e. India. The 1982 World Cup is a clear testimony of how Indian hockey slumped, and wouldn't recover until 32 years later. This was the last Hockey World Cup to be played on natural grass.
India at World Cup: A slight improvement, but still not enough:-
Following their last Olympic victory at Moscow in 1980, the Indian hockey team was in a much better spirit. Playing on their home soil, they had improved on a bigger scale, winning against Malaysia, the Soviet Union and England with brilliant ease, while narrowly going down to their favourite rivals Netherlands by 3-4.
Following the pool matches, it all came down to the final leg, where Australia had easily made the cut for the semi-finals, while India and Netherlands were tied second in the pool with 6 points each. Even if India had made a simple draw against Australia, it was enough to send them into the semifinals, since they had a much better goal average.
However, despite securing an early lead, and knowing of Netherlands' draw against USSR, India squandered their chance to bounce back as the iconic hockey superpower, as they choked against the Aussies, losing the last match by 2-1. Even though they finished at a respectable 5th position, defeating USSR by 5-1, India's decline was set. The writing was officially on the wall.
The rise of Australia:-
Australia, who had made their international debut with the Melbourne Olympics in 1956, initially used to play second fiddle in field hockey, losing ultimately to the bigger teams like Pakistan, India, Germany etc. However, it was in this edition that they finally found their reckoning. They topped their groups, shocking everyone by knocking teams like India and England out of the competition.
Even though they lost against West Germany in the semifinals after an intense penalty shootout, they bounced back in style, pummeling the Netherlands by 4-2. Since, then, the Kookaburras have never looked back, being only 2nd to Pakistan in terms of winning the most number of Hockey World Cups.
Pakistan wins their 2nd consecutive World Cup:-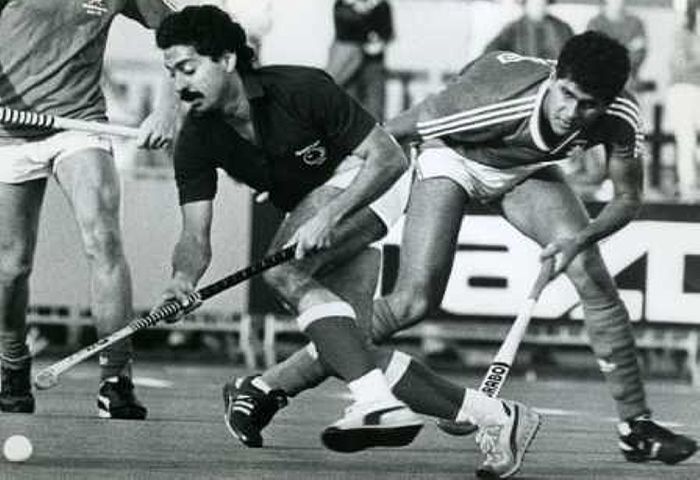 On the other hand, Pakistan seemed unstoppable. Not losing a single match, and conceding only 9 goals as compared to a mammoth 31 goals in their favour, Pakistan stormed into the semifinals with relative ease. It was this World Cup that saw the rise of the formidable trio - Manzoor ul Hasan, Samiullah Khan and Hassan Sardar, who would later give Pakistan their last Olympic gold medal at Los Angeles in 1984.
Following a victory of 4-2 over the Netherlands, Pakistan met their future rival of 1984 Olympics in the finals, i.e. West Germany. The trio mentioned whacked the German defence left, right and centre, and scored a goal each to give Pakistan their third World Cup overall.