With each passing day, the Hockey World Cup 2018, being held at Kalinga Stadium, Bhubaneswar, is turning out to be better and better. Except for the drubbing that South Africa received at the hands of India, there has practically been no match that was a one-sided affair.
Even if the teams lost against their powerful rivals, they did make them sweat hard for victory. From Spain to Canada, to even France, none of them let their opponents have it easy in any circumstance. Even a team as powerful as the Olympic champion Argentina were forced to sweat it out against Spain, and had it not been for Gonzalo Peillat, they could've been defeated as well, which is certainly not a good way to start the World Cup campaign.
One such match was played today, when defending champions Australia met the Irish team for their opening match of Pool B. Australia, who are ranked at the top in FIH Men's Rankings, was expected to have a breeze in the match against Ireland, who are ranked 10th. However, the Irish boys had other plans.
Despite Blake Govers's smashing drag flick that gave Australia a crucial lead, Ireland did not give up and struck back within minutes, with Shane O Donoghue equalizing the score. Had it not been for a field goal from Tim Brand, Australia were set for a surprise draw. Even a humiliating defeat was on the cards.
Despite having lost the match, Ireland were the better team on the turf, giving Australia a literal nightmare. From the Irish strikers to the brilliant goalkeeper-cum-captain of the team, David Harte, Ireland were literally a force to reckon with. This also serves as a bitter medicine for Australia, who need to buck up if they want to set a hat-trick of World Cup titles
The list for the stars of this match wasn't tough to determine, and following are the players who stood out from the rest in the encounter between Australia vs. Ireland:-
---
#3) Blake Govers
Blake Govers is Australia's best bet for drag flick after Chris Ciriello. This young drag flicker was one of the few Australian players who kept their cool in such a nightmarish situation like the current match against Ireland. Considered among one of the best drag flickers as of now, Blake Govers didn't disappoint anyone either.
Striking upon the very first chance he received in the 11th minute, Blake Govers converted the penalty corner into a brilliant goal, earning Australia not only a crucial lead but also the requisite momentum to keep going, despite the equalizer by Ireland coming within minutes.
Among all the Australian players, with the exception of Tyler Lovell, it was only Govers who lived up to his reputation and added a goal to Australia's kitty. This match will also increase his responsibilities, as he now also needs to come to the rescue of the Kookaburras when a tense situation like the one with Ireland arises.
#2) Tyler Lovell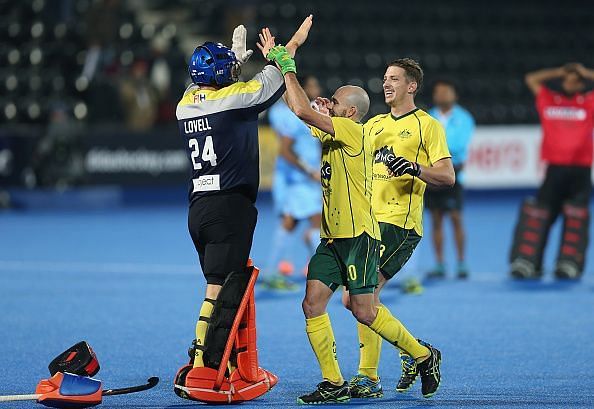 Australia's Man Friday in Champions Trophy finals of both 2016 and 2018, star goalkeeper Tyler Lovell was initially compelled to sit on the bench for the first half, with the much more experienced Andrew Charter taking his place on the field.
However, the decision backfired for the Kookaburras, who saw Ireland equalizing the score within minutes of Blake Govers having flicked in the opening goal for the Aussies. This forced the team management to replace Charter with Tyler Lovell, who had twice denied a historic chance to a resurgent India to claim the FIH Champions Trophy, in 2016 and 2018.
If Ireland failed to milk on the opportunity to come out with a historic draw or even a win against the defending champions, it was solely due to the heroics of this goalkeeper, who stood solid as a rock against all odds. It was Tyler who denied Ireland a second chance to strike back, even as Tim Brand scored the winning goal for Kookaburras
#1) David Harte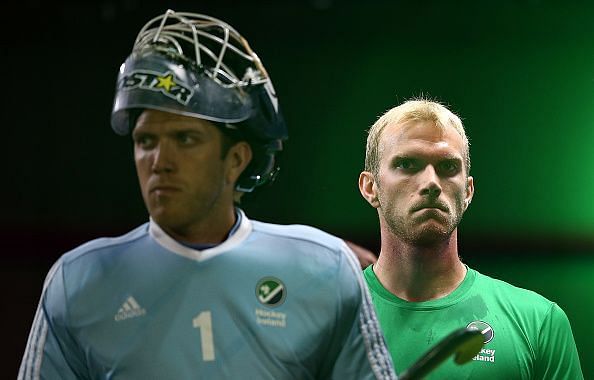 However, the real hero for Ireland was once again their goalkeeper David Harte. Despite having suffered two goals, that ultimately led to the team's loss, it was David who inspired his men to give Australia a literal nightmare, and made them sweat out on what seemed like an easy win.
Having made a name for himself by his heroics at the Rio Olympics 2016, David Harte was leading the Irish team for the first time in this World Cup. Together with the Irish defenders, he created such a formation that for a one full quarter, Australia were unable to penetrate even into their striking circle, forget striking a simple goal.
It was not only to his credit that Shane O Donoghue was inspired to strike deep into the Australian circle, but it was also to his credit that despite having suffered two goals, Australia couldn't give a sound drubbing to Ireland, when it came to field hockey.
Head to Sportskeeda to check out the Hockey World Cup schedule for the upcoming matches
Edited by Sudeshna Banerjee