Indian hockey headed for the dustbin of history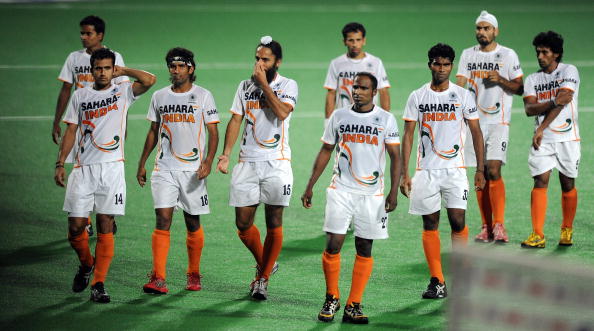 With a sinking feeling in the stomach, familiar to supporters of the Indian hockey team, I watched Belgium secure their place in the 2014 world cup by winning the world hockey league semi-final in Rotterdam, while India managed its fine tradition of letting higher ranked teams finish higher. This was an expected result and only die hard optimists who have never seen India play in recent times would have expected a better result. New depths of despair were plumbed when India managed to claw back and draw a match with Ireland. I guess even the die hard pessimists would not have expected such a result and I for one wasn't even aware that Ireland played field hockey.
Reams have been written on the state of Indian hockey being lorded around by geriatric individuals ably supported by minions who can easily qualify for a role in Despicable Me 3. The general trend in those articles, barring a few incisive ones, is that India has a glorious past in hockey and somehow if we can get decent administration, unbiased selectors and a coach able to gel with the team, we can pull ourselves back to the stratosphere of the hockey world instead of feeding at the bottom with the likes of France, South Africa and Chile.
These journalists and analysts miss the point – India simply does not have hockey players at any level (school, state, national or international) who have the athletic ability to play modern hockey for a full 70 minutes, leave alone additional extra time, and be able to do it in every match of a tournament. Many in India still hold onto the belief that Indians have good ball skills, and it is only the lack of stamina that is holding us back. This myth will be shattered if they watched India play one of the elite teams in a competition with our players unable to dribble the ball past their markers and frequently unable to trap a cleanly hit ball.
In such a situation, it is next to impossible  put together a team of 16 players that can consistently punch above its weight just to ensure easy qualification to World Cups and the Olympics. The lack of widespread availability of astro-turf and equipment (eg. modern hockey sticks made of carbon, Kevlar and resin), lack of tournaments for players of various abilities and a clear pathway for children to learn hockey and migrate to senior levels have led to the Indian middle and lower classes abandoning hockey in favour of cricket.
A cricket player with just decent abilities to play for a district can be a semi-professional in our country, and he can show off his skills even when the team he plays for is no good, thus following a pathway to a better team (read better prospects). So the few who pick up the hockey stick and learn the game do it because of their own skills and passion with the help of a few coaches who are simply not upto the task nor have the resources needed for producing supreme athletes that modern hockey demands. So in this dismal scenario, having a dream administration team in place, with unbiased selectors and the best hockey coaching staff in the world will not see India somehow magically rising to its' perceived rightful place. We may qualify for the world cup and Olympics, but we will still make a hash of that process before actually qualifying.
As writing on the wall becomes clearer, we need drastic steps to halt further slide in India's rankings in world hockey. At the top of the list is the need for the sports ministry (or SAI) to start a programme to bring back hockey and safely insulate it from Hockey India or Indian Hockey Federation.  This programme's only job should be to create the conditions and a clear pathway for young kids to learn to play hockey first and then graduate to playing hockey competitively at various levels using the latest equipment on artificial surface.
The first and foremost of our shortcomings is the lack of  opportunities for young players to learn to play on astro-turfs with the same sticks and balls that are being used in world hockey. This could be done in a gradual fashion by either providing governmental subsidies for interested schools to have their own astro-turf fields or to target getting atleast one or two astro-turf fields in every district of the country in a phased manner. We need to hire and invest in providing training to coaches so that we create a pool of coaches teaching modern hockey at all levels starting from beginners to players of various abilities.