Interview with Imran Warsi: "In the subcontinent, we're not given the freedom to play on the field"
A true superstar of hockey, Pakistan's Syed Imran Warsi has been travelling the globe and earning fans with his looks and skills on the field.
He is the son of Syed Ehtesham Ali Warsi, who was himself a reputed international player and coach. Under his tutelage, Imran learnt the nuances of the game and pursued hockey professionally.
He made his debut for Pakistan's Junior team in 2000 and Senior team in 2004. However, after getting very few chances in Pakistan after the 2008 Olympics, he's been plying his trade for Dinamo Kazan Hockey Club in Russia since the past 4 years. He was also a part of the Chennai Cheetahs' squad in the inaugural edition of World Series Hockey and finished as the joint top scorer (19 goals) along with Gurjinder Singh.
The Golden Stick which he won in WSH and is yet to get from the organisers, he plans to auction for charity. A true sportsperson, he joins Sportskeeda in a conversation:
You were the joint highest scorer in World Series Hockey (WSH). How was that experience for you?
World Series Hockey has given me so much. After the 2008 Olympics, I was out of the Pakistan team and WSH gave me a great chance to come back into the game. I have no words to tell you about WSH, it's absolutely unbelievable.
Hockey India has come up with a rival league recently. Are you following the Hockey India League?
Yes, I'm definitely following the league. I'm in touch with people in India and I'm watching all the games! Delhi Waveriders are an impressive side and their players are performing excellently, especially the youngsters and Sardara, who's now the backbone of the Indian team.
You've played in India during WSH and seen the game closely here. Is there any inherent difference in the way hockey is played in India and Pakistan?
My friend, Pakistan and Indian hockey are very similar. We're playing similar formations and even our playing styles are alike. Whether I play in Pakistan or India, there isn't much difference. But we need to improve hockey in both the countries.
Cricket is the major sport in both the nations yet hockey is the national sport in India* and Pakistan. Here, it's important to note that World Series Hockey took a major step in popularising the game in the subcontinent. The viewership of WSH was simply unbelievable.
Recently, several Pakistani players were sent home following the massive protests against their participation in the Hockey India league. What is your opinion on the issue?
I think it's a terrible, terrible thing. I think sports and showbiz should be kept separate from politics and it's not good that sports is affected by petty politics. Nowadays, both countries are on much friendlier terms and such things are not expected to happen. I was in India for more than a month for World Series Hockey and I didn't face even a single problem!
I even visited Mumbai, went shopping for my wife and friends without facing any problem at all. I felt so relaxed there. Even when my franchise told me not to go anywhere without security, I told them that nothing will happen to me, that we're all the same. I'll tell you one thing. I have lots of fans in India, even more than in Pakistan!
You're playing in the Euro Hockey League currently. What are the main differences that you find in the sport outside the subcontinent? Anything which you've realised is better or worse in the kind of hockey played outside the subcontinent?
After 2008 Olympics, I played in the Euro Hockey League and continue to play there. We were champions for 4 years and I was the highest goal scorer too! I have been scoring 12-13 goals regularly in a season. It's a big achievement for me and I've settled here with my wife and family.
As for the difference, in the game itself there's no difference. The difference lies in our mentality. Here in the subcontinental teams, we're not given the freedom to play on the field. The problem with our system is that if we're not able to perform today, we'll be axed the next day itself. Who knows if they'll even keep us in the camp after that!
Why do you think the European players are more relaxed when they're playing? Because they're assured of their place in the next tournament too. We don't trust our players. "He's finished, throw him out of the team. Bring in new players!" are the calls from the critics after only a couple of failures. We should give players more chances. You can't create a Teun de Nooijer or a Jamie Dwyer in a couple of days, or a Jaap Stockmaan in a week. It takes time for players to develop.
Now take the case of the Ranchi Rhinos' captain Moritz Fuerste and Delhi Waveriders' Oskar Deecke. They were playing for Club de Campo and recently we defeated them 3-2 in the first round of Euro Hockey League. If you remember, in 2005, Pakistan defeated Germany 5-0 in the Rabobank Trophy and I think Moritz Fuerste was a part of that team. Look at him now, he's the current World Player of the Year. Everything takes its own time. Our problem is that we put together a team today and the very next day we demand that they win an Olympic medal for us! We can't expect results all of a sudden.
If you rewind a bit, where were these teams – Germany, Netherlands and Spain? They weren't the best 7-8 years ago. Now they're at the top after putting in the hard yards over the years. When we were successful, we thought that we had achieved everything and chose to rest on our past laurels. These teams took advantage of that and overtook us with their continuous growth. You can see the end result now.
Another thing is that we make hockey the sole aim of our life. Our lives depend on the game. However, in their (European players) case, it's a side hobby. They have separate professions outside the game. The most important thing for our hockey players is education. When we have educated players in the team, they'll pick up the game much quicker than the uneducated lot.
What's your take on the state of hockey in Pakistan then? Is the level of education that you're talking about present in Pakistan's hockey?
I don't think it'll be right on my part to comment on the current state of Pakistan hockey. After 2008 Olympics, it's been close to 5 years now that I've been out of touch with Pakistan hockey. I only go there to visit my family and stay away from the hockey establishment in Pakistan. But the growth is definitely there. The team recently finished 3rd in the FIH Champions Trophy and won the Asian Champions Trophy, so there's definitely growth in the game.
And India…how do you view the progress of Indian hockey?
The Indian team qualified for Olympics despite being 11th ranked in the world. You've got a couple of exceptional players in your side. Sardara Singh leaves you speechless. S.V. Sunil is an excellent player. Then there's Danish Mujtaba, he too is a good player. Then you've got V.R. Raghunath and Rupinder Pal Singh, such talented players. It's a fact that whenever there's been a hockey league in India, new talents have emerged for the national side. For example, Shivendra Singh was the find of PHL. We played in the same side, Maratha Warriors, where I played for 2 years continuously.
Now, what I don't like is that there are 2 separate leagues in your country. At the end of the day, we hockey players will support the game wholeheartedly. But what these 2 separate leagues have done is that they've created differences between the two sets of players playing for WSH and HIL. Even from WSH, many exceptionally talented players have come out. For example, Roshan Minz of Pune Strykers (he was awarded the 'Indian Superstar' award in WSH) is a very good player. God willing, these 2 leagues will merge hopefully. As for me, I'm waiting for the WSH to start as soon as possible!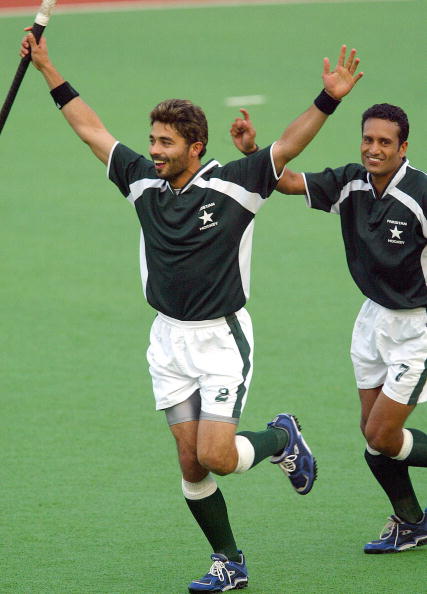 So, on a personal front, are you still trying to get back into Pakistan's hockey mainframe?
See, frankly speaking, I've given so much for my national team but I wasn't rewarded with enough chances. Even in the Olympics, I hardly got to play one or two matches. After that, I took my decision. I wanted to play and not sit on the bench all my life. If I had pinned my hopes on Pakistan, I would've spent my career sitting on the bench. That's why I discussed with my family and especially my father and made the decision to play, even if it meant going outside Pakistan. My father is the reason I am what I am today and why people know me as Imran Warsi. He made me and it's all because of him that I was able to achieve so much.
Who's your favourite Pakistani player?
In the past, there's only been one best player of Pakistan – Shahbaz Ahmed. Without doubt, he's my favourite player.
If you talk about the current crop of players, I don't think I'm a big fan of any player at present. If anyone, I'd pick myself to be my favourite. And when it comes to the person who's taught me hockey and introduced me to the game, it's my father. He will be my first and last coach till my last breath. Although I've taken coaching from famous players, my father will remain my best coach.
At one time, you were called the next Sohail Abbas. How did you react to that?
(laughs) There's no tax on saying something. Let people say whatever they want, everyone is free to make comments.
Do you have any favourite India vs Pakistan memory? Any moment when emotions might have flared up on the field? Any venue in India which you hold close to your heart?
See, as a player, I can tell you very frankly that Indian and Pakistani players treat each other as opponents on the field. They fight and abuse each other like any other opponents. But after the match, you'll find us sitting together. We'll be sitting in each others' rooms, talking, having dinner, etc.
Personally, I've found Chandigarh to be my lucky charm. Playing against India there, I got the best defender award once. Then in WSH, I got a hattrick in the same ground against Chandigarh Comets.
What is the most memorable instance in your life?
The most memorable moment of my life is the final of the Rabo Cup in 2005, when we beat Australia 4-3. I scored the first goal of the match via a short corner. I remember Jamie Dwyer was also playing that match and it was a full strength Aussie side. That was an unforgettable moment of my life.
After that, comes World Series Hockey, which I will remember for life. I was in Russia those days and due to heavy snow, it wasn't possible to train outside. I remember I trained for short corners for a few days indoor and then I went to Pakistan, got my visa and reached India. When I went there, I didn't harbour any dreams of becoming the top scorer or anything like that. It's all because of the prayers of my parents, family, fans and almighty God that I became the top scorer there.
What are your lasting memories of WSH?
The match against Delhi Wizards, where we came from behind to win. Shakeel Abbasi was the captain of Delhi Wizards and I scored 2 goals for Chennai. At one time, we were trailing 1-3. I scored two goals and eventually we won 6-4. I still remember that match and can never forget it. That match and the one against Mumbai Marines where I missed 3 short corners, I'll forever remember them.
Any off-the-field incident which you might want to share?
Outside the ground, the security was very tight. I agree that they have to make sure of our well being, but once I dodged the security guards to meet my fans. They are the reason behind our success. They come from far off to meet us and if they can't, we also feel sorry about it. It's only because of their prayers that God has been kind to us.
You've had a great fan following in both India and Pakistan, not just due to your game, but also glamour-wise…
Because of the fan following, even my wife gets jealous sometimes! She knows that so many girls are writing or messaging me. See, I can't tell anyone to not write to me. My wife has such a big heart that she accepts all these things. She sees crazy fans but doesn't say anything to me about it. I know how to handle the fans. After WSH, it was a given that I would have a fan following, but it's all God's grace that I've been bestowed with such a fan following, deserving or not.
And whenever any fan writes to me or contacts me on social media, I always make sure that I reply to them. I never ignore their messages and reply to each and every one. While playing in India, I realised that I have lots and lots of fans there. Even I couldn't believe that fans were screaming my name after the matches in WSH. And I would get scared because my wife would be watching all the games and whenever there were girls with banners saying 'Warsi, we love you', she'd ask me "Who loves you more than me?" (laughs)
But remember, there's a lot of hard work behind all this success and I'm very thankful that I've got such a supportive wife. Even in Russia, there are many fans since I've been the top goal scorer for the last 4 years and people come to watch our game. It's all God's grace that I've achieved so much.
What are your immediate plans in terms of hockey?
Right now I'm playing in Russia and maybe later on I'd like to do some coaching, but not now. Honestly, right now I'm waiting earnestly for the World Series Hockey to start! After World Series Hockey, we've been desperately wanting to play more in that kind of atmosphere! They had given hockey a different direction altogether. There was live telecast and proper coverage for each match, and press conferences later on, just like it happens in cricket. For bringing the game up, these are necessary steps that need to be taken.
Do you have any message for your fans?
Definitely. I'd like to tell all my fans to not think of me as a talismanic player who simply keeps scoring goals and has some special skills. It's nothing like that. All that I have are the prayers from my parents and everyone who watches me play. I request them to keep me in their prayers. And from my side, I'll make sure that I do everything to make people happy with my game.
Everyone has so many problems in their lives. But when they're coming to watch my game, I wish that they feel relaxed after watching me perform and just stay happy. My message to my fans is to stay happy and respect your parents. If you get their wishes and you've made them happy, you'll get all the happiness in this world.
*India doesn't have any 'official' sport, as clarified by the Indian Government.