My father died before he could see me play the Olympics: S.V. Sunil
2.69K //
01 Mar 2012, 13:27 IST
Every sportsperson has a story to tell. Some are heart wrenching, some are disturbing and some would get you thinking as to why they 'sacrifice' so much when they hardly get anything in return.
One such story is SV Sunil's. Since his debut in the 2007 Asia Cup, the young lad from Coorg has built a reputation of being a key member of the Indian hockey team's forward line. But his journey so far has been such that when he has achieved something worthy of a celebration, he would have lost something that would take away his joy.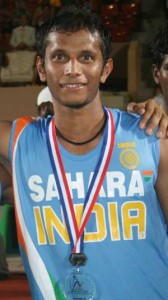 Earlier, in Sportskeeda.com, we brought to you the story of boxer Suronjoy Singh who lost his mother when he was away in China winning a medal for the country at the Asian Games. After winning a bronze for India in his bout he came back to a sorrow-stricken atmosphere back home rather than jubilation.
In this column, we bring to you the story of a star hockey player who lost his mother at the tender age of four. Back then, he was too young to understand how she succumbed to cancer. His father re-married and Sunil grew up in care of his step mother. He beat the odds of a lower economic livelihood to climb the ladder of success.
Today, if he is known as the most reliable forward in the Indian lineup he owes it to his father, who never let the burden of his family of three siblings affect his career. But tragedy revisited him once again when he was away in Malaysia playing the Sultan Azlan Shah tournament in 2010. His father passed away and though he was mature enough to handle the loss and face up to reality, his family chose not to inform him about the demise. Much like his father always insisted, national duty mattered first. Despite being the oldest son, he could not be a part of his father's last rites. He heard about the tragic news only when his sister informed an official in Delhi. Such is the life of a sportsman.
In conversation with Sportskeeda.com, an emotional Somwarpet Vittalacharya Sunil shares his struggle and also talks about his battle with a career threatening injury.
Nandini: Life hasn't been too kind on you. What brings you back on the hockey field again and again after facing stark realities?
Sunil: My father always dreamed of me representing the country at the Olympics. Me playing hockey meant so much to him that he had instructed my sister that in case he died, no one should break the news to me had I been away playing a tournament for India. And that's exactly what happened. I was not told about him passing away. Despite his ill health, he wanted me to go to Malaysia and play. It was his last wish to see me play in the Olympics and that's the only thing that drives me and gets me on the hockey field despite all the hardships.  My father is no more to see his son playing in the Olympics. But I am sure where ever he is, he will be proud of me.
Nandini: Though your family was in financial crisis, that never sort of affected the spirit of your game… It must have been hard?
Sunil: My father never let our financial problems affect my career in hockey. He always supported me. I started playing hockey with bamboo sticks back in Coorg. I hardly had proper equipment because I couldn't afford it. Those were really difficult times. Today I have a job with the Indian Army as a junior commissioned officer but I can never forget the days I have struggled.
Nandini: Tell us about the big win in Delhi and how the team rejoiced.
Sunil: The win means a lot to the whole team. We went into the tournament to erase the memories of losing out in 2008 qualifiers and that was the biggest motivation. We celebrated through the night after the final and then we (Raghunath, Uthappa) returned to Bangalore a day after the final. We have been receiving congratulatory messages from a lot of people ever since we have come back and it feels great that our efforts are finally being recognized.
Nandini: You battled a severe knee injury. Can you tell us about that phase in your career?
Sunil: It was a very difficult phase for me. I could barely climb stairs at that time. I went through a major surgery and at times I wondered if I could get back on the hockey field. But I never lost hope and coach Harendra Singh put a lot of faith in me. The physio helped me a lot during that period and helped me get back on the field.  After that gap, my game has only gotten better and my best performance was in the 2010 Champions Challenge Trophy.
Nandini: You have been spoken of very highly by coach Michael Nobbs. How do you rate your game since he has taken over as the coach?
Sunil: Earlier, we (team) were very used to back passes. Nobbs is totally against that. My style of game does not suit back passes that much. That way Nobbs way of approach and my game has really worked. We are always encouraged to go and attack. This has really helped me and I can move freely without worrying about getting stuck. It's made me a different player from how I used to play in the past. I have been asked to hang on for just that extra second inside the striking circle to allow others to come in as support. My understanding with Shivendra Singh and Gurvinder Singh is very good and they understand my game well. It has worked wonders for me.
Nandini: How are you planning on taking your game further in preparations for the London Games?
Sunil: I am going through my peak right now. I have been in good form and I would like to continue this way. I need to work a little more on my receiving skills and scoring. We start our camp in Bangalore next week. Coach tells me I am fast and lethal but I need to work on my consistency.