The Indian men's hockey team began their 2023 Asian Games campaign with a commanding 16- 0 win over tournament debutants Uzbekistan on Sunday.
While coach Craig Fulton rested Harmanpreet Singh, who was the flag bearer for the Indians at the opening ceremony yesterday, the Indians found the back of the net with a flurry of PCs and some delectable goals from open play as well.
The Indians, who are in Pool A, are looking to go all the way in Hangzhou in an effort to gain a direct ticket to the 2024 Paris Olympic Games.
Former captain Manpreet Singh manned the defence as the Uzbeks attempted some early counters but were unable to cope with India's firepower as the match progressed.
Uzbekistan paid the price for giving away a flurry of tame PCs, which Varun Kumar capitalized on. Amit Rohidas also got his name onto the scoresheet by beating the Uzbek goalkeeper with a well-directed drag flick.
Sanjay, who struggled with his flicks, often directing them straight at the body of the goalie was rewarded for his persistence in the 57th minute.
Mandeep Singh was in the thick of the action right from the outset with some spectacular assists before getting on the scoresheet himself. Mandeep's colleague up from, Lalit Upadhyay, too, charmed spectators as he wove his way into the striking circle much to the despair of the Uzbek defence.
Hattricks from Lalit Upadhyay, Mandeep Singh, and Varun Kumar helped India score a whopping 16 goals in their lung opener.
---
The road ahead for the Indian men's hockey team in Hangzhou - Pakistan and Japan to contend with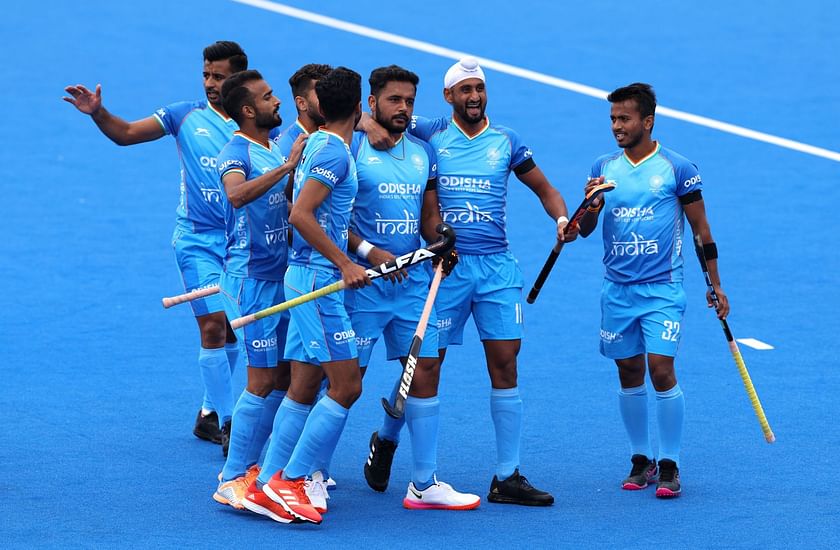 The top two teams from each pool in the men's hockey competition will advance to the semi-finals of the 2023 Asian Games in Hangzhou.
After a commanding win, the Indians are on the right track but will need to be at their best against eight-time gold medalists Pakistan and defending champions Japan. Singapore and Bangladesh are the other teams in Pool A.
Once-mighty Pakistan are struggling to find form but can be dangerous on a given day while Japan, under the stewardship of Siegfried Aikman, displayed their class by winning gold at the 2018 Asian Games.
Back in 2018, the Indians were forced to go through the Olympic qualifiers after having lost to Malaysia in the semifinals of the Jakarta Asian Games.
The Indians have won gold at the Asian Games on three occasions in the past, finishing with a bronze in the previous edition.