Pakistan pip India 3-2 to bag Champions Trophy bronze
808 //
09 Dec 2012, 10:27 IST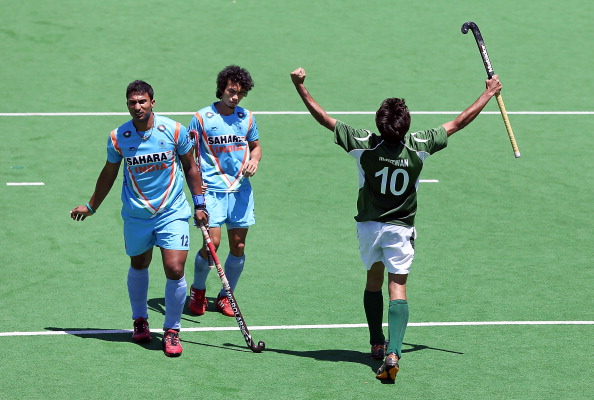 There was plenty at stake for both India and Pakistan as they squared off in the bronze medal play-off match at the State Netball and Hockey Centre, Melbourne on Sunday. India had last won a bronze at the elite tournament thirty years back at the 1982 edition, while Pakistan had last bagged a bronze at the 2004 edition.
And it was the green shirts who had the big smile, getting past India 3-2 to scoop up the bronze medal, consigning India to fourth place.
Both teams had a quiet first few minutes of play. It was India who earned their first penalty corner in the 7th minute and vice captain Vokkaliga Raghunath triggered celebrations in the Indian camp, banging home a power-packed drag-flick.
Pakistan pressed hard for the equalizer but their forwards seemed to be bereft of ideas once they entered the Indian striking circle.
The Indian defence offered robust resistance as well, not allowing the green shirts to break free.
Muhammad Rizwan Sr. finally breached the Indian citadel as he scored a splendid field goal in the 21st minute.
Pakistan had another superb opportunity to go ahead but Muhammad Waqas missed a sitter before half time.
Both teams went into half time at 1-1.
Pakistan went ahead in the second half when Shafqat Rasool scored from close range.
India strived hard to be in the contest but Pakistan kept them at bay.
Indian forwards SV Sunil and Gurwinder Singh Chandi cut a sorry figure struggling to penetrate the Pakistan citadel.
Muhammad Ateeq rubbed salt to India's wounds when he fired home from a penalty corner three minutes from the final hooter.
Rupinder Pal Singh converted a penalty corner in the 70th minute to give India some solace.
Irrespective of the result, India should be proud of their fourth place finish – their best showing since 1982.
Their fourth-place finish ensures a berth in next year's Champions Trophy to be held in Argentina. Not only that, India should also climb up in FIH world rankings from its current eleventh ranking.