Shivender Singh handed 3 match ban!!!
779 //
01 Mar 2010, 23:47 IST
Dear friends here comes another jem of partiality ,ignorance or should I say a prejudice towards Indians from FIH.
Ken Read,Director of ongoing World Cup handed a 3 match ban on Shivender for 'deliberately' hitting Pakistan's Fareed Ahmed.Now come on folks of FIH,anyone who had seen the match can easily infer that Shivender's "hit" on Fareed Ahmed was not deliberate,even commentators said so.It was on the fast run-of-play that his stick brushed Ahmed.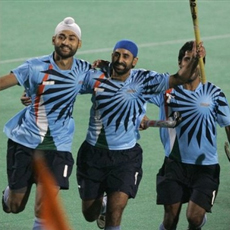 In past there are lot of instances of India getting at the receiving end of Umpires/Officials decision.Many has cost us matches also.I think to be modest I can say that few FIH officials are racial.Come on for God sake's if you want to punish the man atleast look at the Shivender's record first. In his 110 appearances Shivender has never been shown yellow card!!!This flawless record speaks for itself.Going by the same parameters why was not Abbas Haider of Pakistan was handed ban for colliding with Gurvinder Singh Chandi who was bleeding after the collision.
Incidentally as per sources it is clever ploy by some to weaken the morale of Team India who will face Aussie next.Is it coincidence that Ken Read is an Australian?!
Wake up people,Wake up!!! Fight against the partisan officials of FIH!!!