The (In)Auspicious 13 of Indian hockey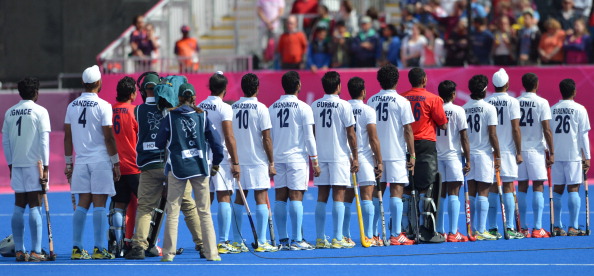 Indian hockey has gone through so much over the last 12 months. The high of qualifying for London Olympics was more that balanced by the last place finish at the main event. The story of Indian hockey's present and future can be summed up in these 13 points below:
1) A long wait: After 8 years, millions of Indian fans got a chance to root for their hockey team after qualifying for London Olympics as they thrashed France in the last qualifier match. Things seemed perfect in qualifier rounds and everyone was expecting the "CHAK DE" performance from them in London. Like all, I too started waiting curiously for Indian hockey team's campaign to start. But the golden dream turned into a nightmare for millions of fans.
2) First day first show: After trailing by two goals, Indians fought back in the second half but Dutch were a step ahead and reclaimed the lead, defeating India by 3-2. Many thought it was only early match jitters, that Indian Hockey Team would fight back in next matches. But it worsened each day and Indian team did not even bothered to fight back in next three games and lost (1-3) to New Zealand, (2-5) to Germany and (1-4) to South Korea in group stage matches. The shame piled on when Belgium, which had never defeated India in the history of Olympics, crushed India 3-0 in last group match. And lastly, losing to South Africa, India stood last in the table at 12th spot (lowest in Olympic history other than non-qualification).
Nevertheless, the question arises – what went wrong? How and when?
3) "Never back down": This "mantra" surely was missing from the Indian hockey team's game. Apart from the match against the Netherlands (in which they fought back), in next five games Indians were completely outplayed. Despite scoring a goal in the starting minutes of the game, many a times they failed to sustain that lead. Counter attack was surely missing. "We need players who have attitude of winners otherwise they are a waste of time where the team is concerned", team coach Nobbs, later asserted.
4) "Too confused forward line"- The Indian strikers experimented a lot when they were in goal scoring positions. In straightforward words, they became confused and kept on hitting the shot somewhere else other than inside the net. They should have understood the standard of Olympics, where one cannot afford inaccurate passes in those 70 minutes. A major blame for this goes to Shivendra, who often was seen running behind the ball instead of with the ball; Uthappa, who was still sub-standard from the Olympic point of view and Danish for his continuous 'inaccurate passing'. They lacked co-ordination and that 'TIC-TAK-TIC' passing style was missing which most of the European teams follow.
5) Midfield in the mid of Turmoil: Midfielders seemed to have forgotten their jobs in Riverbank Arena as they failed to make connection between forward line and defence. In all the six games, the forward and defence were struggling to get the possession of the ball. Midfielders simply failed to deny ball possession to the opponents. As the tournament preceded, the ball possession percentage of team India kept on decreasing.
6) Wobbly defence: Except Sardar Singh, Indian defence was not quick enough to avoid conceding the goal or divert the ball; the defensive holes just couldn't be plugged. The perfect example was the match against South Korea where Koreans scored 3 goals in last 12 minutes! The Indian defenders never marked their man in goal area; the blunder which is never acceptable, be it in football or hockey. Bharat Chetri, the Goalkeeper and Captain of Indian team saved a few good shots but then he was not as swift as required in the competition of such a high repute.
7) Player who let down: Sandeep Singh was treated as the 'Hero' of the team since the beginning. Subsequent to an unstoppable show in the qualifiers, in London it was hard to believe how a 'Penalty Corner Expert' forgot his job! He failed to convert penalty corners into goals, the x-factor on which Indian team relied heavily.
8) One man army: The only player who impressed the most from Indian side was Sardar Singh. One could imagine the number of goals which would have been conceded, had he not been there in the team. In other words, he was the only player who performed as per the level of Olympics.
9) Hopes from Nobbs:  As a spectator and a writer, I believe a miracle should not be expected from a coach who has spent just 8-10 months with the team. That's the problem with Indian fans and governing bodies; they think that the Coach possesses some magic wand, using which he will accomplish some magic and turn all the odds in their favour in no moment. Coach Nobbs though states, "It takes years for Olympics preparation, it is not an overnight miracle!" Maybe that was the reason he never promised a podium finish because he knew what it takes to end up at podium and where the Indian team actually stood in the race! Though he did try to bring a lot of changes in the team; be it the outlook of the players towards the game or the outer looks, i.e. physical fitness of the players. He also introduced 'attacking' style hockey, the style for which Indian team was famous for earlier, when Nobbs was an Olympian himself. He did every bit he could do in ten months of his joining the team, even introduced the players to the much hyped 'black coffee' half an before every match.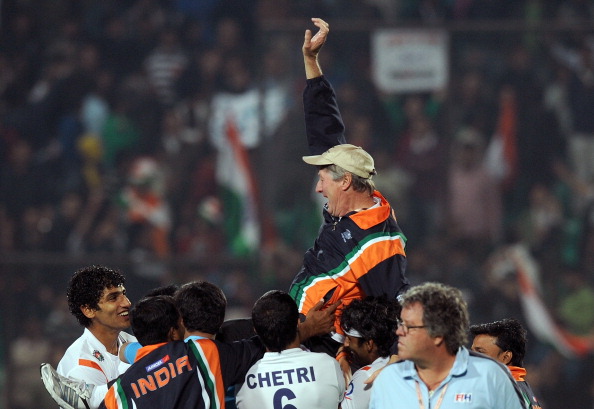 But the players let the man down who sung Indian national anthem along with them in London! So poignant were Mr. Nobbs' words when he quoted "If you are happy to go home having just turned up at the Olympic games, the team cannot expect much from you". He strongly felt that Indian players were not physically tough enough for this global competition and so could not perform under pressure. He also felt that players were content just to wear the 'Olympian' tag and did not felt the pride in representing their Nation; they lacked the winning attitude!
10) No excuses: Before a month from the start of the Olympics, players were being trained in London so they could adapt to the climate and the newly introduced blue turf. There was no dearth of time, money and experts for the pre-Olympic preparations. They were pampered and promised huge rewards on returning with a good performance.
11) What could have been better:
- All the major teams knew India relied heavily on Penalty Corners and would not try hard enough to score field goals or short corners against stronger teams in Olympics. India played into the hands of the opposition by doing just that.
- Penalty Corners finishes could have been better. For example, in the match against South Korea, Koreans converted 3 out of 5 corners into goals and India missed 4 out of 4 penalty corners.
- If the administrative tug of war between Hockey India (HI) and Indian Hockey Federation (IHF) would have been timely solved, then many talented new players from World Series Hockey (WSH) would have not been treated as traitors by HI and barred from the National Camp.
12) Ray of Hope:  Still not being a pessimist, I believe that Indian hockey can rediscover that 'Golden Era'. Our players need to understand that our legacy in hockey is at par with Brazil's in football! The players should develop the sense of pride in them and realise that they are playing for a team for which once Dhyan Chand played. Mr. Nobbs once said "I come from a sporting culture where players are willing to line up their coffins on the side of the pitch. That's their pride in representing the country."
Along with moral support, the players need something more, something that actually matters at international level.
13) Suggestions to be considered :
- More and more national level tournaments should be organised, and new talents should be groomed. WSH should be given recognition.
- Young players should be provided kits of international level. Many young players don't even get to see a Grey hockey stick before any international tournament!
- Unlike this time, preparation for Olympics should start at least 2 years before the main event.
- More tournaments with European countries should be organised. Indian hockey team hardly clashes with the Netherlands, Germany or British teams before any major event.
- As the rules and turf has changed, the techniques and style of play should be changed accordingly.
- More physiotherapists and technical staff should be provided to players.
- Better perks and facilities should be provided to players so that they can have a sense of belongingness, feel pride in their job and not worry about anything other than their game.
- And finally, fans, association and especially the always-ready-to-rip-apart media should have faith in their players and coach and give them time to develop for better results.