UFC is widely considered the world's biggest and most successful MMA promotion. It offers world-class competition to some of the best fighters and rewards them with handsome salaries. While there are several other MMA promotions globally, none come close to being the global stage that UFC has proven to be.
Naturally, then, most UFC fighters are the center of global attention. From top brands and MMA promotions to Hollywood directors and producers, people eye UFC stars for one reason or another.
Some lucky UFC fighters have made it to Los Angeles, California, to get bigger pay-cheques for working half as much.
Here are five UFC fighters who have successfully crossed over into the glamour of Hollywood:
---
#5 - Chuck Liddell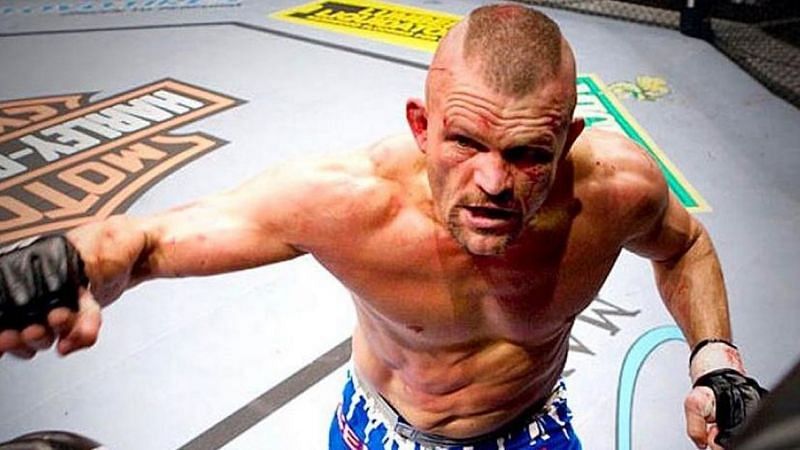 Charles David Liddell, famously known as Chuck Liddell, is a retired mixed martial artist and a former UFC light heavyweight champion. While Liddell has fought in the UFC for most of his career, he has also made stints on other promotions like Pride.
Chuck Liddell became the UFC light heavyweight champion after defeating Randy Couture via KO at UFC 52 in 2005. He defended his title four times before losing it to Quinton Jackson two years later. Liddell became a star at the peak of his career and sold almost a million PPV tickets for his second fight against Tito Ortiz in 2006.
'The Iceman' retired from UFC in 2010 and appeared in an action-comedy blockbuster movie in 2013, Kick-Ass 2. Interestingly, he always had a connection in Hollywood since his childhood. In 1981, Chuck Liddell played the role of a 14-year-old boy scout in an erotic thriller, The Postman Always Rings Twice.
In 2003, he appeared in Cradle 2 The Grave and in The Life and Death of Bobby Z in 2007. Chuck Liddell has also featured in many TV shows, including Entourage, Dancing with the Stars, Punk'd, and The Simpsons.
#4 - Randy Couture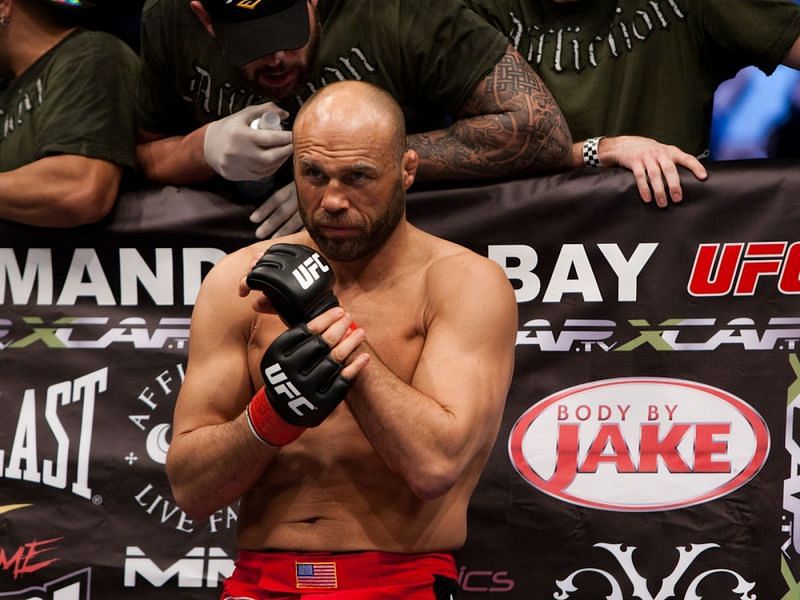 Randy Couture is a former three-time UFC heavyweight champion, a two-time UFC light heavyweight champion, and an interim UFC light heavyweight champion. As any six-time former UFC champion would be, Couture was a celebrated MMA fighter. He is also a former United States Army sergeant and an actor.
Randy Couture made his UFC debut in 1997 and won the heavyweight championship against Maurice Smith six months later in the same year. Couture has competed in a record sixteen title fights. He is tied for the most wins in UFC heavyweight championship fights (six) with former UFC heavyweight champion Stipe Miocic.
Randy Couture retired from the UFC in 2011 after losing to Lyoto Machida. Owing to his personality, Couture started landing roles in movies as early as 2003. His first cameo was in Cradle 2 the Grave, but he went on to play more significant roles in over twenty Hollywood movies. Some of his notable roles have come in the Expendables series, The Scorpion King 2: Rise of a Warrior, and The Hard Way, a Netflix movie released in 2019.
#3 - Keith Jardine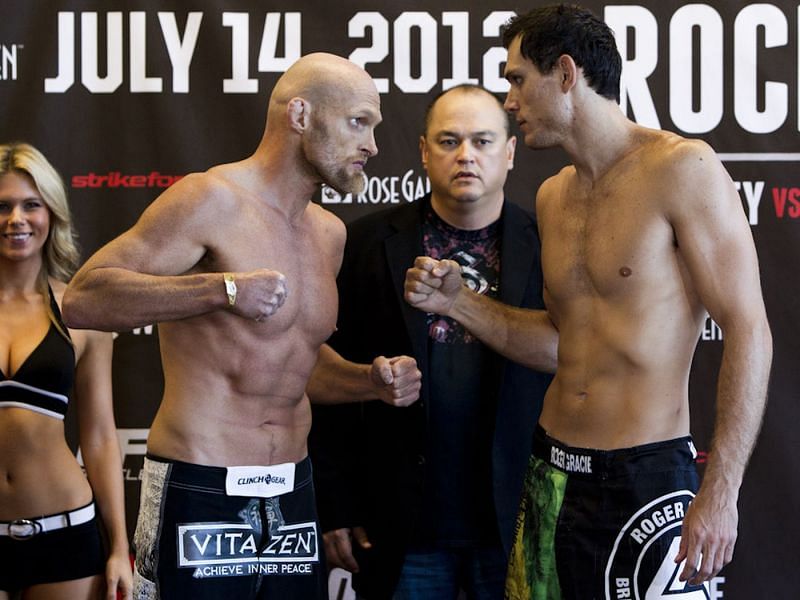 Keith Jardine (17-11-2) is known for a wild MMA career that spanned over eleven years in MMA promotions like the UFC, King of the Cage, and Strikeforce. He never won a championship title in any of the organizations he fought in but had a reputation for causing upset losses to his opponents. His most notable upset victories came against Forrest Griffin via KO at UFC 66 and against Chuck Liddell at UFC 76.
Keith Jardine retired from MMA in 2012 after two consecutive losses against Luke Rockhold and Roger Gracie. He later managed to transition full-time into Hollywood, which also included a little bit of stuntwork.
He has featured in nearly fifteen Hollywood movies and TV shows, most notable of which are Crank: High Voltage (starring Jason Statham), John Wick (starring Keanu Reaves), Gamer (starring Gerard Buttler), Once Upon a Time in Venice (starring Bruce Willis) and Bird Box (starring Sandra Bullock).
Jardine's most recent cameo was in an Ethan Hawke film, The Kid, released in 2019.
#2 - Ronda Rousey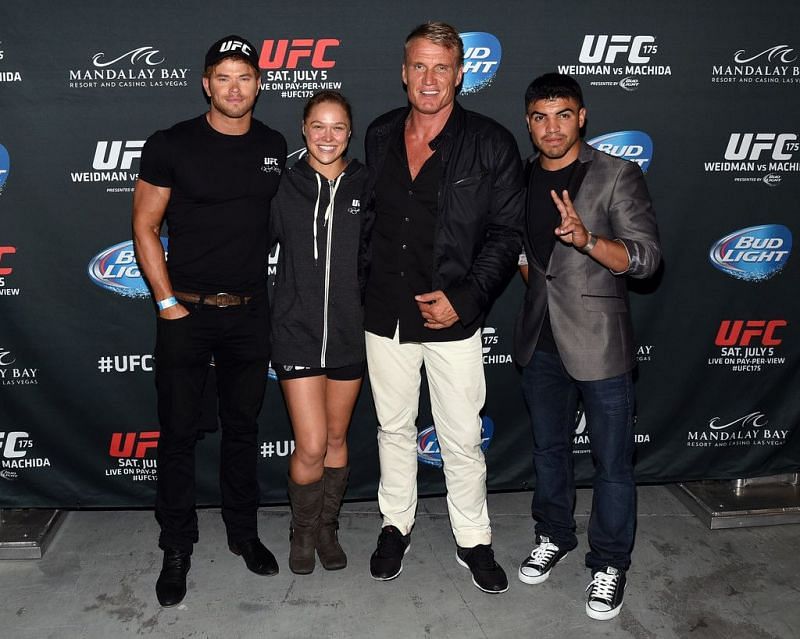 Ronda Rousey is a former women's bantamweight champion for UFC and Strikeforce. She made her UFC debut in 2013 with an unbeaten MMA record. 'Rowdy' set the record for most title defenses by a woman (six) in the UFC and was also the first woman to be inducted into the UFC Hall of Fame.
Rousey retired from MMA after losing two consecutive fights in 2015 and 2016 against Holly Holm and Amanda Nunes. Those were the only losses she faced in her entire MMA career, retiring with a 12-2 record.
Ronda Rousey started getting movie roles way before she called it quits on her MMA career. She has featured in more than ten movies and TV shows, including The Expendables, Furious 7, Entourage, Mile 22, and Charlie's Angels.
Ronda Rousey also stars in a documentary based on her life story, called Through My Father's Eyes: The Ronda Rousey Story, released in 2019. Her net worth is around $13 million, and much of the credit goes to her reel life.
#1 - Georges St-Pierre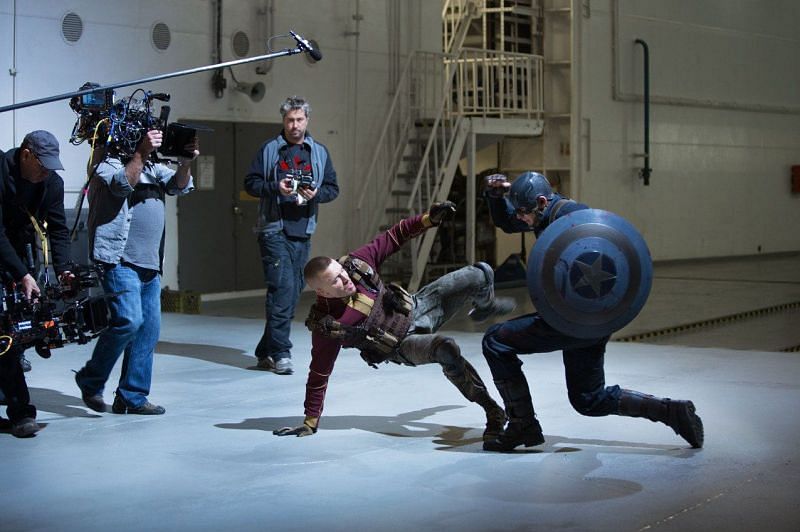 Georges St-Pierre has had a near-perfect MMA career, most of which he spent fighting in the UFC. He debuted at UFC 46 in 2004 and experienced the first loss of his career against his idol, Matt Hughes, at UFC 50. GSP is widely considered the MMA G.O.A.T. [Greatest of all Time] and the best welterweight fighter in history.
He is a former UFC welterweight and middleweight champion and is one of the few MMA fighters to feature alongside some of the biggest actors in Hollywood.
Georges St-Pierre has featured in movies like Never Surrender, Captain America: The Winter Soldier, Kickboxer: Vengeance, and Cartels. He also landed the role of Georges Batroc in the recently released Marvel TV show, The Falcon and the Winter Soldier.
GSP fought his childhood hero Jean-Claud Van Damme in the movie, Kickboxer: Vengeance. He described the event and said:
"Jean-Claude Van Damme for me, growing up in a French environment in Quebec, he was the biggest star, so fighting him for me was like fighting the hero of my day. It was a dream come true. It was like fighting my mentor, so to speak. This was the guy who inspired me to be in the UFC and all of these things, so I was very nervous, but I knew Jean-Claude from before, so I wanted to do well. I wanted the fight to be memorable."
---
Please take 30 seconds to answer this survey so that we can better understand how to serve your MMA needs.