Former two-time UFC bantamweight champion T.J. Dillashaw has announced his retirement from the UFC. His old adversary Cody Garbrandt had some choice words for the 36-year-old.
Following a recent shoulder surgery, T.J. Dillashaw reportedly informed the UFC of his decision to retire from mixed martial arts. His manager, Tiki Ghosn, reported it to a number of media outlets.
Cody Garbrandt, who's shared the octagon with Dillashaw twice in the past, losing on both occasions at UFC 217 and UFC 227 respectively, castigated his former rival's decision. The way Garbrandt perceives it, Dillashaw has been fooling the MMA community all this time while competing under the influence of PED's, and he arrived at this decision bearing in mind that he cannot fight like a "real man":
"Can't compete like a real man! Had y'all fooled for years 💉"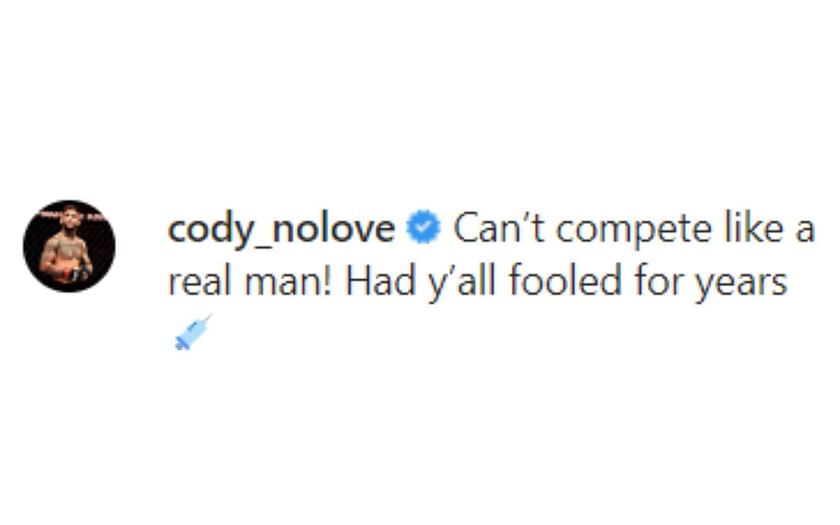 In January 2019, Dillashaw challenged Henry Cejudo for the 125-pound title by moving down to the flyweight division. Dillashaw lost the fight via first-round TKO. Subsequently, he failed a drug test and was suspended for two years by the USADA for usage of recombinant human erythropoietin (EPO) prior to the Henry Cejudo bout.
---
Demetrious Johnson has a two-word response to news of T.J. Dillashaw's retirement from the UFC
The news of T.J. Dillashaw's sudden retirement from the sport has shocked the MMA community. Former UFC flyweight champion Demetrious Johnson reacted to the news by aiming a potshot at the 36-year-old.
During The Ultimate Fighter season 22 in 2015, Conor McGregor notoriously called Dillashaw a "snake in the grass" for splitting his time between his former camp, Team Alpha Male, and coach Duane Ludwig, who left to start his own gym.
The team's founder, MMA veteran Urijah Faber, played a significant part in Dillashaw laying his hands on UFC gold and McGregor sensed disloyalty.
Demetrious Johnson reacted to the news of Dillashaw retiring by wishing him luck on his new journey. 'Mighty Mouse', however, also used a snake emoji in his tweet, seemingly referring to McGregor's comments:
"God speed 🐍"
Check out the tweet below:
Dillashaw's most recent fight was in October at UFC 280 in Abu Dhabi, where he lost to bantamweight champion Aljamain Sterling by TKO. According to Dillashaw's post-fight comments, he competed despite being hampered by a shoulder injury. Before the stoppage, Sterling had him completely outclassed from start to finish.