Max Holloway stands out as one of the toughest fighters on the UFC roster, known for his remarkable durability. The former UFC featherweight champion's extensive record in the division has essentially positioned him as the unspoken gatekeeper of the 145-pound weight class.
'Blessed' recently secured a third-round knockout victory against 'The Korean Zombie' Chan Sung Jung at the UFC Singapore event last month.
No. 9 ranked featherweight fighter Movsar Evloev has recently thrown down the gauntlet by challenging Max Holloway for a potential showdown. His bold declaration comes with a pledge to deliver the most challenging bout of Holloway's career. Evloev's now-deleted post read:
"@BlessedMMA, it's time for you to face a real challenge. I'll take you into deep waters like you've have never experienced before. I'm ready! Let's book it. Don't be scared like Tapuri."
Check out the post below:
Evloev's deleted post found its way onto MMA Orbit on X (formerly Twitter). However, fans quickly responded with various reactions, downplaying his expectations in a potential fight against Holloway.
One fan wrote:
"A real challenge😂 give Lopez a full camp and you're finished."
Another wrote:
"dudes best win is rank 10 and last out he scraped by a debutant and now he wants Max 💀"
Check out some more reactions below:
"Is it a trend now for upcoming featherweights that have one or two decent names on their record to call out #1 contender Max Holloway?"
"Naw fight someone like Arnold Allen, Calvin Kattar or Ortega before jumping all the way to #1 contender….especially after his last fight"
"Wasn't he the one who got fraud checked in his last fight?"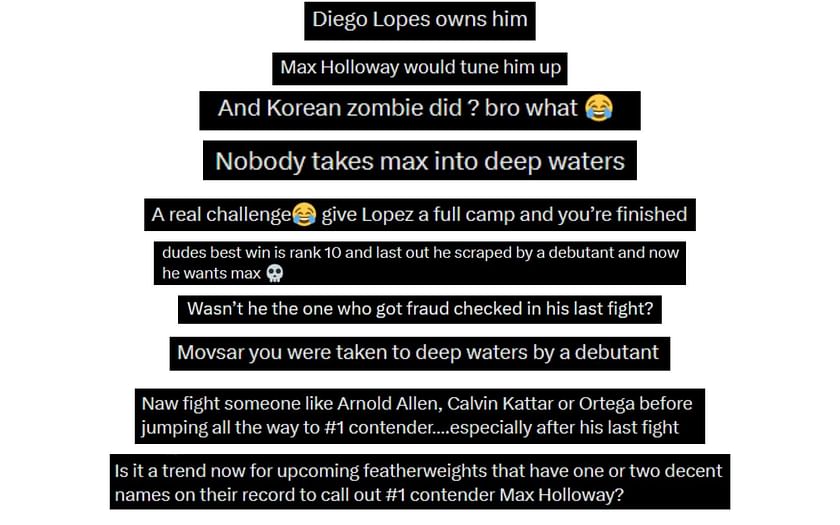 ---
Michael Bisping explains a possible scenario that might lead to Max Holloway vs. Alexander Volkanovski 4
Currently, there's a prevailing view that UFC featherweight kingpin Alexander Volkanovski might defend his championship against Ilia Topuria in his next bout. If 'The Great' secures a victory against Topuria, it's widely speculated that he could potentially seek another opportunity to challenge for the UFC lightweight title, facing the winner of the Islam Makhachev-Charles Oliveira rematch.
Despite three prior losses to Volkanovski, Max Holloway is currently riding a two-fight winning streak and remains interested in a fourth bout against him.
UFC Hall-of-Famer Michael Bisping discussed a potential scenario for this quadrilogy fight on his Believe You Me podcast. He said:
"If Volk's next fight is Topuria, which it should be, and he beats Topuria, let's just say in the meantime, Holloway beats one, two more people, I think even Volkanovski would say 'listen, the man deserves a fourth shot. It's as simple as that'."
Check out Bisping's comments below (from 33:42):
Edited by Jigyanshushri Mahanta