Henry Cejudo is adept at stirring up controversy and keeping his name in the news. Most recently, he appeared to conceal his stance on Dana White slapping his wife on New Year's Eve while cutting a promo to call out UFC bantamweight champion Aljamain Sterling.
Earlier this week, during the Legacy Fighting Alliance (LFA) 149 broadcast, Henry Cejudo announced that the UFC is in the process of orchestrating a highly anticipated fight with Sterling. Additionally, Cejudo added that he feels Sterling is attempting to avoid a fight with him:
"I'm breaking this here at LFA. Aljizzlame is next. The only problem is he keeps ducking Triple C! He doesn't want the smoke. He's fat. He looks like Whoopie Goldberg! He absolutely makes me sick. He's dodging the Triple C and by the time I get to him he will bend the knee. The UFC is looking at March 5."
Check out the video below:
A fan asked 'Triple C' about a fictitious fight with UFC president Dana White's wife, Anne, in the comments section of the post made on Henry Cejudo's official Instagram account. Cejudo surprisingly welcomed the idea and wrote:
"I'm ready, she could get it too."
Check out Cejudo's comment below: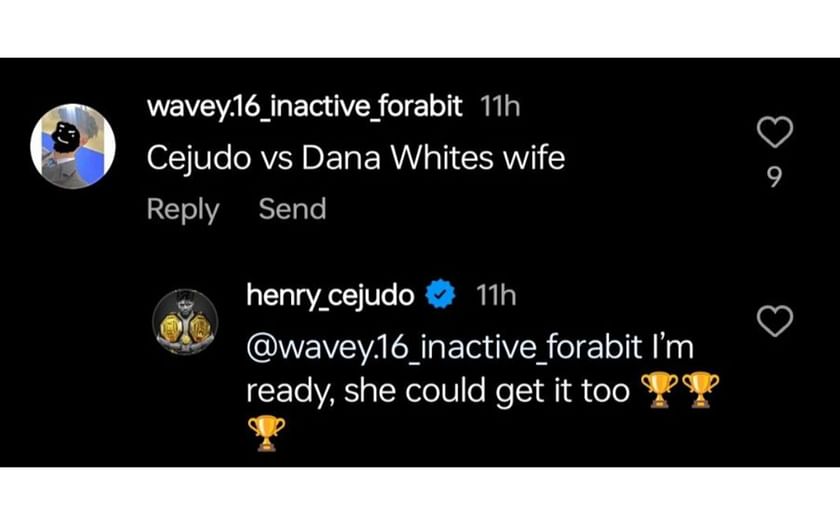 The video of White slapping his wife during their vacation in Mexico has the MMA community divided. While certain sections of the community believe that White should face some consequences for his actions, others argue that White's wife should also be held accountable.
Place your bets for the upcoming UFC Fight Night main card and earn $$$.
---
UFC veteran picks Henry Cejudo to comfortably beat Aljamain Sterling
Henry Cejudo, a former UFC two-division champion, has been linked to a prospective bout with Aljamain Sterling, the current UFC 135-pound titleholder. Sterling recently confirmed that Cejudo would be his next opponent, with a March date being worked out for the bout.
With talk of a potential fight between the two picking up steam, UFC veteran Matt Brown offered his prediction for the fight. His perdition came in a recent appearance on The Fighter vs. The Writer. Brown said:
"I think Cejudo beats Aljamain pretty soundly. I think [Cejudo's] got tremendous boxing, amazing wrestling. I don't think Aljamain's going to be able to get him down. I think he's just got better boxing, better standup. He's very disciplined with his standup. He stays tight and strong. I'm going to go with Cejudo on that. I think he beats him relatively easily."
Edited by Ashvinkumar Patil