Jared Cannonier is a former middleweight title challenger. Unfortunately, his crack at Israel Adesanya's 185-pound throne ended in failure, as he was neutralized in a unanimous decision loss to 'The Last Stylebender'. However, if Sean Strickland is forced to withdraw from UFC 293, he could have another chance.
'The Killa Gorilla' was recently revealed as the backup fighter for the main event and will be present in Sydney, Australia, to make weight in case the matchup experiences any last-minute changes. While Jared Cannonier himself is likely pleased with the role, not everyone was welcoming of him as a backup fighter.
Fans on Twitter, in particular, disapproved of the UFC's decision to book Jared Cannonier as the headline bout's backup fighter for various reasons, ranging from their disinterest in seeing a rematch between him and Israel Adesanya, to their frustration with the UFC middleweight division's supposedly shallow state.
One fan, perhaps in a jab at Jared Cannonier's past as a heavyweight, claimed that 'The Killa Gorilla' is more likely to miss weight than make it, although it should be noted that Cannonier has never actually missed weight:
"Cannonier is more likely to miss weight than the fighters in the main event."
Another fan described the UFC's decision as evidence of the middleweight division's current state as a dead division:
"They don't have many choices. Dead dead division"
One fan brought up unbeaten sensation Khamzat Chimaev, claiming that he should have been the backup fighter:
"Khamzat should of weighed in but don't think he can travel to Sydney"
Meanwhile, another fan simply pleaded with Sean Strickland to make weight:
"Omg please make weight sean"
A collage of fan reactions can be seen below: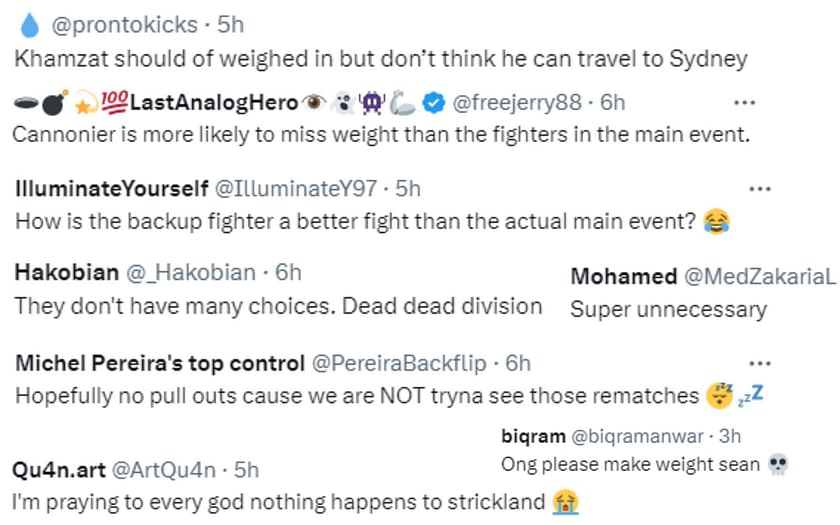 ---
How many times has Jared Cannonier fought for a UFC title?
Despite the fact that Jared Cannonier has competed in three different weight classes, he has only ever earned a title fight at 185 pounds. However, his fight against middleweight kingpin Israel Adesanya was widely panned by fans, analysts, and even his fellow roster-mates.
Cannonier's offense was impotent during the pair's bout, as Adesanya's range and feints seemingly froze him. While 'The Killa Gorilla' has rebounded with a two-fight win streak, including a win over UFC 293 title challenger Sean Strickland, fans are not yet ready to see him fight for the title again.