Former three-time NCAA Division I National Champion wrestler Bo Nickal is not short of confidence, despite an overall lack of experience in MMA.
'The Allen Assassin' made his UFC debut in March, submitting Jamie Pickett, and most recently stopped Val Woodburn with strikes after just 38 seconds.
Despite his lack of experience, Bo Nickal has already called out the likes of Khamzat Chimaev, suggesting he's ready to take on the top middleweights on the planet.
However, for the most part, the wrestling ace has not seen many fighters call him out.
This may be beginning to change, though. Recently, former light-heavyweight contender Paul Craig dropped to 185lbs for the first time, TKOing Andre Muniz in the second round of their bout.
After his win, 'Bearjew' didn't hesitate to call out Nickal, claiming the wrestler "could play into his hands" in a potential fight.
Since then, a number of fans have discussed the possibility of a Nickal vs. Craig bout on Reddit, with some breaking down how they think the clash could go.
One fan suggested that a fight with Craig could be a step too far for Bo Nickal.
"This would be a very good test. Craig's striking is a good litmus test to see how bo's is, and with a BJJ specialist it will be really interesting to see if Bo takes it to the ground, and if so how much success he has with mma grappling. If I'm Bo or his manager though, I'm taking 1-2 more unranked by but steps up in competition. Bruno Silva or brad Tavares or gregor rodrigues types. But I definitely would love to see this fight."
Another seemed confident that Nickal's wrestling could get the job done:
"Bo might've already shown that his striking is better than Craig's. Also, I always think the BJJ specialist vs. wrestler, or someone being really good off their back thing gets so overblown. When was the last time it was a successful tactic. You can be Royce Gracie, I don't care. If a wrestler like Nickal gets you down, you're losing."
One fan had a direct comparison, stating that he could see the fight going in the same way that Khamzat Chimaev vs. Gilbert Burns did:
"I feel like this plays out a bit like Burns vs Khamzat, Bo probably wouldn't want to fuck with Craig's BJJ and would have to stay on the feet. It's a matter of how Craig's chin is and a great time for Bo to test his striking."
Another fan referred back to Craig's 2018 clash with Magomed Ankalaev as a reference to how the fight might go:
"Ankalaev vs craig is a really easy one to show wrestling vs. bjj haha."
A collage of comments can be seen below.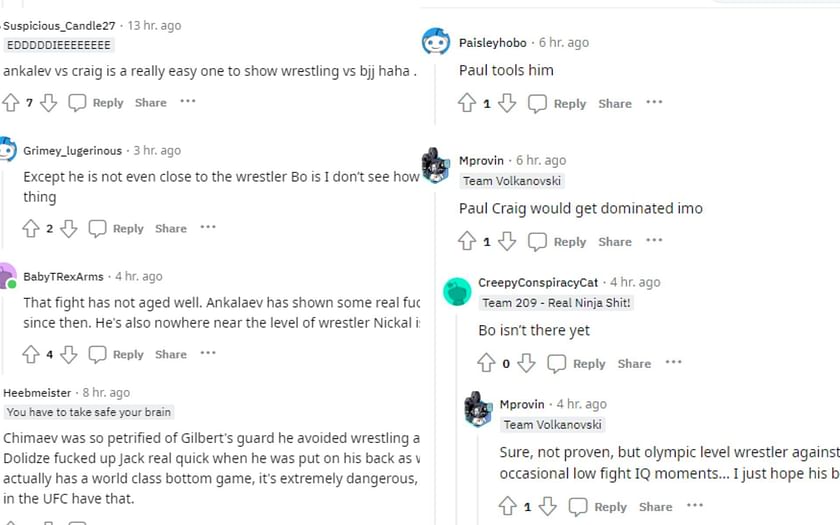 ---
Bo Nickal next fight: Could he sit out until 2024?
Despite having just two fights in the octagon to his name, Bo Nickal has quickly become one of the most talked-about fighters on the UFC's roster.
His incredible wrestling accolades clearly make 'The Allen Assassin' stand out, but after his win over Val Woodburn at UFC 290, when will he fight next?
According to Nickal himself, it may not be any time soon.
A recent appearance on The MMA Hour saw the former NCAA Division I National Champion admit that he may not fight again in 2023, stating that he isn't preparing for his next fight right now.
Watch Bo Nickal discuss this below.