Ailin Perez secured a unanimous decision victory over Lucie Pudilova in their women's bantamweight matchup during the preliminary card of UFC Vegas 82 on Saturday afternoon.
Perez made headlines when she was swiftly taken to the hospital due to an undisclosed medical condition following her initial weigh-in on Friday. 'Fiona' registered 136.5 pounds on the scales, just above the non-title bantamweight limit. However, her second attempt proved successful as she weighed in under the 136-pound limit.
Ailin Perez once again drew attention by celebrating her victory with a twerking dance. However, what prompted apprehension among fans was the presence of her 5-year-old son at the UFC Apex Facility during the celebration.
The 29-year-old Argentinian, previously criticized for her distinctive twerking, proceeded to invert herself on the octagon fence, repeating the dance move with her teammate.
One fan wrote:
"that kids seen worse i imagine"
Another wrote:
"She's a mother."
Check out some more reactions below:
"Trashy as hell, especially with her child in the audience. This is why fans do not like her. Same reason people did not like it when Bethe Correia would win."
"The fact her son is in that crowd is unbelievably depressing what a life that kid will have..."
"This Dirtbag Stuff made its way into the Cage...L"
"Disgusting and trashy"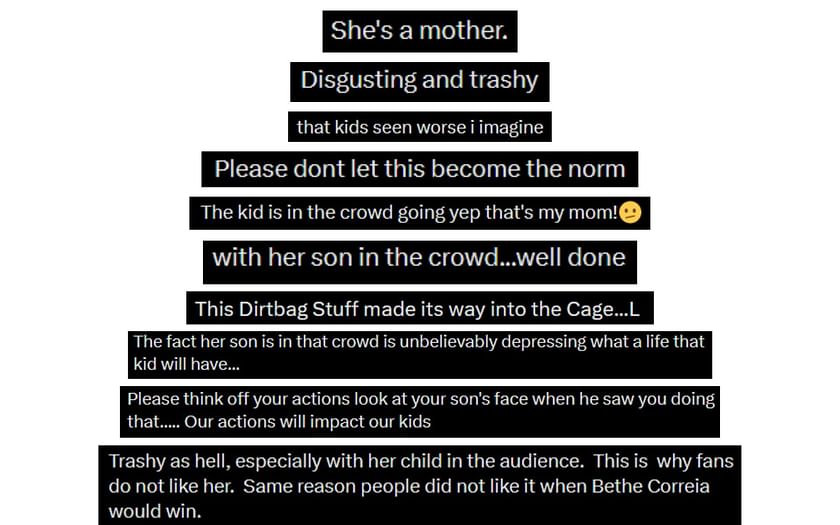 ---
How did Ailin Perez defeat Lucie Pudilova?
In the opening of the first round, Lucie Pudilova grappled with adversity as Ailin Perez executed a well-timed takedown. 'Fiona' swiftly transitioned to mount, asserting control despite the 29-year-old Czech's defensive efforts. The round concluded with Perez dominating from the top, evident in Pudilova's swelling around one eye.
The second round brought more stand-up action, but the Argentinian once again dictated the ground game with 'Bullet' on her back. Perez smoothly transitioned to mount, launching ground and pound in pursuit of a stoppage. Despite Perez's signal to the referee, Pudilova resiliently defended, rising slowly at the round's end.
The third round saw a momentum shift as Lucie Pudilova initiated a takedown. Despite initial struggles, Perez showcased resilience. Pudilova capitalized on a fatigued Perez, delivering significant damage from the top. However, the judges ultimately favored Perez with a unanimous decision (29-27, 29-28, 29-28).
Edited by Jigyanshushri Mahanta