Most experts are heavily leaning towards Jon Jones in his upcoming heavyweight title fight against Stipe Miocic. However, Miocic is training quietly to become a three-time UFC heavyweight champion. He looks solid, ripped and focused to make history at the iconic Madison Square Garden on November 16.
A recent post on Stipe Miocic's Instagram account shows him working on the pads, sporting a lean and battle-ready physique that defies his 41 years of age.
Check out the post below:
The caption to the post read:
"Every minute of every hour."
Miocic is the most accomplished heavyweight in UFC history. He holds the record for most title fight wins in the division (six), along with the record for most consecutive title defenses (three). While he may not be a big name in the casual fans' circle, the former two-time champion is one of the most revered fighters among hardcore fans.
The comments section on Miocic's post lit up with messages of support and motivation from loyal fans.
Here are some reactions:
@daniel_el_barbas wrote:
"Let them doubt you champ! Shock the world again."
@benzeltser commented:
"LES GO CHAMP"
@ericgman_40 stated:
"You got this. Show Jones how hard you can hit."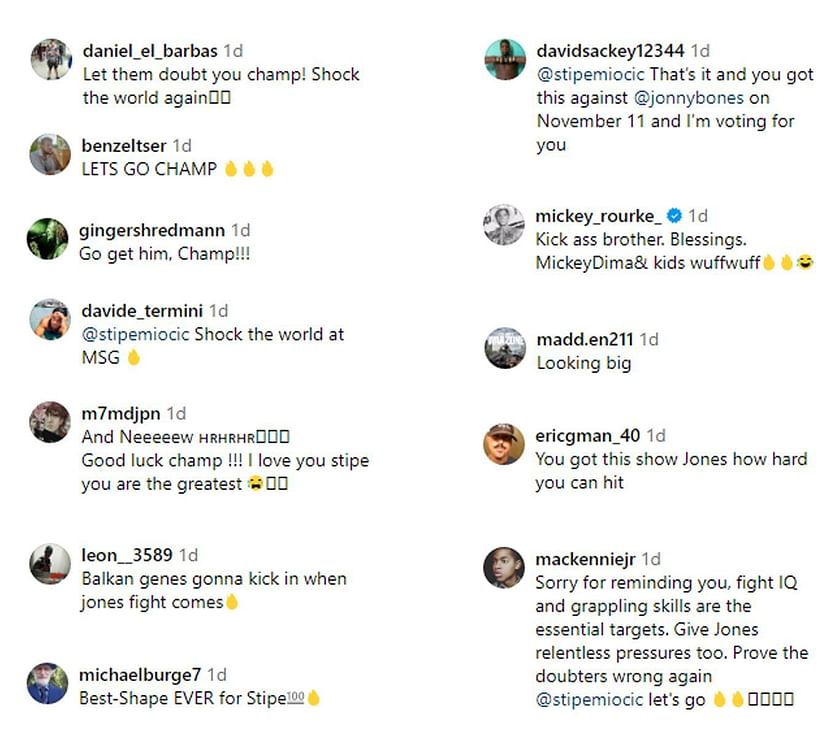 ---
Stipe Miocic was up for the Jon Jones fight at UFC 285
Stipe Miocic and Jon Jones are two of the most accomplished fighters in the UFC. The duo have been on a collision course for over half a decade and the fight between them will finally come to fruition at the UFC 295 pay-per-view event in November. Miocic has not competed professionally since losing the heavyweight title to Francis Ngannou at UFC 260 in April 2021.
Meanwhile, Jon Jones made his much-anticipated heavyweight debut at UFC 285 in March 2023 and made quick work of Ciryl Gane to win the vacant 265-pound title.
Miocic later told Ariel Helwani on The MMA Hour that he was keen to compete against Jon Jones. However, the UFC chose 'Bon Gamin' instead:
"They went with Ciryl. I'm not a matchmaker, I can't tell you [why]. I don't know. [The UFC] just went a different direction, so they said maybe July."
Watch the interaction between Stipe Miocic and Ariel Helwani below: