Although Sean O'Malley has long been a hot commodity in the UFC, the bantamweight champion's profile really took off after he edged out former champion Petr Yan at UFC 280 via split decision.
However, No. 2 ranked bantamweight contender Merab Dvalishvili later secured a more decisive win against Yan at UFC Fight Night 221 via unanimous decision.
Regardless, 'Suga' sees his win against Petr Yan as superior. In a recent tweet, O'Malley tried to undermine Dvalishvili's exploits, stating:
"It took mediocre Merab 5 rounds to beat Peter I beat him in 3."
The claim, however, didn't sat right with fight fans and backfired on O'Malley inviting the unbridled wrath of MMA trolls. Check out a few responses below:
Reacting to O'Malley's claims, @WayneAlt1 suggested that Yan was robbed against 'Suga':
"Maybe because Yan was robbed, you lost lil bro."
Continuing on the Yan was robbed narrative, @jpgflippa wrote:
"Merab actually dominated him. You lost that fight to Yan, but got the typical UFC push. Just like Paddy Pimblett."
Another Twitter user, @avilagonzalo11, wrote:
"Merab Dominated Yan for 5 rounds as the main event. You lost to Yan in 3 rounds."
@AfrikanChefZA opined:
"He beat him, you didn't, you had a split decision win against Petr Yan, he 50-45d him."
Another user @LapainisJ wrote:
"Nah you lost that fight . [You] Yourself was even surprised when your hand was raised . Not a hater."
A disgruntled fight fan, @yrrag088 wrote:
"You must be thanking the judges cause ain't no way you saying this and believing it lol."
In another harsh response to Sean O'Malley, @cjjohn903 wrote:
"Lol stop the [cap]🧢."
@GCorner13 opined:
"Sorry, dawg. [Yo]u may have got the W on paper, but you lost that Yan fight. Love [yo]u tho[ugh]. 🫶🏾"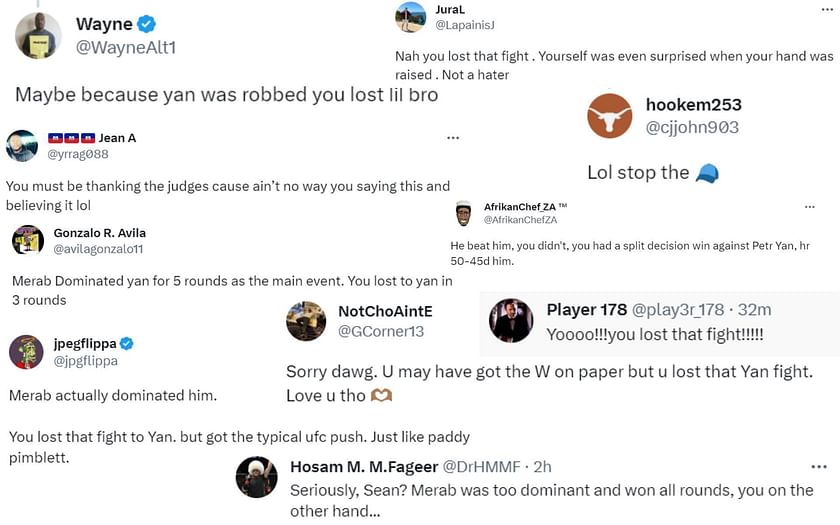 ---
Merab Dvalishvili stakes his claim for a title shot against Sean O'Malley
Sean O'Malley has no shortage of contenders for his first title defense, but 'Sugar' wants to face his former foe Marlon Vera next. 'Chito' is the only one to have beat O'Malley in his professional career.
Regardless of the bantamweight champion's personal vendetta, Merab Dvalishvili believes he deserves a title shot ahead of Vera. Talking to MMA reporter The Schmo, the Georgian said
"Chito is [a] joke, he is not even a tough fight. He got dominated [by] Cory Sandhagen right before [his last fight] now he is coming [off] like a boring fight win, so everybody agrees that he doesn't deserve the title fight. Everybody knows that I beat two former champions [Petr Yan and Jose Aldo] back-to-back... O'Malley should fight either Aljo or me."
Catch Merab Dvalishvili's comments on Sean O'Malley below (3:53):