UFC 229 is here and there has never been an occasion where a fight in the UFC has generated so much hype all over the world.
With the entire Mixed Martial Arts and UFC fanbase feverish in their expectations and hopes from the fight, UFC 229 is poised to become the most watched fight in the history of the company.
According to Dana White, the fight between Conor McGregor and Khabib Nurmagomedov could be set to break even the records set by the likes of Floyd 'Money' Mayweather and Conor McGregor's fight.
Two more different fighters have not been seen before outside of the UFC, who are meeting on such an occasion where both of them have a large fan-base pulling for them. Be it the global fanbase that McGregor has accumulated over his years of fighting and his reputation, or the fact that Khabib has die-hard fans as well, makes their rivalry all the more intense.
On the card, in the co-main event, Tony Ferguson and Anthony Pettis will square off, with Tony Ferguson finally hoping to get his hands on a UFC Lightweight Championship opportunity by winning the fight.
Although the cancellation of the Sean O'Malley bout left the fans disappointed, each of the other fights, more than make-up for it. Alexander Volkov looked to continue to make his name in the UFC with possibly another win, while Dominick Reyes had his own giant to overcome in the shape of Ovince Saint Preux.
The results will be updated as and when the fights take place.
You can read the full preliminary and early preliminary card results in details here!
Early Preliminary Card:
Lina Lansburg vs. Yana Kunitskaya - Winner: Yana Kunitskaya via Unanimous Decision (30-27, 30-27, 30-27)
Gray Maynard vs. Nick Lentz - Winner: Nick Lentz via KO (2nd Round, 1 Minute and 19 Seconds)
Ryan LaFlare vs. Tony Martin - Winner: Tony Martin via TKO (3rd Round, 1 Minute)
Preliminary Card:
Sergio Pettis vs. Jussier Formiga - Winner: Jussier Formiga defeated Sergio Pettis via Unanimous Decision (30-26, 29-28, 29-28)
Vicente Luque vs. Jalin Turner - Winner: Vicente Luque defeated Jalin Turner via KO (Round 1, 3 Minutes and 52 Seconds)
Scott Holtzman vs. Alan Patrick - Winner: Scott Holtzman defeated Alan Patrick via KO (3rd Round, 3 Minutes and 42 Seconds)
Aspen Ladd vs. Tonya Evinger - Winner: Aspen Ladd defeated Tonya Evinger via KO (1st Round, 3 minutes and 26 seconds)
#1 Michelle Waterson vs. Felice Herrig: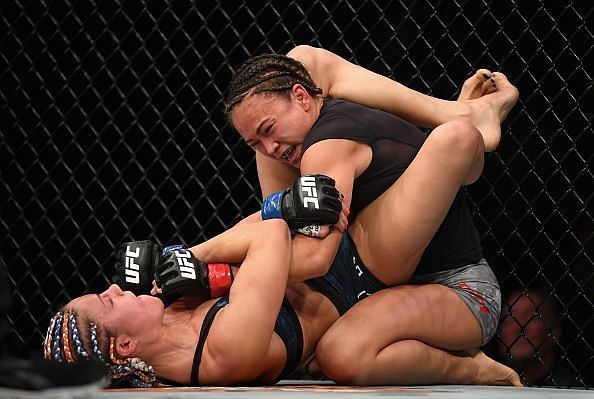 Round 1: Taking on the submission expert, Michelle Waterson who has 9 submissions in her MMA career so far, Felice Herrig had to make sure that she maintained a safe distance from Waterson in the fight.
Round 2: The 2nd Round was all about Michelle Waterson, as she was able to take Felice Herrig down and dominate her on the ground. The ground and pound were all that was needed, with Waterson using her weight to her advantage. There was no chance for Herrig to get up, and the attempt at the armbar came too late.
Round 3: The 3rd round was one-sided yet again, and Waterson dominated the fight. Knees, ground and pounds, elbows, and a strong axe handle meant that Waterson ended the fight strong.
Result: Michelle Waterson defeated Felice Herrig via Unanimous Decision (30-26, 29-28, 30-27)
#2 Derrick Lewis vs. Alexander Volkov: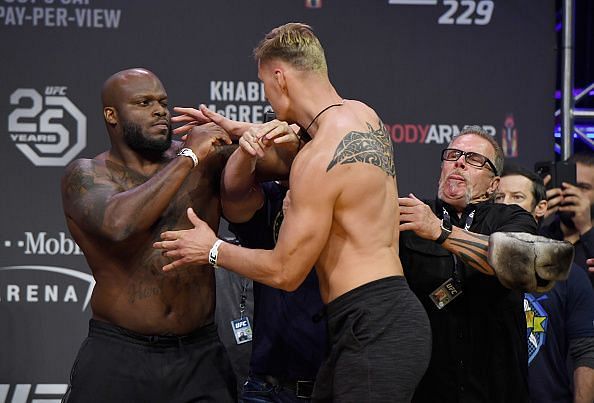 Round 1: Round 1 was all about Alexander Volkov for the first 3 minutes. Volkov threw hammers at Lewis which had the big fighter reeling. Twice it looked like it was all over. but that was not enough to win the fight. Lewis came back at the 3-minute mark with sudden hammers. Volkov retaliated with a takedown, but could not lock in the Rear Naked Choke that he was looking for. Lewis got on top of Volkov with 30 seconds to go and dropped significant shots on him.
Round 2: Volkov came out swinging again, and this time targetted the injured eye of Lewis. Volkov sent probing punches towards Lewis. He sent kicks, and stayed out of Lewis' range. The second round came to an end with Volkov having the most advantage, as he had avoided most of Lewis' punches.
Round 3: Derrick Lewis looked like he was done, as he was wobbling and eating all the shots from Volkov. The fight continued till 18 seconds were left, and then Lewis launched a big shot which hit Volkov square on the face. That's all that was needed for the win for Lewis, in a fight that was dominated by Volkov.
Result: Derrick Lewis defeated Alexander Volkov via Knockout (4 minutes and 49 seconds)
#3 Ovince Saint Preux vs. Dominick Reyes: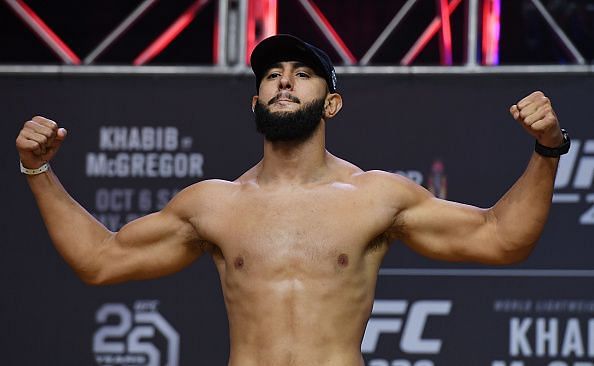 Round 1: Dominick Reyes did a great job in the first round. He hit OSP with shot after shot, each one powerful enough to daze him. It did not look like OSP knew what he was doing, and went for multiple takedowns, not at all comfortable on his feet in front of Reyes. He just managed to survive the round despite taking some bad shots.
Round 2: The second round was much slower as both fighters exchanged shots. It was much more even than the first round, and they tried to keep going as their abilities seemed to match-up.
Round 3: The third round seemed to be much more about OSP. He looked strong and came out throwing punches and kicks. He was not able to take down Reyes, but he kept attempting it. The fight ended in confusion, as Reyes hit a big shot on OSP which dropped him at the absolute end. While it looked like a Knockout, it actually went to a decision.
Result: Dominick Reyes defeated Ovince Saint Preux via Unanimous Decision (30-27, 30-27, 30-27)
#2 Tony Ferguson vs. Anthony Pettis: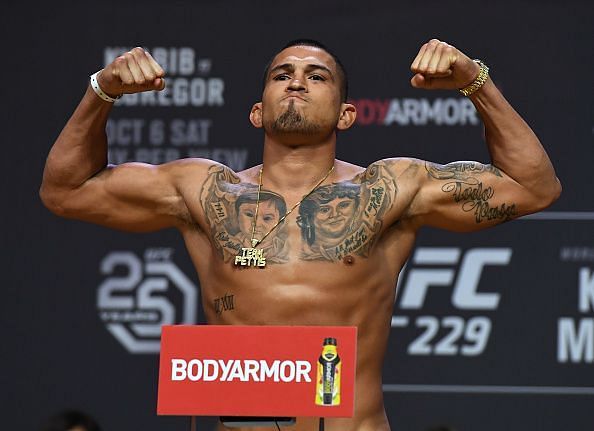 Round 1: Tony Ferguson was limping from the very start of the fight after getting kicked by Pettis. His knee surgery gave him the disadvantage to start with. Ferguson recovered fast and headed Pettis off by putting a huge amount of pressure on him. Ferguson varied his combinations and hit Pettis with several strikes keeping him guessing.
Round 2: Coming into the second round, a quick elbow cut open Tony Ferguson badly, and Pettis followed him with spinning elbows and almost caught him with several big strikes. The two men grounded themselves and grappled until they were broken apart to have a look at the wound. The fight continued hard and fast, with shots rained down by both fighters. The two traded blows, and this time it was Pettis who was cut open by Ferguson. The second round was unbelievable at the level of offence, with both fighters throwing heavy strikes and leaving it all in the Octagon.
The fight was brought to a close by Pettis' corner, as he had broken his arm. It was not restarted after the end of the second round.
Result: Tony Ferguson defeated Anthony Pettis via TKO (Second Round, 5 Minutes)
#1 Conor McGregor vs. Khabib Nurmagomedov for the UFC Lightweight Title: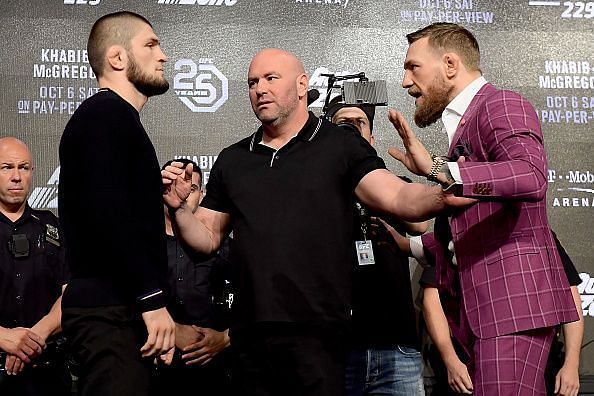 Round 1: Conor started with a big shot to Khabib, and Khabib came back with a takedown which Conor blocked. Khabib stayed on the ankle and wrapped Conor's legs up together. Conor was good at defending, but could not get to his feet. Leaning against the cage on the ground, both exchanged shots. Khabib ground Conor, putting a lot of pressure on him.
Round 2: Round 2 started off much more explosively, as Conor went for the shot and the knee on Khabib. Khabib avoided and hit Conor with a bad shot. Conor came back with a knee of his own, but both went to the ground as Khabib tried to maintain dominance. Khabib sat on top and landed big blows on McGregor with elbows and punches. Conor kept blocking while Khabib kept trying to hit big shots.
Round 3: The third round started slow, with Conor hitting Khabib with some probing strikes. Khabib looked slower than in the previous rounds. Khabib went for the takedown but Conor blocked and hit an elbow. Khabib hit McGregor with a big right hand. The two battled against the side of the cage. Conor caught Khabib with an uppercut, and Khabib came back with a right. Conor landed a body blow. Conor Landed a slap and then a front kick. Khabib swung and tried a takedown, but McGregor blocked. Khabib finally got McGregor down, only for Conor to get right back up. The two clinched and exchanged blows against the cage.
Round 4: Conor landed a big left shot in the fourth round, but Conor got taken down after the 1st minute. A grounded Conor did not have the same energy as he did while up, as Nurmagomedov kept hitting Conor with heavy blows.
The fight came to an end when Khabib locked in the Rear Naked Choke.
CONOR MCGREGOR HAD TO TAP OUT TO KHABIB.
Result: Khabib Nurmagomedov defeated Conor McGregor via the Choke (Round 4, 3 minutes and 3 seconds)
After the fight, Khabib jumped out of the Octagon into the crowd and punched a member of the audience in Conor's corner. All hell broke loose due to Khabib's inexplicable attack.
A member of Khabib's corner jumped into the Octagon and attacked Conor without any reason or provocation. Conor was caught unawares, ruining the moment that had been the culmination of an incredible fight.
Security had to separate them, as the night came to an end.
Dana refused to put the belt on Khabib in the Octagon due to his actions, as the security escorted him out.
---
Leave your thoughts about the events in the comments below!