History was created at UFC 229 when Conor McGregor and Khabib Nurmgamedov faced each other in a match for the UFC Lightweight Championship. As the main event of UFC 229, Khabib vs McGregor was the fight to headline the UFC 229 card, even above Derrick Lewis vs Alexander Volkov and Tony Ferguson vs Anthony Pettis. However, the rivalry between Khabib and Conor McGregor did not start at the pay-per-view. It started way before - and the build-up was another story altogether.
Khabib vs McGregor History
At UFC 205, Conor McGregor had defeated Eddie Alvarez to win the UFC Lightweight Championship. Khabib called Conor out the same night after his submission victory against Michael Johnson and called him a 'chicken'. They also had a confrontation with each other during the UFC 205 weigh-ins.
However, Conor would end up never defending the title, as he left UFC for a while so that he could face Floyd Mayweather in a boxing match.
In the meanwhile, Khabib was supposed to take on Tony Ferguson for the Interim UFC Lightweight Championship, but due to medical issues, had to back out at the last moment. Ferguson won the Interim Title in a fight against Kevin Lee instead.
When McGregor was finally stripped of the title, Khabib and Ferguson were supposed to face each other again, but this time it would be Ferguson who would not be able to make the fight and thus was stripped of his Interim UFC Lightweight Championship.
Khabib and Al Iaquinta went onto face each other at UFC 223 for the vacant UFC Lightweight Championship. In the lead up to the UFC 223 bout, Khabib also had a heated moment with Conor's teammate Artem Lobov as Khabib slapped him for talking behind his back. Conor and his crew threw a dolly at a bus, that Khabib was in along with many other UFC fighters, in retaliation. Things turned pretty ugly between the two fighters.
Khabib won the UFC Lightweight Championship in a fight against Al Iaquinta at UFC 223. Conor vs Khabib at UFC 229 became the biggest ever UFC event with a historic 2.4 million PPV buys, the highest for an MMA event till date. Khabib defeated Conor in the fourth round by submission via neck crank.
Conor McGregor, The Dolly and the Bus
UFC 223 marked the occasion where things took a crazy turn. On a previous occasion, Khabib Nurmagomedov and his friends had bullied Artem Lobov, a friend of Conor McGregor. Conor McGregor, a fighter who is not known for taking things lying down, flew out to a press even Khabib had for UFC 223. There he and his friends stormed the UFC bus, challenging Khabib to get out. When he didn't McGregor attacked the bus itself with a metal dolly. Unfortunately, the dolly broke the glass of the window of the
bus, injuring two other UFC fighters, so that they had to pull out of their fights. For this incident, Conor McGregor faced a number of legal issues -- but he had gotten what he wanted - a fight against Khabib Nurmagomedov at UFC 229.
UFC 229
The lead-up to the pay-per-view event of UFC 229 saw a huge amount of trash-talking take place between Conor McGregor and Khabib Nurmagomedov. When the pay-per-view finally rolled around, Conor McGregor entered the Octagon with Khabib Nurmagomedov. In a 4-round fight, McGregor was dominated by Khabib. The two put on a show, but in the end, Conor McGregor had to tap out of the fight ending it early in the fourth round.
UFC 229 Post Fight Brawl
If the controversy had ended with the end of the fight on the UFC 229 fight-card, then it would only have been another one of the UFC 229 results. However, it did not. With another win added to Khabib Nurmagomedov's record, making it 27-0, Khabib finally lost his temper.
He scaled the Octagon cage and jumped into McGregor's corner, attacking Dillon Dannis - who had provoked Khabib with trash-talking. Inside the Octagon, Conor McGregor found himself in a brawl as well, with Khabib's cornermen who had scaled the Octagon to mock and confront him. Zubaira Tukhugov and Esed Emiragaev and Conor McGregor all exchanged blows. The riotous temperament spilt into the crowd, and the audience in the T-Mobile Arena found themselves attacking each other while supporting their favourite fighter's 'honour'. Both Khabib and Conor McGregor were suspended indefinitely by Dana White, while the Nevada State Athletic Commission finally handed out sanctions in January.
Khabib received a 9-month suspension and $50,000 fine (retroactive to 6th October), and Conor McGregor received a 6-month suspension. Khabib's UFC 229 payout was also withheld by the Nevada State Athletic Commission.
The agreement also included a potential suspension reduction of up to three months if he delivers to the commission a public service announcement on anti-bullying. Khabib's team-mates were also suspended for a year.
Khabib refused to deliver the PSA as he believed that the state of Nevada was itself immoral and permitted acts that are far worse than a brawl. Dilon Danis was also suspended for seven months and fined $7,500 for his involvement. On May 22, 2019, NSAC reduced the suspensions by 35 days which allowed Abubakar Nurmagomedov and Tukhugov to be eligible to compete again on September 1, 2019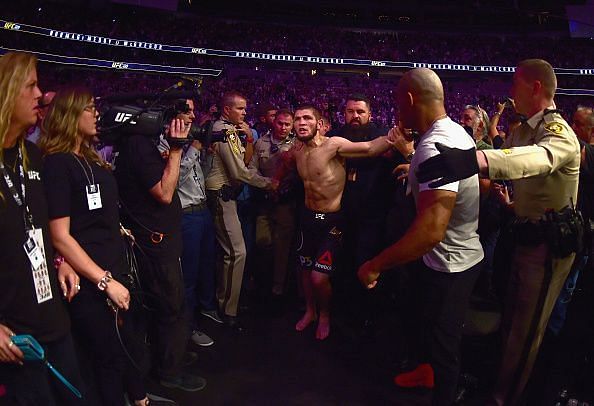 Khabib Nurmagomedov UFC 229 Salaries
Khabib Nurmagomedov - $2 million for his fight against Conor McGregor, which doesn't include PPV payouts and other bonuses. Click to know about Khabib Nurmagomedov Net worth.
Conor McGregor UFC 229 Salaries
According to Forbes, McGregor got a base salary of $3million for his blockbuster UFC 229 bout with Khabib Nurmagomedov with the record PPV buys and other endorsements helping push his total take-home pay to more than $50million. Click to know about Conor McGregor Net worth. Click to know about Conor McGregor Net worth.
*Last Updated: 6th January 2022