UFC's first event in the Czech Republic had everything that you'd expect from a typical MMA card. Hard-fought decisions, the quintessential knockouts and the rise of new title contenders - the first ever fight night in Prague had it all!
Stefan Struve quite possibly announced his retirement on a night that saw him return to the win column. That was just one the major highlights of the show as a new Light Heavyweight title challenger rose to the occasion in the main event.
Here are the UFC results of Fight Night 145: Blachowicz vs. Santos:
Prelims Results:
* Welterweight: Dwight Grant def. Carlo Pedersoli Jr. via TKO (Punches) (4:59, Round One)
* Featherweight: Chris Fishgold def. Daniel Teymur via submission (rear-naked choke) (1:10, Round One)
* Women's Flyweight: Gillian Robertson def. Veronica Macedo via submission (rear-naked choke) (3:27, Round Two)
* Featherweight: Damir Hadzovic def. Marco Polo Reyes via TKO (Punches) (2:03, Round Two)
* Welterweight.: Ismail Naurdiev def. Michel Prazeres via by unanimous decision (30-26, 30-27, 30-27)
* Featherweight: Diego Ferreira def. Rustam Khabilov via unanimous decision (30-27, 30-27, 29-28)
* Featherweight.: Damir Ismagulov def. Joel Alvarez via unanimous decision (30-27, 30-27, 30-27)
---
#1. Magomed Ankalaev (11-1) vs. Kidson Abreu (14-2) (Light Heavyweight)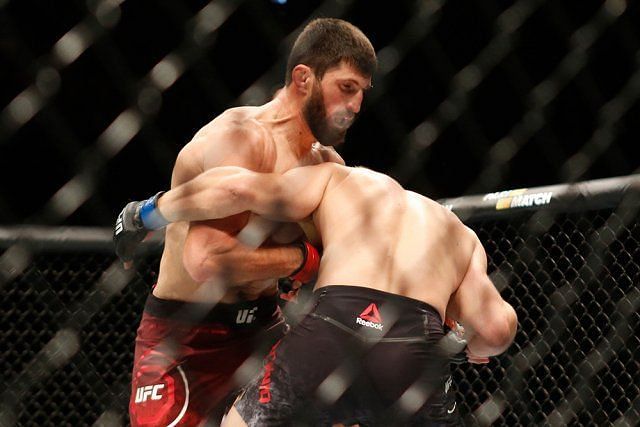 A Light Heavyweight fight between a Dagestani and a Brazilian kicked off the main card festivities of the night. Ankalaev was coming off a Performance of the Night victory against Marcin Prachnio while this was set to be Abreu's UFC debut.
Round 1: Abreu closed the range immediately as the fight kicked off. Ankalaev pushed forward and landed a good leg kick. They locked up in a clinch as Abreu attempted a leg trip.
Magomed stayed on his feet as both men jockeyed for position near the cage. Abreu connected with a long right hook that sent Magomed back. Ankalaev caught Abreu with a nice shot right uppercut that wobbled Abreu. Magomed went for the kill but Abreu steadied himself only to eat a high kick while retreating.
Abreu's nose looked busted as he let Magomed get on top of him. Magomed tried working his way in top control with the occasional ground and pound. Magomed ended the round on top as Abreu's nose looked broken for sure.
Magomed - 10-9
Round 2: Magomed looked to counter Abreu's level changes with the short right uppercuts and he did so once again. It was a fairly cautious first two minutes of the second round as Abreu's nose predictably gave looked to give him some discomfort.
Magomed was sharp and fast as he waited for Abreu to level change to unleash a combination of rights. He stuffed a takedown attempt from Abreu and clinched onto the cage.
Magomed tripped Abreu's leg and did a great job of taking the fight to the mat. Magomed worked his way into Abreu's guard which left him vulnerable to a potential arm triangle choke.
However, there wasn't much time left as Magomed ended another round in dominant fashion.
Magomed 10-9
Round 3: Magomed waited for Abreu to commit as usual and avoided the flurry before trying to connect with shots of his own. He caught an Abreu's attempted kick and got him off balance. Magomed kept going for the lead hand to set up the uppercut but it got predictable by now.
The voices around the arena grew louder as there were just over two minutes left on the clock. Both men clinched once again as Abreu attempted the leg trip. A good elbow from the clinch as the referee called for both fighters to make it work to avoid the split.
The referee rightfully broke them apart and the fight came to a close as Abreu wildly swung his hands in a bid to get a last-ditch knockout.
Result: Magomed Ankalaev def. Kidson Abreu via unanimous decision (30-27, 30-27, 29-28)
Magomed extended his winning streak to two fights as he handed Abreu a loss on his UFC debut.
#2. John Dodson (21-10)vs. Petr Yan (11-1) (Bantamweight)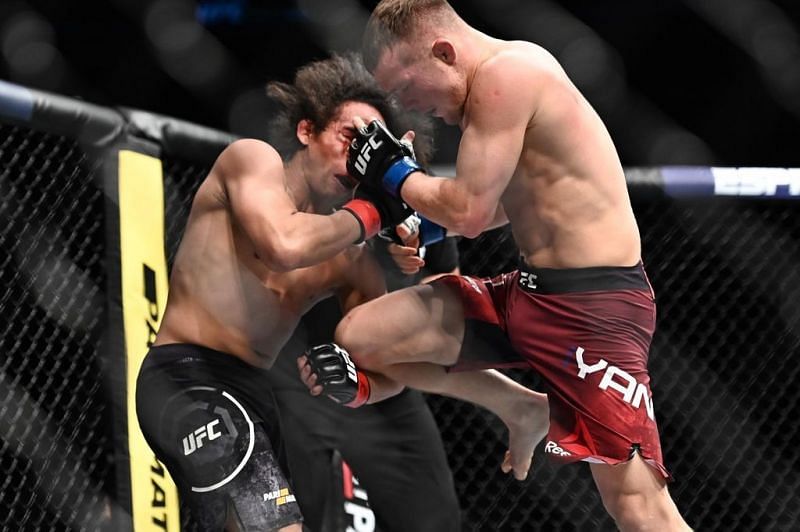 Former Flyweight title contender John Dodson took on the highly explosive Petr Yan next in a 135 lbs encounter. Yan was riding on a 6-fight win streak heading into the fight while 'The Magician' was coming off a loss against Jimmie Rivera at UFC 228.
Round 1: This should be fast and furious folks! Dodson rushed towards Yan with a wild flurry that caught Yan off guard, who lost his footing.
Yan with a good body shot. Dodson, in the meantime, measured his opponent and caught Yan's leg. Dodson couldn't keep Yan down for long as the fight got back up.
An eye-poke thankfully didn't derail the fight as Yan didn't take his eyes off Dodson. Yan kept pushing Dodson back towards the cage, forcing him into a 50-50 position that enabled Yan to land a few combinations.
Yan switched stances and looked to grow into the round as he mixed things up nicely with a few kicks as well. Dodson had his moments too, though, most notably a short right to end the round.
Yan - 10-9
Round 2: Fast hands from both men as we really need to watch the replays there to figure out who threw what! Nonetheless, Yan shot for a takedown and Dodson defended it perfectly
A good inside low kick from Dodson. He followed it up why a powerful right that rocked Yan, who went to the ground. Dodson jumped on him but Yan recuperated.
Another great scramble as Yan connected with a solid body shot. Yan continued with a slicing left hook as he forced Dodson back.
Yan found his groove as he kept connecting with incredible combinations and knees. Yan may have been knocked down once during the round but he made up for it by landing more significant strikes right up until the end.
Yan - 10-9
Round 3: Great show of respect from both men as the third and final round got underway. Yan was the aggressor as Dodson found himself being forced back into the cage. Yan nailed Dodson with a right hook,
Dodson got Yan down but the Russian wriggled his way out and got Dodson's back while both men were on their feet. Yan landed two shots while Dodson had his back against Yan.
Dodson kept getting tagged as Yan ended the fight with a string of punches while being on top of Dodson.
Yan - 10-8
Result: Petr Yan def. John Dodson via unanimous decision (30-27, 30-27, 30-27)
Petr 'No Mercy' Yan notched up his fourth UFC win which takes him into the top ten rankings of the Bantamweight division.
#3. Liz Carmouche (12-6) vs. Lucie Pudilova (Women's Flyweight)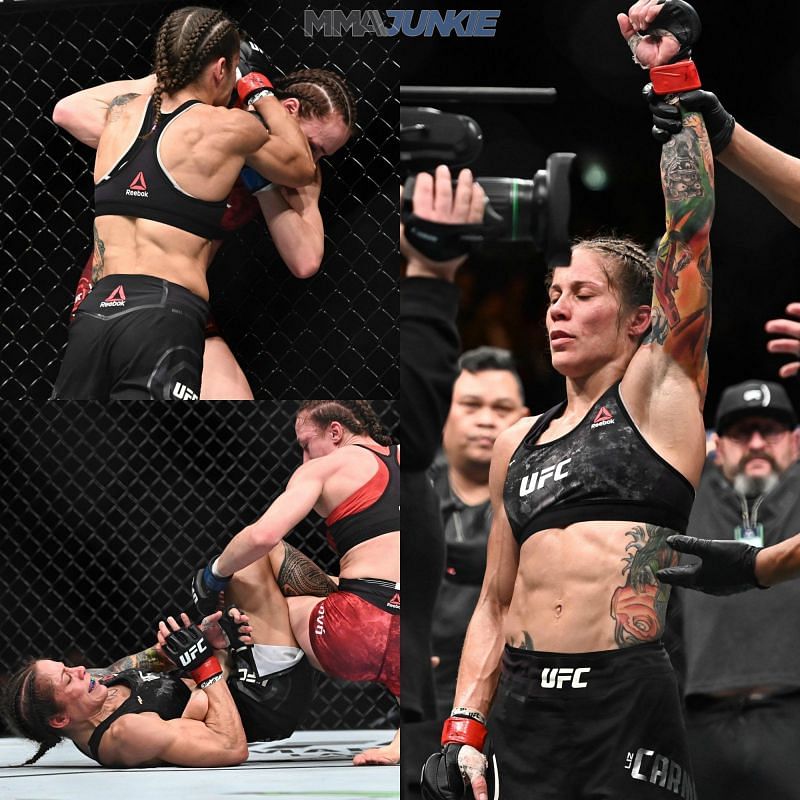 The first fighter from the Czech Republic to fight in the UFC, Lucie Pudilova took center stage in front of her home fans next as she took on UFC veteran Liz Carmouche.
Round 1: Pudilova looked absolutely humungous in front of Carmouche. Both women worked for a dominant position in the clinch up against the fence. Carmouche deployed an intelligent game plan by nullifying the reach disadvantage by pinning Pudilova onto the cage.
Pudilova almost got in an Anaconda choke but the former Women's Bantamweight title contender got her head out in time. Carmouche attempted a takedown in the closing stages of the round but Pudilova was having none of it.
It was absolutely electric inside the O2 Arena in Prague.
Round 2: Both women measured each other for a solid two minutes as Pudilova shadow kicked a few times. Pudilova went for a big right but lost her balance and Carmouche got hold of the Czech. She picked Pudilova up and slammed her into the ground to score the second takedown of the fight.
Pudilova, though, used her flexibility to good effect and used the cage to turn her herself over into Carmouche's guard. Pudilova ended the round strong with some ground and pound from top position which also opened up a cut on Carmouche's face.
Tough fight to score as Pudilova was the one who moved around a lot but Carmouche may have edged her opponent in terms of the significant moments.
Round 3: It started off in a similar fashion as the previous two before Carmouche scored a takedown. Pudilova, however, worked her way out of tricky situation yet again. She almost got trapped in a heel hook but somehow managed to stay in the fight by kicking back to create some separation.
She rolled and jumped back into Carmouche's guard and assumed top position. She landed some vicious elbows from the top to end the round. However, it may not have been enough as Carmouche may have done enough to win the fight.
Result: Liz Carmouche def. Lucie Pudilova via unanimous decision (30-27, 29-28, 29-28)
The boos reverberated around the arena as Carmouche was declared the winner. She managed to score the takedowns in every round and controlled the fight for most parts even though fan-favorite Pudilova had her moments.
#4. Gian Villante (17-10) vs. (13-2-1) (Light Heavyweight)
Michal was set to make his Octagon return for the first time since his draw against Khalil Rountree at UFC 219. The Polish fighter, who served a one-year USADA suspension, came into the fight on an 11-fight unbeaten run while his opponent Villante won his last fight against Ed Herman in October 2018.
Round 1: This one didn't last long as Michal scripted a triumphant comeback to the Octagon and all it took were two well-placed body shots. Villante initially looked threatening with a right hand and a few kicks but Michal connected with a perfect liver shot.
Villante dropped down to the mat and the referee stepped in to stop the fight.
Result: Gian Villante def. Michal Oleksiejczuk via KO (Strikes) (1:34, Round 1)
That was as clinical a performance as you would witness as Michal extended his incredible streak to 12 victories.
#5. Stefan Struve (32-11) vs. Marcos Rogerio de Lima (16-6-1) (Heavyweight)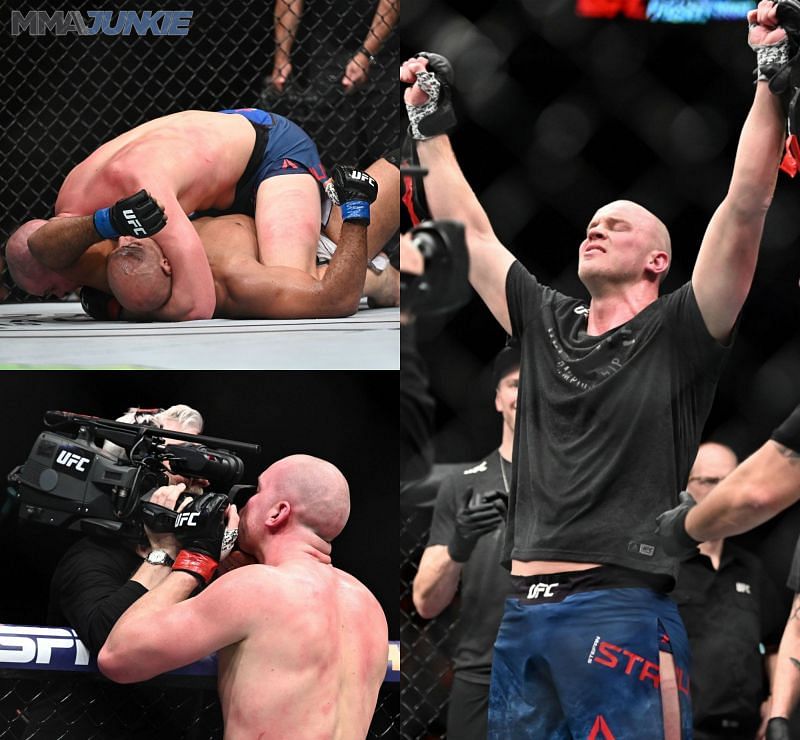 31-year-old Stefan Struve came into the fight on a 3-fight losing streak while de Lima came out on top in his previous outing against Adam Wieczorek at UFC 230.
Round 1: De Lima came in hot and knocked Struve down with an overhand right that landed right on Struve's temple. De Lima took top position and dominated on the ground until the end of the round. De Lima landed 56 of his 59 significant strikes in comparison to Struve's zero. A 10-8 for the Brazilian.
Round 2: De Lima landed another overhand right, to begin with, as Struve immediately clinched. Struve managed to take de Lima down and casually stepped into the Brazilian's guard.
Struve put some good shoulder pressure as he worked towards an arm triangle. His efforts of getting into a good position paid off as locked in the arm triangle from the mount. De Lima was left with no option but to tap out.
Result: Stefan Struve def. Marcos Rogerio de Lima via submission (Arm Triangle Choke) (2:21, Round 2)
And just like that, Skycrapper ended his losing streak with a well-worked submission victory.
In his post-fight interview, an emotional Struve opened up about the medical struggles with his heart and revealed that this could have been the last time he ever fought. He mentioned that he wasn't completely sure about his decision and said that he will think it over. However, he removed his gloves and placed it on the mat as the fans in the O2 arena cheered for the UFC veteran.
This was his 22nd UFC fight and 13th win overall!. He may not have won the gold but he did have some memorable moments and if this was indeed the end towering Dutch, we wish Skyscraper nothing but the best for all future endeavors.
#6. Jan Blachowicz (23-7) vs. Thiago Santos (20-6) (5-round Light Heavyweight main event)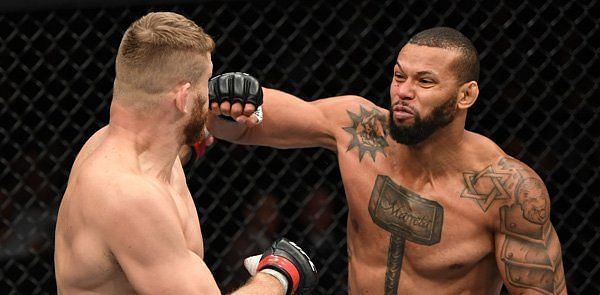 Stipe Miocic doppelganger Jan Blachowicz came into the main event of the evening riding on a 4-fight win streak. A win for the #4 ranked Light Heavyweight could potentially get him a shot at the title. As for Santos, the 35-year-old Brazilian was himself on a hot-streak of his own as he finished off Jimi Manuwa in his last fight at UFC 231.
Round 1: Santos went for the body kick early as Jan went for the jabs. Jan switched stances as Santos scouted for the body kicks.
Santos and Jan exchanged kicks. Santos attempted a spinning kick. He followed it up with a kick to Jan's thigh. Jan too fired one to Jan's right thigh. Santos kept up with the low kicks.
Jan ate a big left hook and an overhand right from Santos. Jan shot for a takedown in the closing stages of the first round. Santos defended it well and went for a straight kick to end the round.
Round 2: Santos used the stomp kicks to good effect in the early goings of the second round. Yan connected with a solid body kick and Santos answered with a low kick.
It was the battle of kicks up until this point. Santos swung with a left but Yan backtracked. Yan got a good combination in as Santos was pushed towards the cage as a result.
Santos got the fight back to the center of the Octagon as he got in another low kick. Yan with another body kick as the fans in Prague continued to witness some good bone-on-bone violence.
Round 3: The significant strikes were 28 apiece going into the third round. Santos began with the oft-repeated stomp kicks.
Jan charged in recklessly. Santos avoided the strikes and connected with a counter right followed by a quick left. Jan went crashing down as Santos rushed in to apply the finishing touches before Herb Dean stepped in to stop the fight.
Result: Thiago Santos def. Jan Blachowicz via TKO (Strikes) (0:39, Round 3)
The Sledgehammer's impressive win in the main event puts him in contention for a possible Light Heavyweight title shot in the near future. This was his 4th straight win in the UFC and 3rd consecutive finish. A major statement!