To keep holiday times fun and exciting, Ferrero, the confectionary brand, has unveiled a number of limited-edition Easter and Spring-themed products.
The limited edition product range includes - Kinder®, Kinder Joy®, Nutella®, Tic Tac®, Butterfinger®, CRUNCH®, Baby Ruth®, Ferrero Rocher®, Fannie May®, and more.
Also introduced with the new Spring and Easter-themed products is the "Kinder Kalender" website, which offers families fun daily activities to engage in when counting down to Spring and Easter. All limited-edition products can be found at major retail stores across the country and online.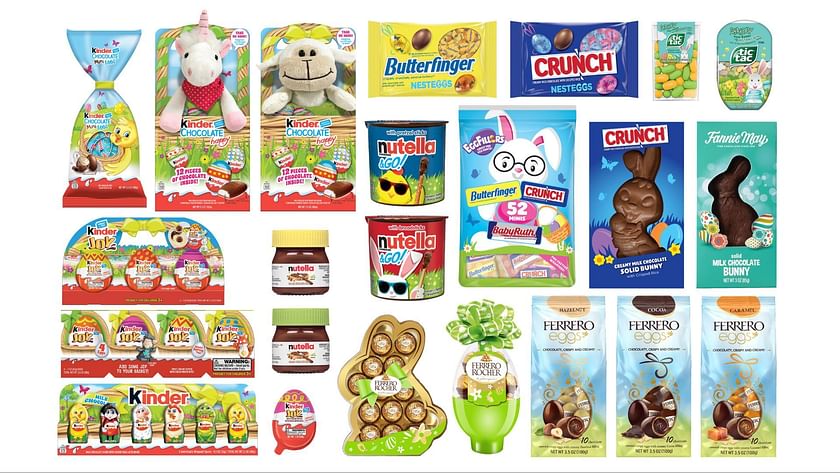 Customers can get new Spring and Easter-themed products through all major retailers starting March 8 and onwards. Limited edition themed products and confectionaries will be available all across the country for a very short period of time.
---
What does Ferrero's Easter and Spring line-up offer?
Welcoming Spring and Easter with sweet surprises, Ferrero has introduced a wide range of limited-edition themed products and confectionaries. From Kinder to Tic Tac, Nutella to Butterfinger, and Baby Ruth to Fannie May, there's something for almost everyone.
Available in major stores across the country, including retailers such as Instacart, Target, Walmart, and Kroger, the Spring and Easter-themed products can be found all across the country.
The Kinder Kalendar website, on the other hand, makes your holidays even more fun with activities and crafts to keep your kids engaged at home and outside. The website http://kinderjoykalendar.com/ also allows you to order your favorite themed products that can be delivered right to your doorstep.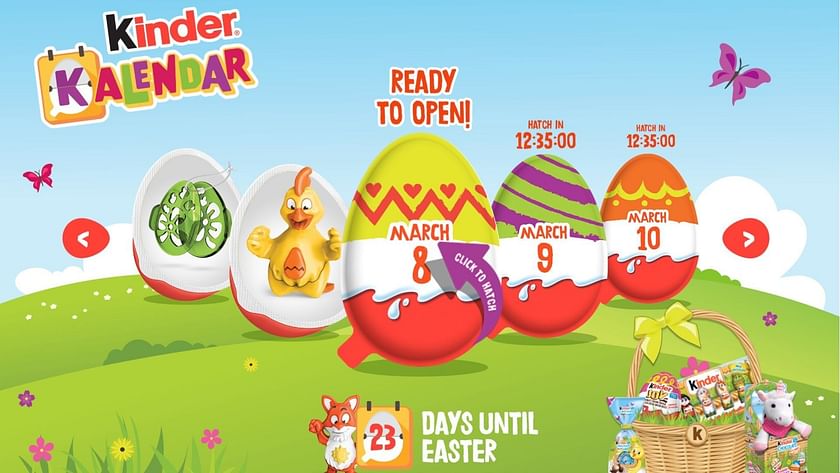 Wondering what you can get from the Kinder Kalendar website? Here's a sneak peek for you:
Butterfinger Llama Themed Minis Basket Filler Pack
Butterfinger Minis Bag
Buncha Crunch Theater Box
Crunch Egg
Crunch Solid Bunny
Crunch Minis Bag
F. Rocher Easter Milk Hollow Egg
F. Rocher Golden Eggs
F. Rocher 13-piece Easter Bunny
F. Rocher 12-piece Seasonalized Gift Box
Fannie May Heritage Collection 1-lb Gift Box
Fannie May Spring Mint Meltaways 1-lb Gift Box
Fannie May 8-piece Cream Eggs Gift Box
Keebler 10" Crusts
Keebler Mini Crusts
Kinder Bueno Share Size
Kinder Bueno Mini Share Pack
Kinder Easter Bundle
Kinder Joy Easter Egg
Kinder Joy 6-count Easter Eggs
Kinder Joy 4-count Easter Eggs
Kinder Chocolate Mini Eggs
Kinder 6-ct Spring Animal Hollow Figures
Kinder Chocolate Filled Figures
Mini Nutella Easter Jar
Raisinets Theater Box
Assorted Chocolate Minis from Butterfinger, Crunch, and Baby Ruth
Tic Tac Fruit Adventure
All the aforementioned confectionaries and chocolate products will be available through the Kinder Kalendar website and at stores across the country for a brief period of time. Customers who don't want to miss out on limited-edition products are advised to order them or pick them up from the nearest retailer as soon as possible.
---
Founded in 1946 by Pietro Ferrerō, Ferrero is an Italian multinational company that manufactures branded chocolate and confectionery products. Headquartered in Alba, Italy, it is the world's second-largest chocolate producer and confectionery company.
Ferrero dominates the chocolate and confectionery market with major brands like Delacre, Famous Amos, Fannie May, Ferrara Candy Company, F. Küsschen, F. Rocher, Hanuta, Keebler, Kinder Bueno, Kinder Chocolate, Kinder Joy, Kinder Surprise, Mon Chéri, Mother's Cookies, Nutella, Pocket Coffee, Raffaello, Royal Dansk, Thorntons, and Tic Tac.