One thing peculiar about Burberry is that it spares no effort when it comes to fashion and style. Making remarkable strides in fashion, the brand hosted its Fall Winter 2022 live runway presentation on March 11 at Central Hall Westminster, London.
The long-promised live runway show came after a two-year hiatus, making the wait worthwhile.
Riccardo Tisci, the label's creative director, celebrated the legacy of the over 130 year old fashion house with his majestic collection. Crafted with masterly finesse and sophistication, Tisci's newly created designs were well-received by Burberry fans as well as by social media users.
The label's FW2022 collection exhibited alluring trench coats, quilted gowns, polka dotted dresses, checkered outfits, monochromatic garbs, lustrous tops, solid jackets and much more.
---
Burberry's FW2022 collection takes the internet by storm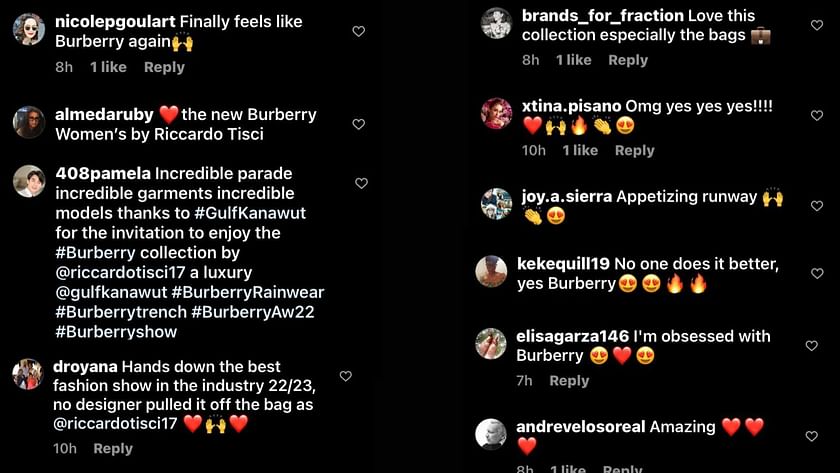 All the label's fans were on cloud nine after the brand unveiled its latest collection. Riccardo's genius designs are incorporated with the true essence of British heritage as well as lavish streetwear fashion.
The designer's FW2022 array of outfits is wholeheartedly appreciated by social media users. One internet user commented:
"Finally feels like Burberry again"
Many quoted the collection as incredible and outstanding, while others called it the best fashion show in the industry of 2022/23. Tisci was applauded for his awe-inspiring designs.
---
More about Burberry FW2022 collection
Explaining the complete idea behind the brand new designs and how the cherished British culture influenced the collection, Tisci said:
"It was important for me to explore what it means to belong, how our roots influence our identity and how the power of community and togetherness is what truly brings meaning to the world."
He continued:
"Therefore, I wanted this collection to convey that intensity of feeling and to celebrate not only coming together but the city in which we come together today, the city in which Burberry grew and established a family."
The fashion house showcased many outstanding designs, including trench dresses, sparkling facial accessories, trailblazing vintage coats and jackets, pleated skirts, embellished sweaters, duvet outerwear, solid puffer winter-wear, and checkered pattern outfits.
The luxury fashion house's classic beige, red and black checkered pattern gained mastery over Riccardo's designs.
Sequinned outerwear and dresses, strapped leather jackets, wide-legged bottoms, rugby shirts, shearling gowns with flaring tails, and leathery sneakers are other interesting pieces of the latest collection.
The collection uses all different shades of the palette like monochrome pastel, nude tones, hues of enchanting red, sunlit yellow, salmon-pink, cerulean blue, emerald green, and apricot orange. The brand beautifully brought together all the different colors and designs.