YouTuber PewDiePie aka Felix Kjellberg recently took to social media to announce that he is set to welcome his first child with wife Marzia Kjellberg.
The internet star also shared a video montage titled "We're having a baby" with his 111 million subscribers on YouTube.
In the video, the couple can be seen taking four positive pregnancy tests, looking at their baby's ultrasound scan and documenting their journey to parenthood through Marzia's growing baby bump.
PewDiePie could be seen telling his viewers about the news by saying:
"I've been keeping a secret from you guys. And that is - I'm going to be a dad!"
He then went on to reveal that they first found out Marzia was expecting in November 2022. The YouTuber then added that he was "thankful" about everything "going well."
PewDiePie and Marzia met in 2011 and tied the knot in 2019 after spending eight years together. They have been married for four years and have been together for nearly 12 years.
---
A closer look into PewDiePie and Marzia's relationship as couple announce pregnancy
What was said in the pregnancy reveal video?
In one of the clips in the video, PewDiePie can be seen waiting for his wife at the clinic. He says:
"Although Marzia's been dealing with sickness she's been taking it like an absolute champ."
The 33-year-old went on to reiterate:
"So yeah. I'm gonna be a dad!"
The content creator also mentioned that the news was initially "kinda strange" to him but said that he was "excited" to experience the new journey:
"It's entering new territory but I feel really ready and so does Marzia."
He also said that he felt "so lucky" about starting a family with the woman he loves, adding:
"I know that whatever is ahead of us, together we can do it."
The YouTube video, which garnered over 2.8 million views in eight hours, ended with a scan report and Marzia's due date - "July 2023."
The news sent fans into a frenzy and many took to social media to congratulate the couple.
---
Marzia and PewDiePie first connected over Facebook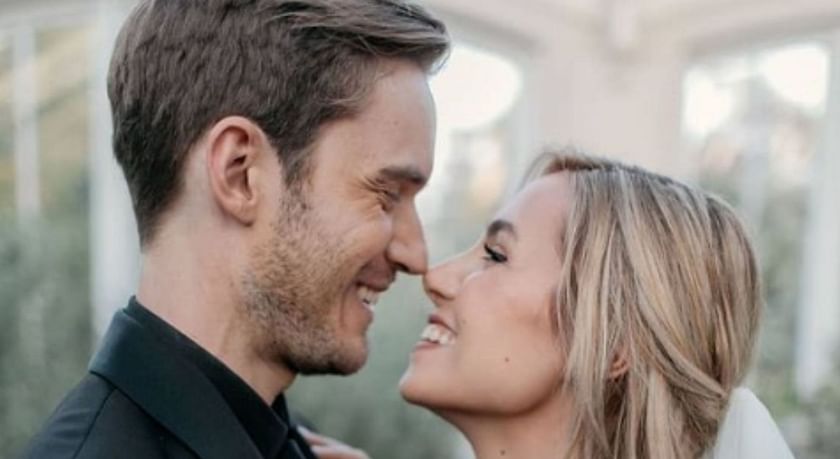 Marzia and PewDiePie first met in 2011 after the former's friend told her to watch the YouTuber's Idiot Playing Video Games video. Marzia connected with the content creator after being impressed by his videos and the duo chatted over Facebook.
They met in person after Felix visited Marzia in Italy. The two reportedly began dating shortly after, spending much of 2012 in Sweden and Italy before traveling to Los Angeles.
The duo ultimately settled in Brighton in 2013, which is also home to their close friends and YouTubers Zoe Sugg and Alfie Deyes. The pair also share three dogs together, Maya, Ynk, and Edgar.
Marzia soon started appearing on Felix's videos while launching a successful YouTube career of her own. The duo got engaged in 2018.
Felix reportedly popped the question during their trip to Japan and announced the news with a caption that read, "She said she'd think about it." Marzia also shared the announcement by saying, "He proposed."
The couple officially tied the knot in an intimate wedding ceremony in Kew Gardens, London, in August 2019. Their wedding reportedly took place exactly on the day of their first meeting eight years ago.
Now, four years after their marriage, the two are currently expecting their first child together.