Denny's Dinner is cooking up a lovely deal for all the love birds this Valentine's. The South Carolina-based table-service restaurant chain is offering a limited-time ''Friends with Benny's'' deal where customers can get a Valentine's Day gift card to share with their loved ones. Whether it's a friend, one's partner, or their loving self, it really doesn't matter because there's a Denny's Valentine's Day card for every kind of "situationship."
Customers can get the limited-edition "Friends with Benny's" cards at DinerDrip.com. Priced at $12.99, each FWB card comes with a voucher worth $25.98. The amount on the card allows customers to enjoy at least two Classic or Southwestern Benny breakfasts that they can share with their loved ones this Valentine's.
The restaurant chain introduced the limited edition Valentine's Day card through a press release, with John Dillon, president of the fast food restaurant chain, saying:
"Valentine's Day is a special moment worthy of celebration and our guests never have to overspend to make it memorable."
The chain's president, Dillon, further added:
"At Denny's, we're always proud to be a welcoming place where people can connect over great food at a great value."
---
Denny's Dinner's ''Friends with Benny's'' card is only available to the first 500 customers
With the clock to Valentine's Day ticking super fast, it will be difficult for many to pick the right gift for their other halves. Though a good meal might not make the cut as a good gift, it sure can help make the special day even better. By helping customers make the day even more special, the South Carolina-based restaurant chain is offering limited-edition gift cards that they can enjoy with their loved ones.
Available to the first 500 customers, the limited-edition FWB card can only be purchased online from DinerDrip.com. From Classic Breakfast to Denny's Southwestern Benny Breakfast, there's so much one can get for the price of one, with the ''Friends with Benny's'' card. So, get a limited-edition FWB card today this Valentine's Day and invite that special someone for an equally special time at the nearest Denny's Diner.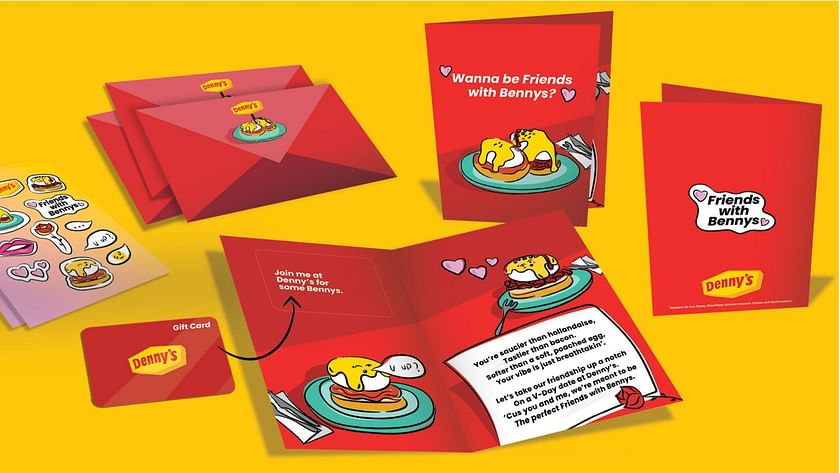 ---
Founded in 1953 by Harold Butler and Richard Jezak, Denny's Diner, aka Denny's, is an American table-service dinner-style restaurant chain. First opened as a coffee shop named Danny's Donuts, the chain was popular for being open 24 hours a day and serving breakfast round the clock. Though things may have changed for the restaurant chain today, the 24-hour operation still remains at most of its restaurants.
Headquartered in Spartanburg, South Carolina, the restaurant chain operates in over 1,700 locations across the country. Serving breakfast, lunch, and dinner options throughout the day, the restaurant chain has everything from coffee to toast, burgers to hash browns, on top of a wide range of breakfast and dinner options.