On May 17th, Logan Paul responded to the Puerto Rican authorities investigating both him and his brother, Jake Paul, for allegedly illegally driving over the nesting area for turtles at a beach.
A few days prior, Jake Paul posted a video of himself driving a golf cart through the beaches of Puerto Rico, where his brother Logan Paul now resides. Jake received a lot of backlash, only to repeat the action once again with his brother a few days later.
Puerto Rican authorities threatened to investigate Logan and Jake Paul as it is illegal to drive a vehicle on the beach during turtle nesting season, because it may harm the eggs.
Logan Paul's response to the authorities
In response to the overwhelming amount of hateful comments, Logan shared a video of him talking to a security guard and asking about the legality of driving a golf cart on the allegedly "private" beach.
The security guard's face was blurred out, with no solid proof that he had any association with the authorities of Puerto Rico. The security guard said:
"I know that beach. It's cool."
Also read: "I can't get fired, I'm a partner lol" Mike Majlak denies being fired from Impaulsive by Logan Paul over their "tiff"
To add to the video, Logan left a lengthy comment expressing his anger towards the media for their "assumptions". He wrote: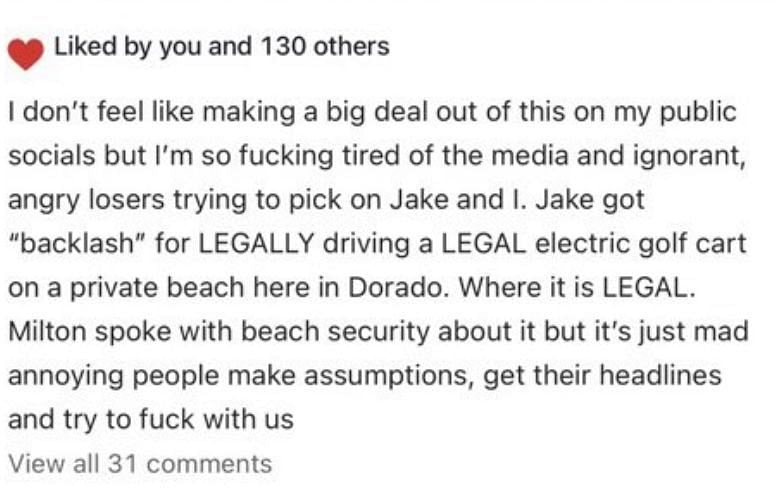 Logan claimed that he was tired of the media trying to paint them negatively. However, many fans and people in the Twitter community saw this as ironic as his brother himself posted the video.
Fans angry about Logan Paul's response
Despite having upset the public with another atrocious incident, people were not shocked, as the influencer is known for pulling horrific stunts such as this in different countries.
The most well known example of this was the Logan Paul Japanese forest incident.
People in the Twitter community were upset to hear Logan's response, calling him "entitled" and "annoying". They took to Twitter to express their sheer disappointment.
Also read: Top 5 Worst Decisions in David Dobrik Vlogs
Logan has yet to respond to the backlash in regards to his response to the incident, as he made clear that they were driving on "private" beaches.
Many people are upset with Logan Paul, since it has not been too long since his incident in Japan.
Also read: "Pray there isn't a victim out there": Gabbie Hanna addresses assault allegations against YouTuber Jen Dent