US President Joe Biden missed a College Athlete Day appearance at the White House on Monday, June 12, due to an emergency root canal. Vice President Kamala Harris filled in for the President, but as she walked out on the stage, it began raining. The event was held to celebrate men and women's NCAA Champion teams from the 2022-2023 season.
The physician at the White House, Dr. O'Connor, explained in a memo that the president was experiencing dental pain in his lower right premolar on Sunday. He added that Walter Reed National Military Medical Center's Presidential Dental Team was able to perform an examination, including an x-ray, that very day in the White House Dental Operatory. The memo said:
"Initial root canal procedure was performed at the time, with a plan for specialized endodontal follow up in the near future. The president tolerated the procedure well. There were no complications."
However, when the news spread online, one Twitter user, @Thewiseonewon, asked how the president could have a root canal when he wears dentures. The user claimed it being a lie, to which, another netizen, Tammy Cornejo, responded by confirming that they had seen Joe Biden's fake teeth.
---
Joe Biden's dentures claims surface amid root canal announcement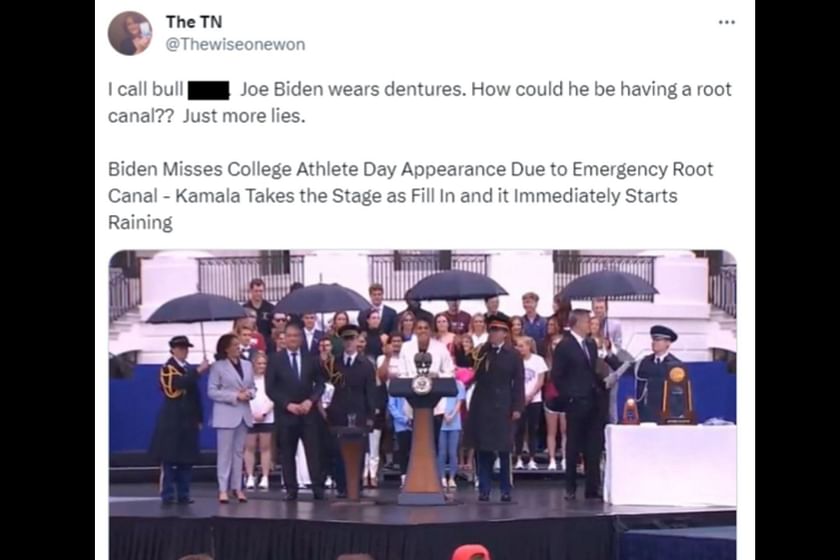 In September 2019, a viral video sparked claims about the president apparently wearing dentures. The then 76-year-old Biden was asked during a Democratic debate why he should be given a second chance by voters to pass gun control measures when none were signed into law.
While responded to this question, he began by moving his mouth weirdly, while his upper teeth appeared to be coming off. Biden said:
"Because I've got it done before. I'm the only one up here that's ever beat the NRA. Only one to beat the NRA nationally. I brought the Brady Bill into focus and became law."
At the time, many speculated that his dentures malfunctioned, and he was trying to adjust it back to its place. The odd movement of his mouth did not go unnoticed by people. Netizens started tweeting if it was just them or if everyone saw Joe Biden's teeth almost falling off and the President fixing it with his tongue. However, a few people believed that Joe was chewing gum.
While the President or his team never confirmed or addressed the claims of him wearing dentures, many netizens analyzed that Joe was born at a time when water was not thoroughly fluoridated, which could have caused the President's teeth to decay. Thus, they concluded that it might be possible for him to have resorted to dental care.
---
Internet reacts to Joe Biden's root canal announcement
As is evident, several people were confused when it was announced on Monday that the President was undergoing a root canal procedure. Some netizens wondered how it was possible to have root canal performed on dentures. People even asked sarcastically how the president could need a root canal when he had "false" teeth.
The White House further informed that Joe Biden would not be given any anesthetic drugs during the procedure. Thus, the 25th Amendment of the US Constitution, which temporarily transfers the powers and duties of the president to the vice president, was not invoked.
On Monday afternoon, the President had also scheduled a meeting with Jens Stoltenberg, the Secretary General of NATO. However, due to his dental emergency, the meeting was rescheduled for Tuesday.