Real Housewives of Atlanta star Kim Zolciak-Biermann and her husband Kroy Biermann are getting divorced after being married for around 12 years. The court documents mention the date of separation as April 30, 2023, and Kim said in the documents that the marriage is completely broken without any expectations for reconciliation.
Kim has requested primary physical custody and joint legal custody of their children alongside spousal support and restoration of her original surname.
The former couple has been going through some financial issues following the foreclosure of their property in Georgia. Fulton County issued a notice in February 2023 stating the property would be auctioned in front of the Fulton County Courthouse as the pair failed to repay a loan worth $1.65 million.
Meanwhile, a close friend of Kim revealed that she had been planning her separation from Kroy for a long time but didn't tell anyone else about it. Another friend stated that their financial problems were also a reason behind their separation and that both sides have been loyal to each other all these years.
---
Kim Zolciak-Biermann and Kroy Biermann have accumulated a lot of wealth from their respective careers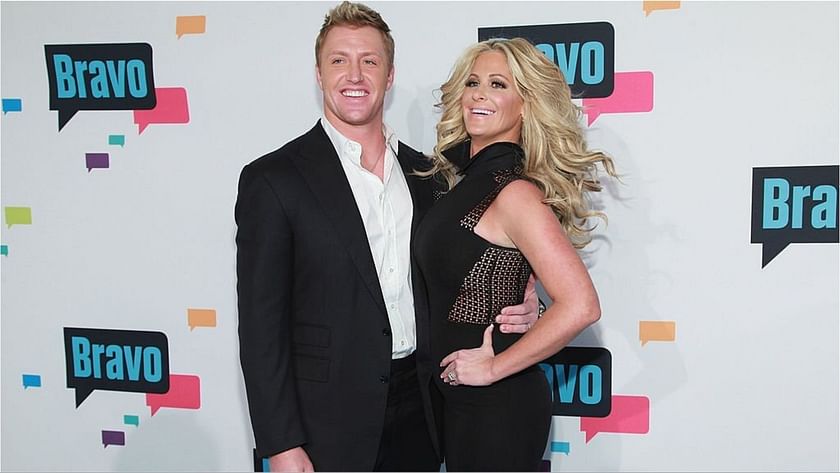 Kim Zolciak-Biermann and Kroy Biermann have been successfully pursuing their respective careers. Kim has been a successful television personality and singer and this has contributed a lot to her income over the years. According to CelebrityNetWorth, the 44-year-old's net worth is estimated to be around $500,000.
She and Kroy Biermann purchased a mansion in Georgia in 2011. The house has three kitchens, two laundry rooms, a sitting area with a fireplace in the main bedroom, a dining room, an elevator, and a covered porch overlooking a sports court. Kim and Kroy brought another house in 2012. The house has a spa, pool with waterfall, elevator, and basketball court.
Kim later launched a beauty and lifestyle brand called Kashmere in 2016 and she has been selling skin, hair, and beauty products through the brand.
Meanwhile, Kroy Biermann has pursued a successful football career and this has also contributed to his earnings. CelebrityNetWorth reported that the 37-year-old's net worth is around $300,000.
During the 2012 season, Kroy's NFL salary was reported to be $4.2 million and pre-tax NFL career earnings were over $14 million. His earnings were a result of the different contracts he had signed.
---
Kim Zolciak-Biermann and Kroy Biermann's relationship timeline
Kim Zolciak-Biermann and Kroy Biermann first met at a charity event in 2010. They became the parents of their first son Kroy Jagger in 2011 and exchanged vows at their residence that same year.
The duo welcomed another son, Kash, in August 2012 and Kroy adopted Kim's daughters Ariana and Brielle in July 2013. Kim and Kroy welcomed twins Kaia and Kane in November of the same year.
In a deleted Instagram post shared in May 2022, Kim spoke about her first meeting with Kroy and said that she was not planning to go to the event. She added that she wore a wig, put on some makeup, and attended the event reluctantly. The reality star noted:
"Who would have thought that day would change my life forever. Goes to show you … you never know what the future holds and God always has the most perfect plan."
Kim was previously married to Daniel Toce from 2001 to 2003. Her daughter Brielle was born in 1997 from a previous relationship.