A mugshot of former Fox News anchor Ed Henry circulating online has gone viral after the 51-year-old was arrested for allegedly driving under the influence in Florida last month. The picture prompted one user to comment:
Ed Henry was reportedly detained on June 20, 2023, after a sheriff's deputy spotted his black Cadillac Escalade driving down the street in West Palm, Florida, with a busted tire.
According to a deputy's report obtained by RadarOnline.com, during the traffic stop, Henry reportedly informed the officer that he was unaware of the tire's condition. He then proceeded to take a turn before the "front driver's (side) tire came off the rim and rolled into the eastbound lanes almost striking an oncoming vehicle."
Reportedly, the oncoming car had to suddenly swerve to avoid being struck by the wheel. Shortly after, Henry pulled into a car dealership and told the officer that he drove there to get the tires fixed. As Henry proceeded to explain further, the officer allegedly smelled strong fumes of alcohol wafting off his breath. The report stated:
"Henry had glassy and bloodshot eyes…His gait was unsteady. His speech was slightly slurred."
The officer wrote that Henry, who was cooperative during questioning, admitted that he had downed at least six to seven glasses of bourbon before getting behind the wheel. Henry, also reportedly failed the field sobriety tests. However, the blood alcohol level was measured at .08.
Shortly after, Henry invoked his right to counsel and was taken into custody as he had admitted to imbibing alcohol.
---
Netizens react as Ed Henry's mugshot goes viral online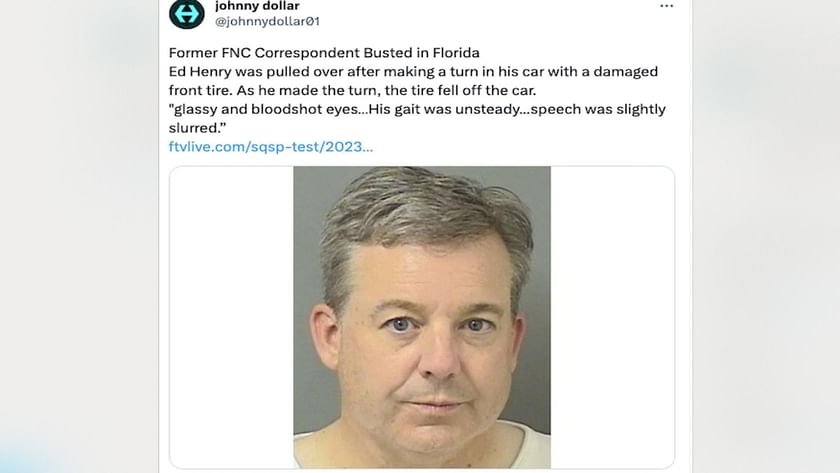 The mugshot of Ed Henry's arrest has now gone viral, prompting several netizens to comment on the incident involving Fox News' once leading news anchor, who was fired over s*xual misconduct in the workplace.
One of the social media users pointed out the risks to the lives of others while driving under the influence of alcohol. They wrote:
"Good Grief, anyone that drives drunk puts innocent people in Jeopardy, don't care how famous they are! How difficult is it to call a cab or a friend to drive you home safely!!."
Several others who held similar opinions posted:
While some slammed the former anchor, others sympathized with his plight and opined:
Meanwhile, Ed Henry's attorney, David Tarra, told RadarOnline.com that he was confident his client will beat the charges leveled against him.
"Mr Henry cooperated with law enforcement during their investigation. He respectfully provided a sample of his breath that was below a .08, and thus below the legal limit in Florida. Mr Henry and his legal team continue to cooperate with the State Attorney's Office for Palm Beach County and are confident in a just result."
---
The latest allegations are part of the mounting legal woes for the former Fox News host, who was sued in 2020 by former Fox Business associate producer Jennifer Eckhart and Fox News guest Cathy Areu. The lawsuit alleged that Henry s*xually assaulted Eckhart in a company building in 2015 and r*ped her in a hotel in 2017.
In 2022, Ed Henry sued NPR and CNN for defamation over their reporting of his dismissal from FOX News. However, the lawsuit was voluntarily dismissed later.
Edited by Anushree Madappa