A fundraiser was set up for 45-year-old Nicola Bulley, who went missing in Lancashire, England, on January 27, 2023, by her friend Emma White. White, who is Nicola's friend, said that she set up the fundraiser to help Nicola's family in the tough times and to provide help for the search operation.
However, it seems like things didn't go as planned for White as she didn't inform Bulley's family about creating the fundraiser. Soon, she began receiving backlash for it and had to take the fundraiser down. In addition to not informing Bulley's family about the fundraiser, White also reportedly got some details wrong.
Nicola Bulley went missing two weeks ago while walking her dog, Willow, after dropping her kids off at school. According to several reports, Nicola had taken Willow for a walk near the River Wyre in Lancashire, England.
---
GoFundMe set up by friend for Nicola Bulley taken down after receiving flak on social media
As mentioned earlier, a GoFundMe, called #BringNikkiHome was set up for Nicola Bulley by Emma White.
It is reported that the fundraiser earlier sought to raise around £100,000. As soon as the fundraiser went live, the page started getting donations. Later, the amount sought was changed to £50,000. However, just minutes before the fundraiser was deleted, the amount went down from £50,000 to £500, and on February 7, 2023, it was deleted.
After she deleted the page, Emma shared a post on Facebook apologizing for creating a fundraiser without getting permission from Nicola's family.
In her post, White wrote:
"A simple act of kindness has been blown out of all proportions."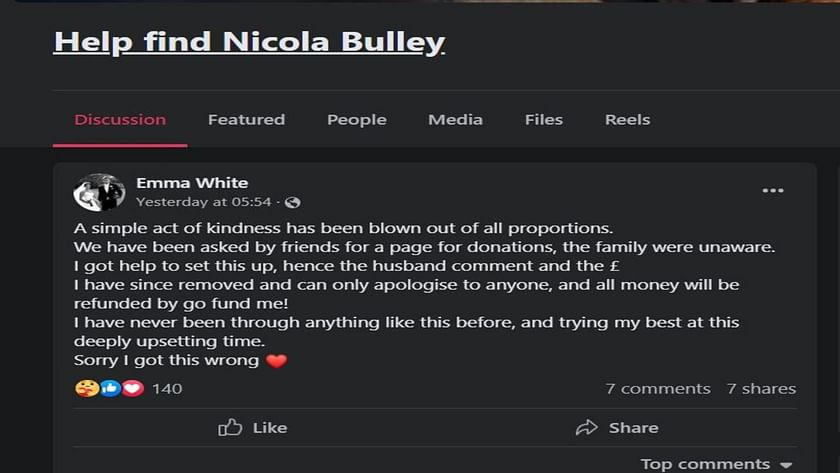 As she apologized for the fundraiser, Emma wrote that she was trying to do her best at "this deeply upsetting time." She added that all the money donated will be refunded to the donors by GoFundMe, and noted:
"We have been asked by friends for a page for donations, the family were unaware. I got help to set this up, hence the husband comment and the £. I have since removed and can only apologise to anyone."
Soon after she shared the post, several users reacted to it and started raising questions about changing the amount on the fundraiser. One of the users wondered why Emma changed the amount from £100,000 to £50,000 and finally £5000 before deleting the post altogether.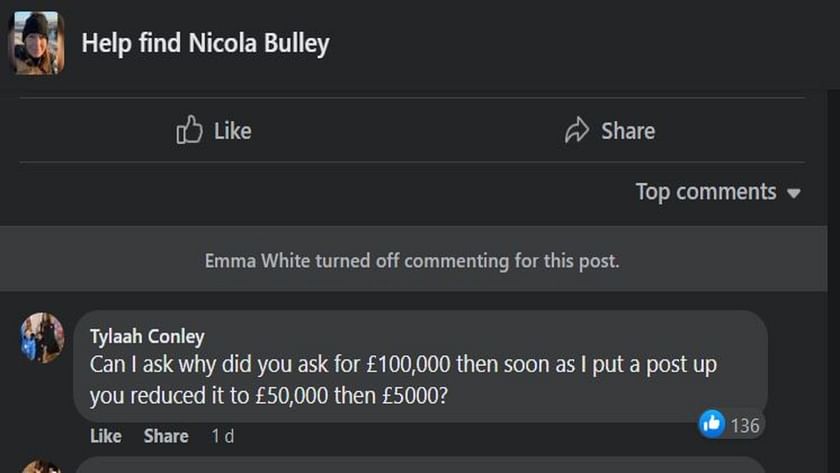 It is also worth noting that there was no information about what the family has said about the fundraiser and the subsequent fiasco at the time of writing this article.
---
What did Nicola Bulley's family say about her being missing?
On Monday, Nicola's partner, Paul Ansell, issued a statement, and said that her daughters were desperately missing her.
Ansell added that it has been a tough couple of weeks for all of them, including Nicola's friends, family, and even the wider community. He expressed his gratitude for everyone who has been there for the family.
According to reports, Nicola Bulley went to take her dog, Willow, for a walk after dropping her daughters off at school.
At 8:43 am on January 27, 2023, Nicola was seen on the river path, and around 8:47 am, she was spotted by another person, walking their dog in the lower field. After this, at 9:10 am, she was recognized by a witness in the upper field and police believe that at 9:33 am her phone was at the location of the bench where it was found.
Family and local authorities have deployed search operations for the missing woman. However, as of writing this article, there have been no updates about her.