SiriusXM co-host Nicole Ryan, who appears on the show The Morning Mashup alongside Stanley T and Ryan Sampson, was admitted to the hospital after her scooter was hit by a car.
As per Entertainment Tonight, the news was announced in a now-deleted post from The Morning Mashup's Instagram handle. The post stated that the 40-year-old host was "seriously injured" in an accident that took place earlier this week.
---
Nicole Ryan "will need time to heal" after her scooter accident
The outlet shared the post, reading:
"We've rewritten this a hundred times but there's no easy way to say it. She's in the hospital nursing broken bones and a bruised ego, and will need time to heal before she returns to the Morning Mashup."
No other details related to her accident have been released at the time of this writing and fans await an update on her health.
As per the outlet, The Morning Mashup team informed that Ryan Sampson and Stanley T "will hold down the fort" until Nicole Ryan recovers and will be back live on February 6.
Ryan's manager Aimee Berger also posted an update on the injured host's Instagram stories, thanking her well-wishers. She added that Nicole Ryan is "going to make a full recovery" and everyone around her is focused on her health.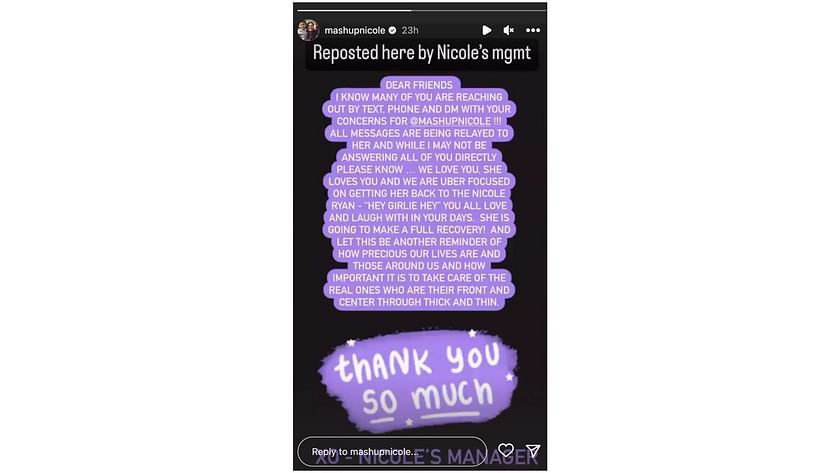 She said:
"Let this be another reminder of how precious our lives are and those around us and how important it is to take care of the real ones who are [there] front and center through thick and thin."
Born in Syracuse, New York, Nicole Ryan initially aimed to pursue psychology as a profession but switched to working in the entertainment industry.
Her website describes her as a "pop culture expert, culinary enthusiast, fitness buff, wife, and mom." The website also notes that she made a name for herself while appearing on various radio shows about her own "female perspective."
Over time, she made her TV debut on the Chelsea Lately roundtable panel, which led to further guest spots on The Wendy Williams Show, Good Morning America, and The Tamron Hall Show.
In 2018, she debuted in the web series On-Air Mom. Ryan and her former co-worker from The Morning Mash Up, Rich Davis, started the podcast After Mash, an expansion of the show. They also host the show Have Kids, They Said, which is about raising children.
During her time with SiriusXM, she has interviewed celebrities including Charlie Puth, Taylor Swift, Katy Perry, Marshmello, and Noah Centineo.
Edited by Adelle Fernandes