On Monday, September 18, Kevin Salazar was arrested in connection to the fatal shooting of LA Deputy Ryan Clinkunbroomer after an hours-long standoff. The 30-year-old Los Angeles County sheriff's deputy was ambushed and gunned down on Saturday, September 16, as he waited at a red light in his patrol car.
In a press conference on Sunday, Sheriff Robert Luna enlisted the public's help to identify the suspect in the case after a "vehicle of interest," described as a dark-gray 2006-12 Toyota Corolla, was spotted speeding away from the traffic stop at the time of the incident.
On Monday, Luna said that the suspect in connection to the shooting death of Deputy Ryan Clinkunbroomer was located following a tip. The suspect, identified as 29-year-old Kevin Salazar, was tracked down to a residence in Palmdale and was arrested after an hours-long standoff early Monday morning.
Detailing the incident, Luna said that following a tip from community members, police arrived at Salazar's home, where several family members willingly left before the suspect barricaded himself inside the residence.
SWAT officers and hostage specialists negotiated with the suspect for "several hours" before deploying tear gas to smoke the suspect out of the residence. Shortly after, Kevin Salazar surrendered to the police.
Authorities said that the car seen speeding through the red light after gunning down the deputy was found with several firearms inside. Luna said that they are confident they have the suspect in custody. However, he asked anyone with any information to come forward as any additional details would help prosecute the assailant.
---
Kevin Salazar was diagnosed with schizophrenia
On Monday, Sheriff Robert Luna said that they have arrested the suspect responsible for the murder of LA Deputy Ryan Clinkunbroomer, who was killed in his patrol car in an unprovoked attack.
Surveillance video obtained by the sheriff's office showed a dark gray Toyota Corolla pulling up next to the deputy's patrol vehicle at a red light just before the deputy was shot.
Luna said that investigators are still working on establishing a motive for the attack but alleged that the suspect Kevin Salazar was involved in a road rage incident in the days leading up to the shooting. Luna intimated that they were investigating if the road rage incident was connected to Ryan Clinkunbroomer's death.
Meanwhile, Salazar's family alleged that the shooting was a result of his mental health issues. Kevin Salazar's mother told the Los Angeles Times that her son was diagnosed with schizophrenia and was recently committed to Sylmar psych facility. The suspect, who was living with his parents, had also attempted suicide and heard voices in his head.
Kevin Salazar's mother said that he was on medication but had stopped taking it 10 months earlier. She alleged that the family did not force him to take the medication as he appeared calm.
Echoing the mother's statements, the suspect's sister, Jessica Salazar, told ABC that her brother was bipolar and had attempted to end his life at least twice.
"We just want you guys to know my brother has schizophrenia, he's bipolar," said the suspect's sister, Jessica Salazar. "He was diagnosed with schizophrenia. A lot of people who have family members out there are going to understand. He would feel persecuted, voices talking to him. He tried committing suicide once or twice."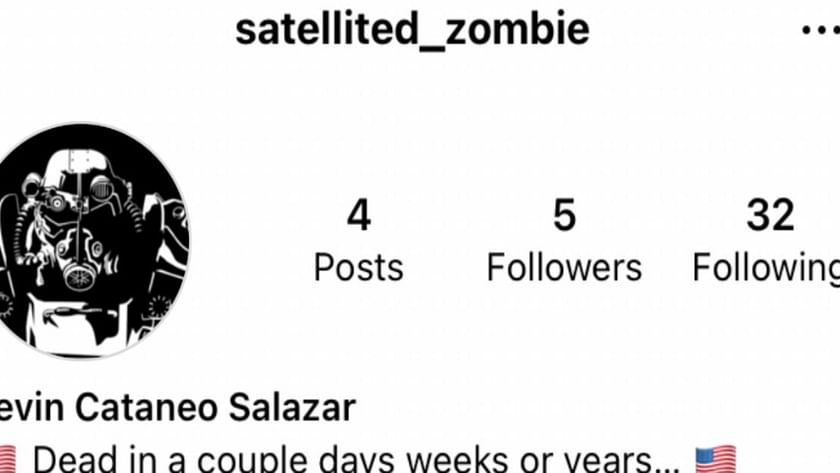 A profile slogan in a social media account that appeared to belong to the suspect read, "Dead in a couple days weeks or years".
---
Ryan Clinkunbroomer was an eight-year veteran at the LA Police department
Sheriff Robert Luna revealed that four days before he was killed, Ryan Clinkunbroomer, an eight-year veteran of the department, had celebrated his engagement. The late officer, who had been working as a field training officer for the past year and a half, had been with the Palmdale station since July 2018.
On Monday, the sheriff read a statement on behalf of Clinkunbroomer's family members that included three generations of law enforcement officers. Ryan's father and grandfather served in the L.A. sheriff's department.
"Our son Ryan was a dedicated, hardworking deputy sheriff who enjoyed working here at the Palmdale station," the statement read in part. "Ryan was recently engaged to the love of his life. As our firstborn son, Ryan will be greatly missed by his family, friends and the sheriff's department as a whole."
Investigators exploring the circumstances surrounding the shooting said that the suspect confessed to the killing.
Edited by Anushree Madappa