The PUMA x Porsche California Pro 911 "Dreams in Colours" Series footwear collection became available on May 27, 2023, to commemorate the thirtieth year of Porsche's initial introduction in Thailand in 1993. Only 1,993 pairs were produced, making them extremely rare as well as valuable. The shoes cost THB 5,900 (about USD $180) for each pair.
Those interested may purchase the trainers at Carnival Bangkok's flagship storefront in Pathum Wan, Siam Square. Customers can also place their orders online using Carnival's webpage or app. Due to the limited supply and great demand, consumers may have to participate in a raffle or queue system to acquire their pair.
---
PUMA and Porsche Celebrate 30 Years of Presence in Thailand with Exclusive Sneaker Collection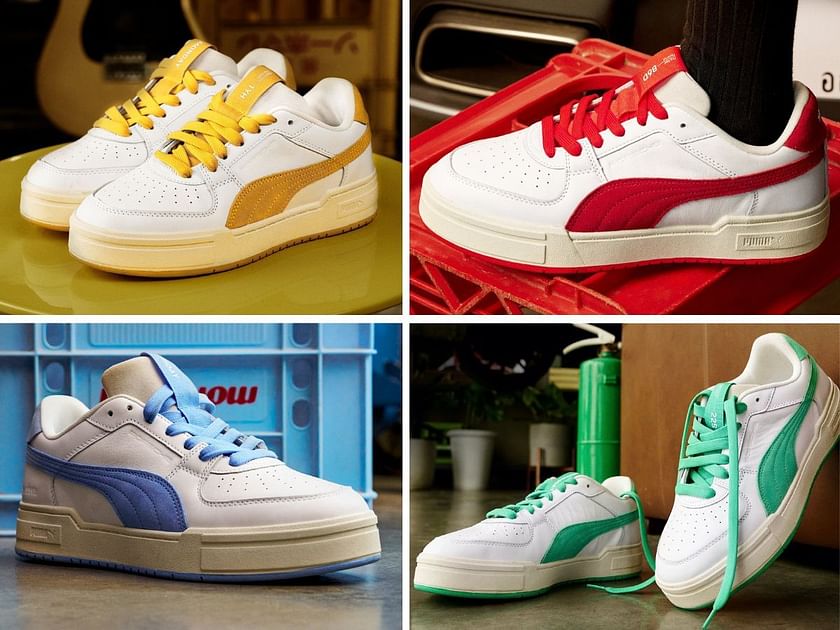 PUMA and Porsche have collaborated to develop a limited-edition trainer line to commemorate Porsche's work in Thailand for the past 30 years. The "Dreams in Colours" set has seven brilliant colors that reflect all of the days of the week in Thai culture.
The trainers are based on the Porsche 911 Carrera GTS - 30 Years Porsche Thailand Edition, a limited-edition car that was released earlier this year and immediately sold out. These athletic shoes base themselves on the PUMA California Pro silhouette, which is a classic silhouette that mixes both functionality and aesthetics. The trainers are made of white leather with suede accents and feature a rubber outer sole unit.
The Porsche Paint-to-Sample color code is on the left tongue flap, and the matching weekday moniker is on the right tongue flaps. Additionally, the insoles match the colors and day of the sneaker, with an antique Porsche 964 on the left plus a 911 Carrera GTS - 30 Years Porsche Thailand Edition on the right.
On the back pull tab is a modern "911" logo. The PUMA emblem appears on the side as well as the heel of the shoe.
As stated previously, the shoes are offered in seven different colors: Signal Yellow, Ruby Star, Signal Green, Pastel Orange, Riviera Blue, Ultra Violet, and Fire Red. In Thai culture, each color represents a distinct day of the week, as well as an independent aspect of Porsche's enthusiasm and prowess.
The different colorways of the PUMA silhouette hold different meanings as per Thai culture:
1) Signal Yellow color symbolizes Monday, which represents Brightness and optimism.
2) Ruby Star is used to represent Tuesday that is a symbol of Courage and power.
3) Signal Green hue is for Wednesday that exemplifies Freshness and innovation.
4) Pastel Orange colorway for Thursday epitomizes Warmth and creativity.
5) Riviera Blue variant is for Friday that represents Calmness and elegance.
6) Ultra Violet colorway meant for Saturday stand for Mystery and spirituality.
7) Fire Red hue for Sunday is a symbol of Energy and passion.
The duo also joined forces with 88rising, a multinational music and media firm that promotes Asian talent, as part of the "Dreams in Colours" promotion. They began a TikTok challenge, inviting budding Thai artists to use the hashtag #DreamsinColours to exhibit their artistic abilities and enthusiasm.
One lucky winner will be chosen to attend 88rising's writing camp in Los Angeles or Bali, where they will be able to develop their abilities and network with other musicians.
---
The "Dreams in Colours" campaign commemorates three decades of Porsche enthusiasm in Thailand. It is also a celebration of Thailand's rich heritage and legacy, as well as its current generation of dreamers who strive for success. The two labels collaborated to produce a trainer line that embodies their shared principles as well as their own distinct identities.