Hershey's, the well-renowned Pennsylvania-based chocolate company, has been taken to court for a $5 million lawsuit. The lawsuit accuses the company of using harmful chemicals like lead and cadmium in its dark chocolate.
It is being said that the company has been misleading its buyers by not disclosing the full contents of its dark chocolate products, and the marketing campaign for the concerned products is "false, deceptive, and misleading."
Feeling completely deceived by the company, Christopher Lazazzaro, a Nassau County resident, initiated a class action lawsuit against the company on December 28, 2022. The Nassau County resident is seeking at least $5 million in damages which will include at least $500 per transaction under New York law.
The chocolates for which he has sued the company include the Hershey's Special Dark Mildly Sweet Chocolate, Lily's Extra Dark Chocolate 70% Cocoa, and Lily's Extreme Dark Chocolate 85% Cocoa.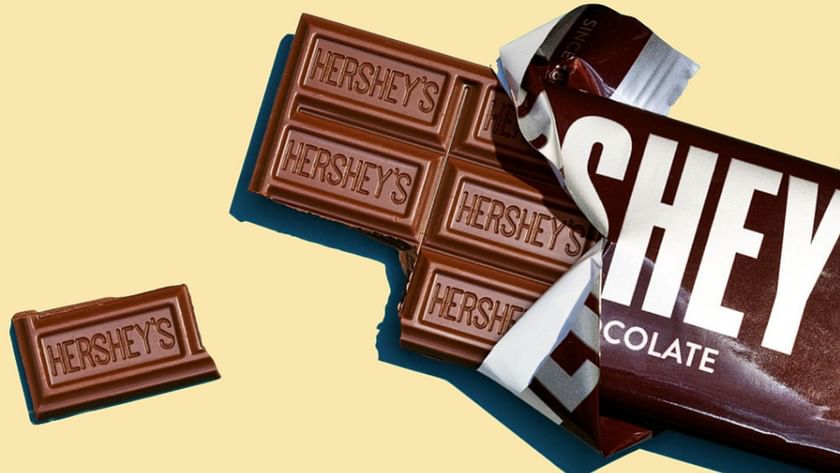 The lawsuit, filed in Federal Court in Central Islip, New York, reads:
"Lazazzaro bought and paid more than he would have if he had been aware of the truth about the products."
In reference to the lawsuit, Lozazzaro's lawyer commented on the false misleading marketing practices, quoting:
"Consumers reasonably rely on the marketing and information on Defendant's labels in making purchasing decisions. By marketing the Products as containing only dark chocolate ingredients and not disclosing the presence of cadmium and lead, Defendant misleads reasonable consumers."
---
Hershey's yet to release a statement on the matter
Though the matter is yet to be heard in the New York Court, Hershey's has kept its silence on the matter and a response from the company is still awaited.
The lawsuit was followed by a report published by the United States Consumer Reports on December 15, which studied the levels of lead and cadmium of 28 chocolate bars, including Hershey's. The report indicated that most of the chocolates tested contained either lead, cadmium, or both, beyond the maximum acceptable levels.
The report based its findings upon the limits set by the California Office of Environmental Health and Hazard Assessment's (OEHHA) Proposition 65. Though OEHHA has set stern limits for the maximum allowed levels of lead and cadmium, the limits are not guarded by any set federal standards.
On December 16, a spokesperson for the National Confectioners Association - which represents Hershey's and other chocolate manufacturers - Christopher Gindlesperger, issued a statement regarding the reports, quoting:
"The products cited in this study are in compliance with strict quality and safety requirements, and the levels provided to us by Consumer Reports testing are well under the limits established by our settlement [with As You Sow]."
Going by the Consumer Report, Lily's Extra Dark Chocolate one ounce contained levels that were 144 percent high in lead and 42 percent in cadmium, while the Hershey's Special Dark Mildly Sweet Chocolate was 265 percent higher in lead and 30 percent higher in cadmium than regular levels.
Lily's Extremely Dark Chocolate one ounce contained levels that were 143 percent high in lead and 101 percent high in cadmium.
---
Are Hershey's chocolates safe for people?
Dark chocolate has long been asserted to be good for health as it contains antioxidants and has relatively low levels of sugar that help reduce the risk of cardiovascular disease. As a result, dark chocolates are one of the most sold chocolates in the country.
If you visit any retail store, you will find that the chocolate aisles are loaded with an exhaustive range of Hershey's, and it's not just the retail stores, because the Hershey chocolate company controls more than 44 percent of the U.S. chocolate market.
Such a massive hold on the market simply means that the company sells more chocolate than its competitors, but are they really safe to eat?
Although lead and cadmium are not healthy for the human body, it is impossible to escape them. Heavy metals and chemicals are present in most of our daily food consumption, including carrots, apples, sweet potatoes, spinach, and more. Cadmium and lead often accumulate naturally in everyday food products.
Research reports by U.S. Consumer Reports and other agencies also suggest that a single ounce of the highest amounts of cadmium and lead levels do not cause any immediate harm, and it all burns down to the amount you consume over a certain period of time.
It is important to ensure that you are not consuming dark chocolate or any other such food product on a regular basis. Eating chocolates once in a while may not be harmful.