5 crucial catches dropped or caught in Cricket World Cup finals
5.98K //
Timeless
"Catches win matches" goes the old cliché. And when it comes to big stages, especially the World Cup final, you better grab anything that comes your way. There have been some spectacular catches which have changed the course of the match and the tournament while there have been expensive dropped catches that have had the same effect.Let's take a journey down the memory lane to have a look at some of the most crucial catches – taken or otherwise – that eventually went on to become decisive in World Cup finals.
#1 1975: Ross Edwards drops Clive Lloyd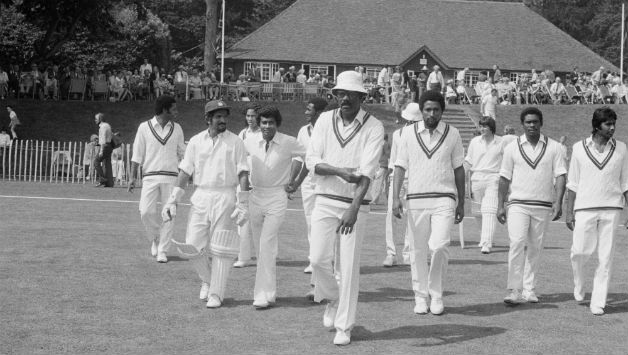 After losing the toss and being put in to bat first West Indies were reduced to 50 for 3 when Clive Lloyd joined Rohan Kanhai in the first ever cricket World Cup final in 1975. Clive Lloyd, playing on 26 – having beaten the ball before – tried to pull a short of a length delivery from Dennis Lillee only to mistime it to midwicket.
Ross Edwards, an athletic fielder, grassed the chance letting off Clive Lloyd who, after that, unleashed one of the greatest hundreds in the history of World Cup finals – 102 of just 85 deliveries. West Indies were in a safe position when he got out at team score of 199.
What Happened next:
West Indies eventually went on to score 291 in the allotted 60 overs. Australia fell short of the target by 17 runs and thus failed to be grab the honour of being a team that won the coveted ODI World Cup trophy for the very first time.
"If you are going to lose, the man you'd like to see beat you is Clive Lloyd"
– Ian Chappell on Clive Lloyd's century in the 1975 World Cup final
#2 1983: Kapil Dev catches Viv Richards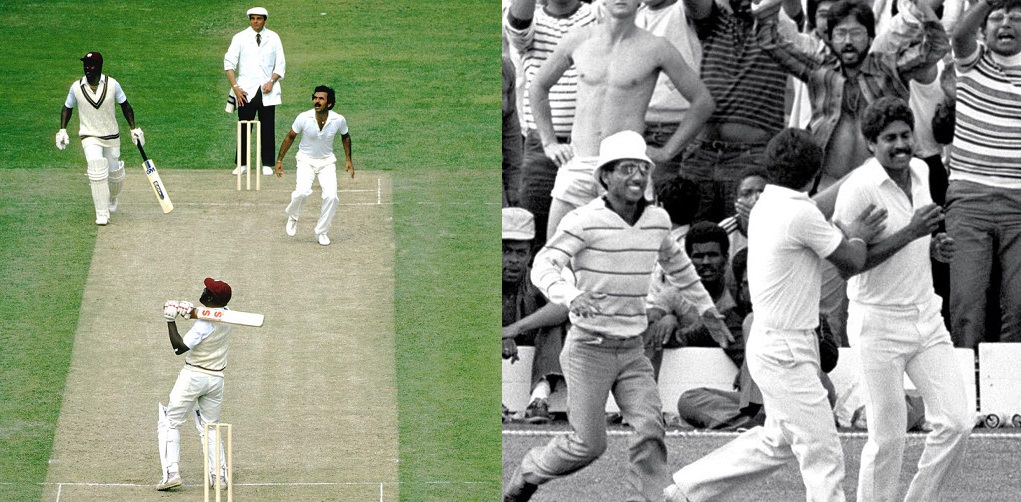 India looked down and out in the 1983 World Cup final after scoring just 183 batting first against mighty West Indies who had won the previous two World Cups; until Kapil Dev happened. Viv Richards came to the crease after an early fall of Gordon Greenidge at 5. Viv scored a quick fire 33 with his usual flamboyance hitting 7 boundaries in the process. He had to be stopped, somehow, otherwise India had no chance.
Madan Lal, who had got Desmond Haynes out reducing the West Indies to 50 for 2, bowled a slightly shorter one to Richards who mistimed a pull shot to deep midwicket. Kapil Dev ran backwards 15 to 20 yards keeping his eyes on the ball all the way and took a mesmerising catch. This is probably the most viewed, discussed and analyzed catch in the history of limited overs cricket. And rightly so!
What happened next:
West Indies kept losing wickets after regular intervals and were reduced to 76 for 6 at one point before Dujon and Marshal led a short fight back. But Mohinder Amarnath removed both of them and the tail to take India to a very famous victory – its first World Cup trophy.
"I don't know from where did he come to take the catch? When Kapil was running back waving to the nearest fielder to get out of the way, I knew my time was over"
– Viv Richards on Kapil Dev's catch in 1983 World Cup final that dismissed him
#3 1987: Greg Dyer catches Mike Gatting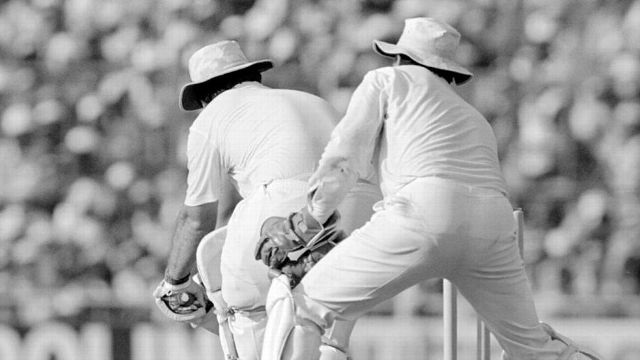 England were favorites to win the 1987 World Cup final against Australia. They were well on course before Mike Gatting – in a moment hard to justify – decided to reverse sweep. Mike came in at 66-2 and was involved in a quick 69-run partnership, with CWJ Athey, of which he scored 41 in just 45 deliveries.
Allan Border then brought himself on. Mike, out of nowhere, attempted a reverse sweep to the first ball from Border. The ball popped from the bat, hit the shoulder and went straight up giving Greg Dyer a catch so simple and unexpected that he almost dropped it. Only Mike could have dropped such a dolly. The Australians' joy was unconcealed. Mike was out in the semi finals against India reverse sweeping the ball onto his stumps. If only he could learn from his mistakes but, alas, he didn't.
What Happened next:
The catch at such a crucial juncture in the match handed the advantage to the Australians who went on to win the match by a meagre 7 runs to secure their first – of four – World Cups. England on the other hand are still waiting to win at the biggest stage in ODI cricket.
"In a moment too crass to contemplate, Gatting handed back the initiative to Australia."
– Wisden Cricketers' Almanack on the infamous reverse sweep in English cricket history
#4 1992: Graham Gooch drops Imran Khan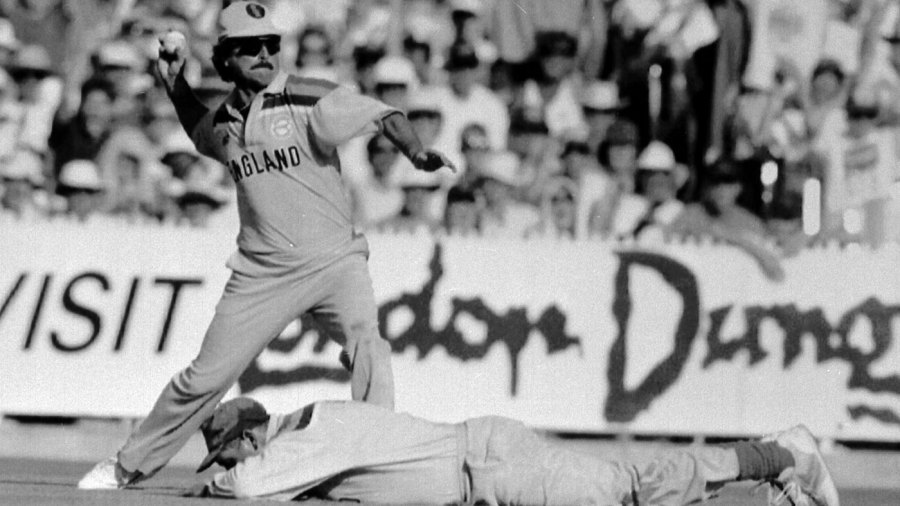 In 1992 World Cup Final at Melbourne between Pakistan and England, Darek Pringle took two early wickets to reduce Pakistan to 24 for 2. Imran Khan came to the crease after the early fall of Amir Sohail at 20. For the next 16 overs Imran could only muster 9 runs putting his side under pressure at 56 for 2 after 20 overs.
In an attempt to up the tempo, he top edged one in the air trying a flick on the leg side. Graham Gooch ran as fast as he could, reached to the ball, grabbed it for a moment and then the ball popped out as he fell on the ground. Imran went on to make 72, with 5 fours and a six, in a stand of 139 runs with Javed Mianded. 72 runs scored by Imran was the highest score by an individual in that final.
What happened next:
Imran-Javed partnership set the platform for Inzmam and Wasim who made some quick runs in the end to stretch Pakistan's score to 249. Eventually, Pakistan – the cornered tigers – won the trophy by 22 runs thanks to a memorable all round performance by none other than Wasim Akram. Since then England never appeared in a World Cup final again.
'It takes a great leader to pick his team up from a low point'
– Ian Chappell on how Imran Khan's inspirational captaincy took Pakistan to the world title in 1992
#5 2011: Nuwan Kulasekara drops Gautam Gambhir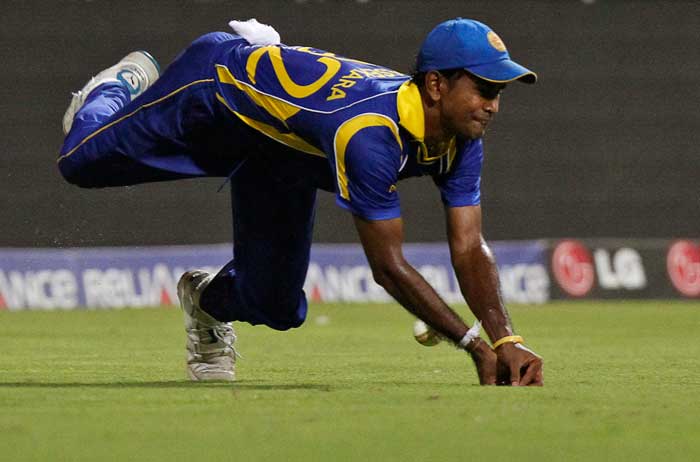 Three great innings were played in 2011 World Cup final between India and Sri Lanka. Mahela Jayawardene, MS Dhoni, and Gautam Gambhir were the three people that played one of the most important innings of their lives. Mahela, after scoring a hundred, ended up on the losing side, Dhoni saw India through, but Gambhir, often shadowed under the brilliance of Dhoni in that final, was the man responsible for setting up a platform for India.
When it came down to India to chase 275 in a World Cup final, they lost Sehwag in the very first over to Malinga for naught. In came Gambhir who, along with Sachin, steadied the chase for a while. India lost Sachin shortly and were reduced to 33 for 2. In the 14th and Suraj Randiv's first over, with India still 207 runs away from the victory, Gambhir tried to play an inside-out drive from the leg stump between cover and long off. He ended up scooping the ball to the right of Nuwan Kulasekara who got late to run in and dive and thus spilled the catch at long off.
The score would have been 68 for 3 had the catch been taken, but it was not to be. When Gambhir was dismissed finally 155 runs later, he had made 97 for himself and his team was poised handsomely in the 42nd over just 52 runs away from the victory.
What happened next:
Dhoni along with Yuvraj went on to script a great victory for India making it the first team to win the coveted trophy at home. It was the first time a score more than 250 was chased in a World Cup final and it was also the first time a team had lost in a final after one of its batters had scored a century.
"He missed out on a very special century. I would have liked Gautam to go on and get that big hundred."
– Dhoni said in the after-match presentation about Gambhir who played a rash shot to get out on 97