5 most memorable Boxing Day Tests
21.97K //
Timeless
Just like every other year, the traditional Boxing Day Test is all set to commence at the Melbourne Cricket Ground (MCG) from December 26. Though it is the MCG that is often associated with Boxing Day matches, the first ever Boxing Day Test was played between South Africa and England at the Old Wanderers Stadium in Johannesburg, South Africa. England won that Test by a convincing margin of an innings and 12 runs.There is a very interesting story behind how the modern-day Boxing Day Tests took shape. Earlier, Boxing Day used to be one of the days of a 6-day Test. However, players were not really happy about this, as they did not get to spend Christmas with their families. The first Test to commence on Boxing Day at the MCG was the 2nd Test of the Frank-Worrell trophy in 1968. Australia thumped the West Indies in that game by an innings and 30 runs.For the next 6 years, however, there was no Boxing Day Test. It returned in 1974, only to vanish for a further 5 years. In 1980, the MCG and the Australian cricket team secured the rights to play this Test annually and thus began the tradition of the Boxing Day Test.Spare 1989, when a Boxing Day ODI was played, the Boxing Day Test has been played every year at the MCG. Over the years, it has acquired a special place in the hearts of fans. It's popularity can be gauged from the fact that it featured in The Observer's list of 50 sporting things to do before dying. New Zealand and South Africa, two more teams in the Southern Hemisphere, also organize Boxing Day Tests.Now that we have a brief idea about the history of this much-anticipated event, let's take a look at 5 of the most memorable Boxing Day Tests that have been played:
#5 4th Test, The Ashes, 2013-14, MCG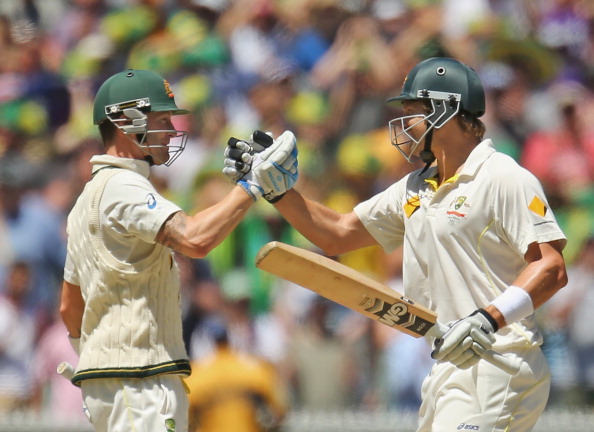 Going into this Test, England were completely rattled having surrendered the Ashes in the previous Test at Perth. Their star tweaker Graeme Swann had also announced his sudden retirement from cricket just days before. With Mitchell Johnson looking absolutely unstoppable, Australia were expected to 'Cook' England's goose.
Captain Michael Clarke won the toss and elected to field. In front of a record Boxing Day crowd, Johnson starred with the ball yet again picking up another fifer. None of the visitors' batsmen got going as they were all out for a below par total of 255. Courtesy of an inspired bowling performance by the English bowlers, led efficiently by James Anderson, the Aussies were dismissed for 204, thereby handing England a vital lead of 51 runs.
However, England blew the lead away unable to tackle off-spinner Nathan Lyon. With no other batsman except for Alastair Cook and Kevin Pietersen offering much resistance, the visitors were eventually bowled out for 179, thereby setting Clarke's men a target of 231 runs.
Chris Rogers, who was having a pretty average series thus far, put his hand up as he scored a quick century and took the Baggie Greens to the cusp of victory. Thereafter, Clarke and Shane Watson did not waste much time as they inflicted another humiliating defeat on Cook's men and, in the process, also tasted revenge for their loss at the same venue three years ago.