5 teams that impressed but could not win the World Cup
66.60K //
Timeless
In cricket, or any sports for that matter, not always doesquality shinethrough, not always are the most valiant rewarded, sometimes you have nothing to show for your good display, nothing but the appreciation from everyone.Sometimes, however, the encomium is just as big a reward as the silverware.In the history of cricket, we have seen numerous occasions when the so-called Goliaths were defeated by the tiny Davids of the game,. A case in point being the Indians surmounting the West Indies juggernaut in 1983 and creating their own legacy. But you do not get fairy tale endings every time.So here are 5 teams that were impressive in one sense or the other, but not proficient enough to ultimately lift the World Cup trophy:(Note: Although West Indies didnt win the 1983 World Cup despite having been in outstanding form for most of the tournament, they havent been included in the following list as their defeat to India in the final was a huge upset rather than being a case of impressing but not having enough quality to go the full distance)
#5 South Africa 1992 World Cup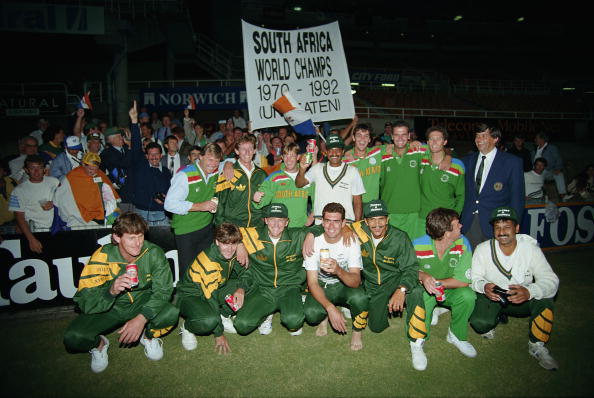 While the 1992 World Cup had its share of novelty with coloured jerseys and artificial lights being used for the very first time, South Africa making their first appearance in a World Cup was the biggest of them all.
South Africa, after years of segregation due to the practice of apartheid, were ultimately allowed on the international circuit just before the World Cup. The Proteas were like this breath of fresh air to the cricketing fraternity, providing some of the most scintillating and memorable performances of the tournament.
To make it into the last four of the tournament was no small deed in itself but to do so after just being re-introduced to world cricket was an even bigger achievement. The 1992 tournament eventually turned out to be the one that would set the South Africans back on the cricketing globe in so many ways, whether it was that amazing Jonty Rhodes run-out, still considered as one of the most iconic images of cricket history, or their perennial habit of losing their way and finding myriad ways to get out of big tournaments.
It could be safely said that brand South Africa was more or less set in stone with the '92 WC.
About the tournament itself, beating hosts Australia in their very first match was the perfect shot in the arm for the Proteas, propelling them to beating both the eventual finalists on their way to the semi-finals of the tournament.
Now this is ultimately where they were undone due to the erstwhile rules that existed in case of a rain-affected game, which left them with the impossible task of scoring 22 runs from a single ball after two overs were deemed to have been lost due to rain. Despite their sullied exit from the tournament, however, they would've definitely taken heart from the fact that they were able to impress the world once again after a long hiatus.