7 famous footballers who committed suicide
407.29K //
Timeless
Football is very much regarded as the beautiful game because of the intensity, excitement, and thrills that grip it at all levels – amateur or professional. The game also sees the players become some sort of demi-gods, as they are idolised by fans.Unfortunately, there have been some names in the history of the game who, despite giving their best on the football pitch, could no longer bear the atrocities of life, which led them to the crime of committing suicide.In this slideshow, we talk about such 7 footballers who committed suicide either during their careers or post retirement from the game.
#1 Dale Roberts (1986-2010)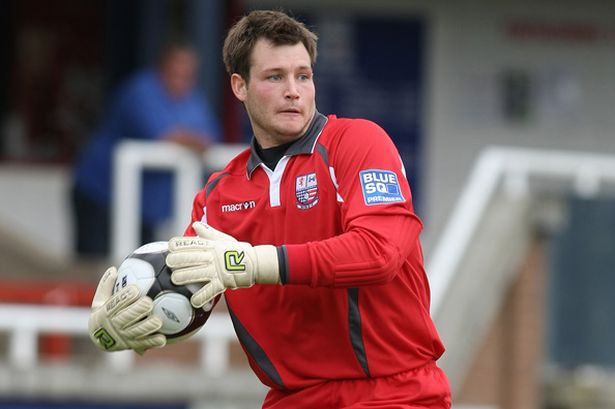 Born on 22 October 1986, Dale Roberts started his career as a goalkeeper for his native North East sides of Sunderland and Middlesbrough.
After signing his first professional contract in 2006 with Nottingham Forest, Roberts was sent on loan to Eastwood Town in the same year and Alfreton Town in the 2006/07 season. He played for the Rushden & Diamonds on loan for two seasons and his performances for Rushden & Diamonds during the 2008/09 season earned him international recognition.
Roberts made his debut for England C against Malta in the 2009/10 season and played in all four England C games, getting voted England C player of the season in the process. His last appearance came against Wales in September 2010.
However, he died at the age of 24 in 2010 after he hung himself at his home. The cause of his death was asphyxiation, and it is believed that he took this extreme step due to his injury and because it had come to light in the national media that his fiancée was having an affair with one of his teammates Paul Terry (brother of John Terry).
Rushden even retired his no.1 shirt out of respect.
#2 Robert Enke (1977-2009)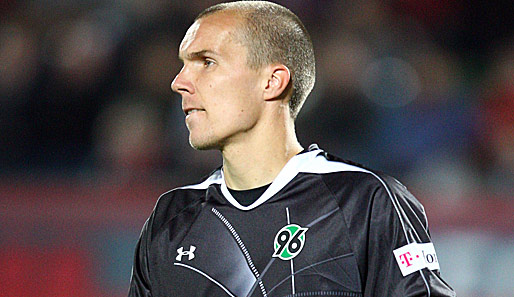 Said to be one of the finest German goalkeepers, Enke started his professional career with Carl Zeiss Jena and made his debut for the club in 1995 on against Hannover, a club that he would go on to join in the future. Enke was provided with the opportunity after Mario Neumann, the first choice keeper conceded 14 goals in just three matches.
He then joined Borussia Monchengladbach, making 33 appearances for them. Enke joined Portuguese giants Benfica in the summer of 1999 on a three-year contract. The club was then managed by Enke's compatriot Jupp Heynckes, who made him his captain. He had an unstable time in Portugal due to the continuous change in management and in 2002 joined Barcelona on a free transfer on a three-year-deal.
He made only one appearance in the La Liga, was loaned out to Fenerbahce in 2003, and upon his return in 2004 was loaned out to Tenerife in the second division. Following those spells, he left Spain for his homeland and joined Bundesliga side Hannover 96 in July 2004 on a free transfer.
He established himself there and won the best goalkeeper award for the 2008/09 season, which was tragically his last. He made his final appearance on 8 November in a 2-2 draw at home to Hamburg just two days before his death.
He committed suicide on 10 November 2009 by standing in front of a regional express train at a level crossing. Despite a suicide note being found, the police never publicised its details. But his widow Teresa later revealed that her husband had been suffering from depression since the death of their daughter Lara in 2006.
#3 Alan Davies (1961-1992)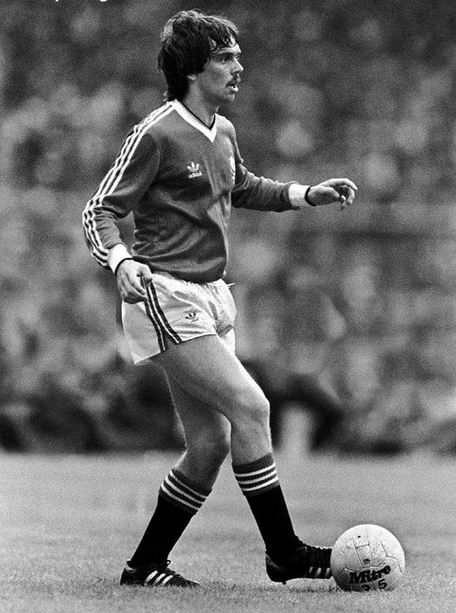 Born on 5 December 1961, Alan Davies was an English-born Welsh footballer. He began his footballing career with Manchester United, turning professional in December 1978. He made his senior debut for the club in May 1982, made a total of 10 appearances including his solitary goal for them and made his final Manchester United appearance in May 1984 as part of the victorious United team that defeated Brighton in the 1983 FA Cup Final.
Moving on to Newcastle United, Alan made 21 league appearances for the Toon Army in his two seasons at St.James' Park. Following his loan spells with Charlton Athletic and Carlisle United, Davies transferred to Swansea City in the 1987/88 season.
Life, however, would end tragically on 4 February 1992, when the body of the 30-year-old Alan Davies was found in his car in South Wales. He was found to have committed suicide by carbon monoxide poisoning – soon after he had dropped his daughter off at school.
In August 1992, Swansea City and Manchester United paid tribute to the late Alan Davies with a testimonial match at Vetch Field for him, where football players and fans paid tribute to the man.
#4 Gary Speed (1969-2011)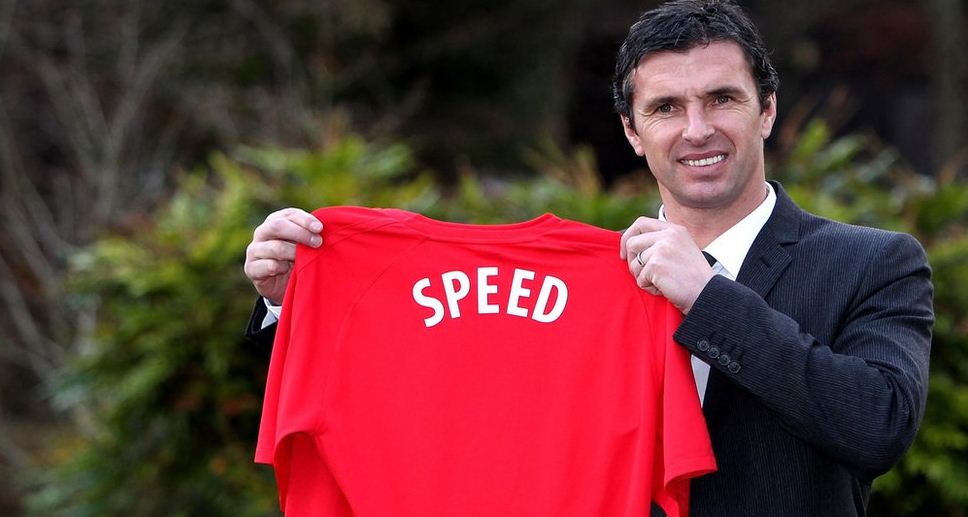 Born on 8 September 1969, Gary Andrew Speed was a Welsh footballer and manager. Termed as be one of the best players for over a decade in the history of English first division football, Speed was best known for his time from1988 to 1996 at Leeds United where he helped the club in winning its third first-division title.
Beginning his career with Leeds, Speed signed his first professional contract in June 1988 where he made his first-team debut at the age of 19. He also went on to play for Everton, Newcastle United, Bolton and Sheffield United.
In December 2006, Speed became the first player to make 500 Premier League appearances when he played in Bolton's 4–0 victory over West Ham United. His record of 535 appearances was later overtaken by David James and Ryan Giggs.
Besides being such a huge success at the club level, Speed attained 85 international caps for Wales, making him the second highest capped player in the history of Wales. He also captained the country on 44 occasions.
On 27 November 2011, just a day after he had appeared on a television show, Speed was found hanging in the garage of his home. Although his wife called an ambulance, it was too late and the coroner stated that the cause of death was by "self-suspension".
Among those who sent their condolences were footballers, former players, managers and even politicians. Welsh flags were kept at half-mast as a mark of respect and players such as Craig Bellamy were unable to play that weekend after hearing the news.
#5 Carlos Jose Castilho (1927-1987)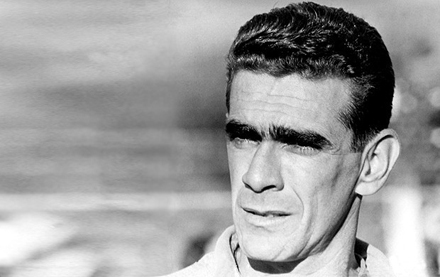 Born in Rio de Janerio, Brazil on 27 November 1927, Carlos Jose Castilho began his junior career with Olaria in 1945 followed by a move to Paysandu in 1946. Starting his professional footballing journey with Fluminense, Castilho played for the club for nearly 18 years, a period ranging from 1947 to 1964.
Noted as a goalkeeper for making seemingly impossible saves, he was also said to have carried an unbelievable amount of good luck with him. Selected as a member of the Brazil squad in four World Cups – 1950, 1954, 1958, & 1962, he featured in just three games, with all of them coming in the 1954 finals. After retiring from professional football, Castilho served as a coach for many Brazilian club teams.
He died on 5 February 1987 at the age of 59 when he committed suicide by jumping out of his apartment window. He had been suffering from depression and those who knew him said that he was trying to save his marriage, too.
#6 Hughie Gallacher (1903-1957)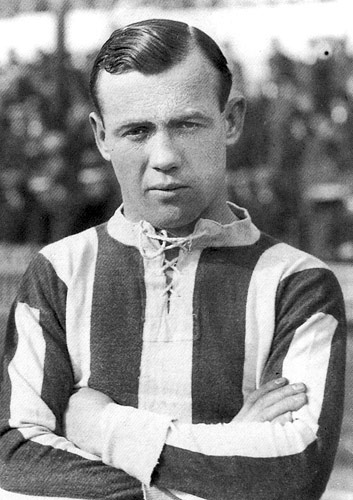 Born on 2 February 1903, Gallacher played a total of 624 senior games for eight different clubs, scoring 463 goals in the process. With a lack of height and weight, he had excellent ball control, guile and instinct that helped him go past opposing defenders with ease.
Gallacher was one of the prolific goalscorers for the Scotland team. He scored 23 goals from his 20 appearances with an eye-catching average of 1.15 goals per match. Hughie was also a part of the Scottish team that defeated England 5-1 at Wembley in 1928. Gallacher then departed for England, where he played major roles for Newcastle United and Chelsea, before retiring in 1939.
However, he faced issues in his personal life. In 1934, he ended up in bankruptcy court due to a prolonged and acrimonious divorce. Later, after his retirement, Gallacher returned home drunk and tossed a lamp at his son mistakenly, which led to him being denied access to his child.
On 11 June 1957, the 54-year-old Gallacher walked in front of an express train and killed himself. He had written a note before he committed suicide, saying that he regretted what he had done.
#7 Hughie Ferguson (1898-1930)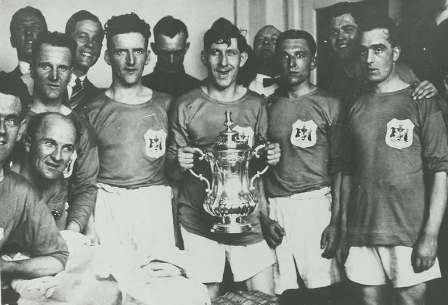 Labelled for his modesty and sense of fair play striker ever to have played in the history of the Scottish Premier League, Hugh "Hughie" Ferguson was born on 2 March 1898.
Being only one of the seven men in the entire history of football and the Scottish Football Leagues to have achieved the mark of 350 or more league goals, Ferguson finished his career with an average of 0.85 goals per game.
Scoring 285 goals for Motherwell FC, Ferguson departed for South Wales where he joined Cardiff City. He scored 77 goals in 117 appearances for the Blue Birds, winning the FA Cup and FA Community Shield in 1927 and the Welsh Cup in 1928.
Returning to Scotland with Dundee in 1929 for a fee of £500, Ferguson scored just two goals in 17 matches for the club before being left out of the side due to injury and lack of form.
Unable to find his form, Ferguson went into depression and on 9 January 1930, the 31-year-old centre-forward committed suicide by gassing himself at Dens Park after a training session.