Most biased referees for top teams in the Premier League
69.39K //
Timeless
Howard Webb earned a reputation for being biased in big gamesThe higher-ups in FA stand firmly by their referees. They insist that the custodians of the game are highly professional and the best available resources to officiate a game.But most fans will disagree. These days, a lot of referees are known to be incompetent. And there are other referees who are known to show a bias against some of the teams.The FA are astute in refusing this fact, so we have compiled a list of referees that have it in for certain teams.
#1 Arsenal - Mike Dean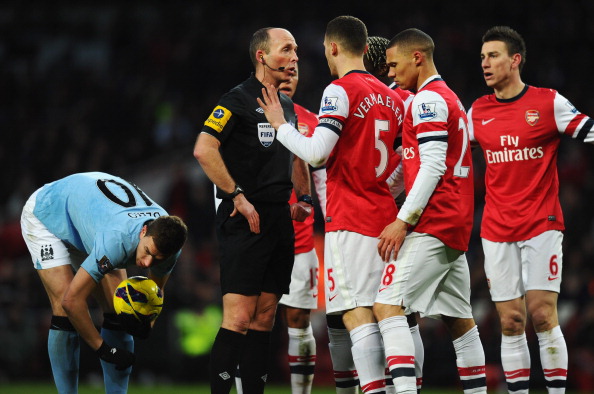 The declaration of Mike Dean as referee for an upcoming fixture can lead to some very ominous predictions from the Arsenal fans. And suffice to say, Dean doesn't disappoint.
Dean's soured relations with the Arsenal faithful stretches back to 2009, from whence he oversaw a run of 17 games, spanning four years, in which Arsenal managed only a solitary win. Not the kind of record that will fill fans with confidence.
He appears to be a referee of a very conservative nature. He lets play continue and allows room for a bit of tough tackling. Unfortunately, this doesn't often work in Arsenal's favour, who prefer to play a smooth transitional game involving lots of intricate passing. Opposition teams have often exploited this fact by countering it with physicality, something which works very well in a game officiated by Dean.
Dean isn't completely without blame either. He has been responsible for some scandalous calls in the past. Laurent Koscielny's red card against Manchester City, Obi Mikel escaping a red card for a portentous challenge on Mikel Arteta and Theo Walcott being denied a penalty against Chelsea are some of the bigger incidents that spring to mind.
There is also the incident where he 'appeared to celebrate a Louis Saha goal' against Tottenham Hotspur.