Most biased referees for top teams in the Premier League
70.90K //
Timeless
Howard Webb earned a reputation for being biased in big gamesThe higher-ups in FA stand firmly by their referees. They insist that the custodians of the game are highly professional and the best available resources to officiate a game.But most fans will disagree. These days, a lot of referees are known to be incompetent. And there are other referees who are known to show a bias against some of the teams.The FA are astute in refusing this fact, so we have compiled a list of referees that have it in for certain teams.
#1 Arsenal - Mike Dean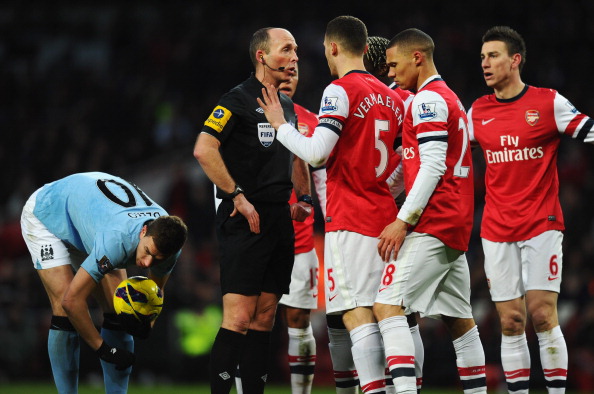 The declaration of Mike Dean as referee for an upcoming fixture can lead to some very ominous predictions from the Arsenal fans. And suffice to say, Dean doesn't disappoint.
Dean's soured relations with the Arsenal faithful stretches back to 2009, from whence he oversaw a run of 17 games, spanning four years, in which Arsenal managed only a solitary win. Not the kind of record that will fill fans with confidence.
He appears to be a referee of a very conservative nature. He lets play continue and allows room for a bit of tough tackling. Unfortunately, this doesn't often work in Arsenal's favour, who prefer to play a smooth transitional game involving lots of intricate passing. Opposition teams have often exploited this fact by countering it with physicality, something which works very well in a game officiated by Dean.
Dean isn't completely without blame either. He has been responsible for some scandalous calls in the past. Laurent Koscielny's red card against Manchester City, Obi Mikel escaping a red card for a portentous challenge on Mikel Arteta and Theo Walcott being denied a penalty against Chelsea are some of the bigger incidents that spring to mind.
There is also the incident where he 'appeared to celebrate a Louis Saha goal' against Tottenham Hotspur.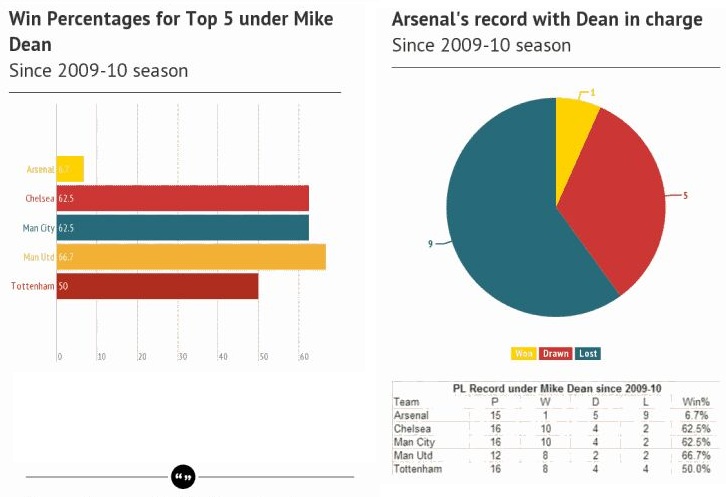 #2 Everton - Mark Clattenberg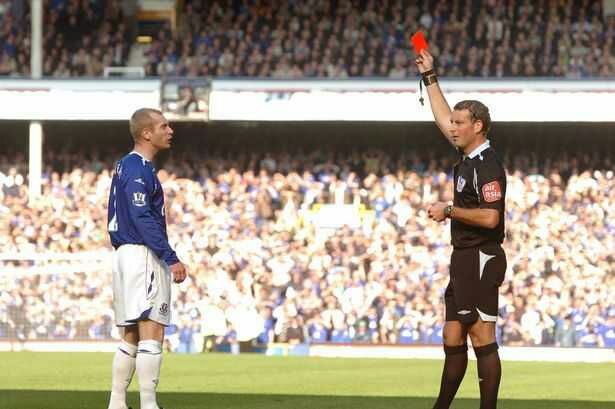 Mark Clattenberg has become a figure of derision at the Goodison Park after his dismal showing in a Merseyside derby in 2007, which resulted in a 6 year hiatus for him from Goodison Park.
Clattenberg's infamy in the Blue side of Liverpool began when he appeared to consult Steven Gerrard before sending off Tony Hibbert on the fateful night. He then failed to send off Dirk Kuyt for a two-footed lunge on Phil Neville.
He made things worse by failing to award Everton a penalty when Jamie Carragher brought down Joleon Lescott in the penalty area. His performance was so bad, he received death threats from the fans and he was prevented from officiating at Goodison for the next 6 years.
His next game in charge of Everton came at Villa Park in 2012 where, he again failed to give Everton a penalty when Louis Saha was brought down in the box by Alan Hutton. The match ended 1-1.
He took charge of three more Everton games after that, two of which Everton lost. All three games elicited reaction from the press for the referee's decisions.
#3 Liverpool - Howard Webb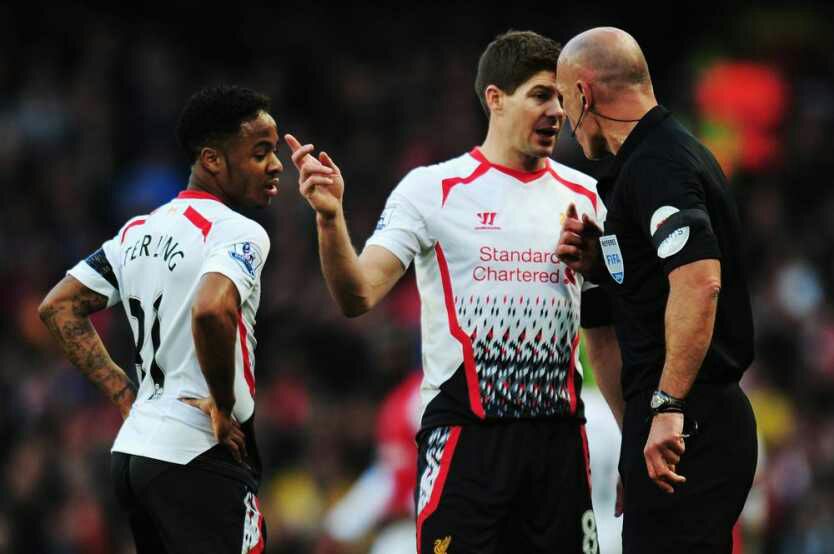 Liverpool enjoy a fairly strained relationship with, the now retired, Howard Webb.
Webb, often considered the best referee in England has been the butt of jokes that paint a very maligned picture of him, associating him with Manchester United and claiming he is heavily biased in their favor. Ryan Babel, whilst at Liverpool, was fined for indulging in a joke on Twitter which saw Webb in a United jersey.
It is, perhaps, very cruel for a referee of his stature to be subject to such snide mockery, but his record with Liverpool is a bit alarming and does give credence to the claims of Manchester bias; at least in the eyes of the Reds.
His last game in charge of Liverpool left them fuming as he failed to award them, what looked like a, clear penalty for a foul on Luis Suarez by Alex Oxlade-Chamberlain. Liverpool ended up losing by a goal, and subsequently were knocked out from the FA Cup.
It may look like an innocuous decision, after all many referees preferred to err on the side of caution when Suarez was involved, but his record on the whole, involving Liverpool, makes the decision look very suspicious. He has been in charge of 22 Liverpool games since 2009/10 of which Liverpool have won 6 and lost 14!
LIVERPOOL'S RECORD WITH VARIOUS EPL REFEREES

| Referee | Matches | Wins | Losses | Draws | Win% |
| --- | --- | --- | --- | --- | --- |
| Lee Probert | 14 | 10 | 4 | 0 | 71% |
| Martin Atkinson | 21 | 9 | 6 | 6 | 42% |
| Andre Marriner | 16 | 15 | 1 | 0 | 93% |
| Michael Oliver | 13 | 12 | 1 | 0 | 92% |
| Howard Webb | 22 | 6 | 14 | 2 | 27% |
#4 Chelsea - Chris Foy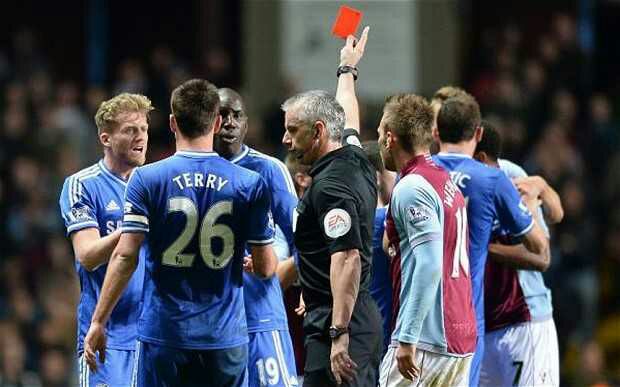 Chris Foy has drawn some heavy flak from Jose Mourinho for what the manager believes to be is a bias against his team.
Foy first drew the attention of supporters when he sent off both Jose Bosingwa and Didier Drogba in 1-0 defeat to QPR. He was harshly criticized, but ultimately the hullabaloo died down before flaring up again after a 1-0 defeat to Aston Villa where both Ramires and Willian were sent off. Both red cards were deserved, but it didn't stop Mourinho from running him ragged in the press.
"During the week the players were speaking about the situation and I think from now on, the next time we have Mr. Foy, I have to work my people in a different way because I don't want this," said Mourinho after the match.
Foy has shown 8 red cards to Chelsea players in the 10 matches that he has officiated in, while showing none to the opposition. It is hard to judge whether they were right calls, but it is hard to side with the referee knowing some of the ludicrous decisions he has made which involves a second yellow to Arjen Robben for celebrating with his own fans.
#5 Manchester United and Manchester City - Mark Clattenberg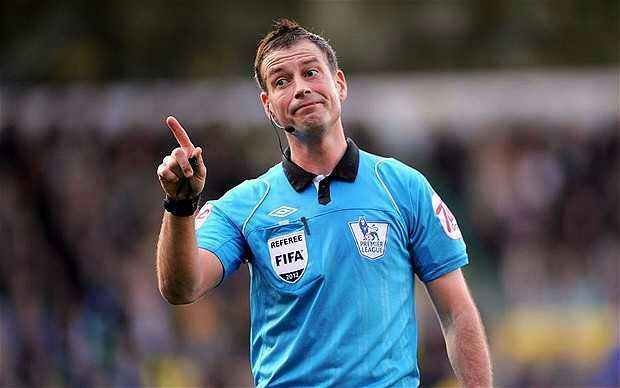 It is hard to figure whether Mark Clattenberg is biased, or just genuinely incompetent. He has had his fair share of controversies, but his record against particular clubs is so overwhelmingly poor, it is a cause of amazement he is still allowed to officiate in the Premier League.
The two Manchester clubs are a few of a select breed who haven't run into particular trouble with the referees. Some would even argue that referees have been particularly kind to them, but in comes Clattenberg to set the record straight.
Clattenberg has been a constant source of consternation among both sets of Manchester fans. His record at United, once a cause of concern among opposition fans is now is now a source of joy. He has turned foe to the red side of Manchester since the departure of Sir Alex Ferguson. His most recent exploit came in United's 5-3 humbling at the hands of Leicester City, where he promulgated a Leicester comeback by awarding them a penalty for a non-incident. He has become public enemy number one since the fateful day.
His other victims include United's sworn rivals, City. Manchester City have dropped important points in the matches overseen by Clattenberg. The first noteworthy incident has to be Gareth Barry's one match ban resulting from a war of words with the notorious ref. Barry accepted his ban, but still maintans that it was Clattenberg who iniated the fued.
But unlike his change of attitude towards United after a change of manager, City haven't had any such luck. They have continued to endure under new manager Manuel Pellegrini as well, who was left fuming after Man City's 3-2 loss to Liverpool in the run up to the title last season.
Pellegrini argued that Skrtel had handled the ball in the build up to the second goal. City ended up winning the title but the wounds of that day are still to heal. Pellegrini once again reminded the world of Clattenberg's performance after a recently concluded match against Arsenal in which Clattenberg, again, had a less than convincing performance.