Ever since its inception, T20Is have given Tests and ODIs a tough run for their money in terms of popularity, bringing the best out of players in an extremely short span of game time. Runs have started to flow off bats like never before, and huge targets have been shot down with relative ease, something which could not have been predicted even two decades back.
In this special feature, we bring you six of the most staggeringly successful run chases in T20 Internationals.
#6 South Africa vs Australia, March 2016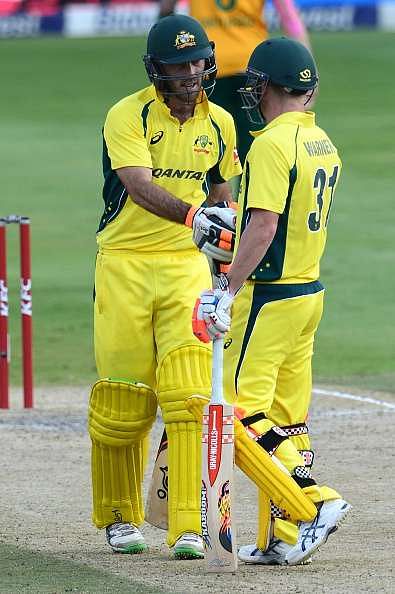 Many cricket fans were bemused as to why Australia were touring South Africa for three T20Is ahead of the World T20 in India. However, the series ended up being a thrilling one as all the matches were entertaining ones.
In the second match of the series, South Africa put up a total of 204 in 20 overs, thanks to captain Faf du Plessis' 79 off 41 balls. Quinton de Kock and David Miller also contributed with scores of 44 and 33 to help their side post a competitive total on board.
Australia's response did not start well as they lost the first three wickets for just 32 runs in 5.4 overs. However, a record stand of 161 runs between David Warner and Glenn Maxwell for the fourth wicket helped the Aussies chase down the total in the very last ball of the match.
Warner scored 77 off 40 while Maxwell scored 75 off 43 balls to set the tone for one of the best chases in T20I history. Before this match, Australia had chased down a total of 160-plus only one time in 17 attempts.
#5 South Africa vs West Indies, September 2007
It was September in 2007, and the inaugural T20 World Cup was capturing the imagination of the public in South Africa and the world over. This particular match was between the hosts and the West Indies, a group A encounter in Johannesburg.
Chris Gayle, a constant feature in this thread on T20, was making his presence felt even then. He had helped the Windies post an impressive 205-6 aided largely by a 57-ball 117 from the lanky left-hander. Gayle struck 10 sixes to get the crowd going, and his effort was accentuated by the fact that the next best score on the sheet read 35 by Devon Smith.
Still in the early stages of its evolution, most people thought that the total was far too much to overhaul. Herschelle Gibbs though was not one prone to conventional thinking. In the able company of Justin Kemp, the opener played some scintillating cricket to keep South Africa in the hunt.
Gibbs struck 14 boundaries and two sixes as he built up the chase with his meticulously planned 90 off 55 balls. At the other end, Kemp produced a little gem – a 22-ball 46 – to see the hosts through with an incredible 14 balls to spare.
It was a game that taught cricket fans of the immense possibilities of the T20 format.
#4 India vs Sri Lanka, December 2009
The second highest run chase came in a T20 series between India and Sri Lanka in December 2009. In the second T20 at Mohali, Kumar Sangakkara had set up the Lankans rather well with a 31-ball 59 that saw them post an impressive 206-7.
The visitors were leading the series 1-0 and a dominant batting display set them up for a probable series victory. But India had plenty of firepower in its ranks and the team put it to use with telling effect. A quickfire 18-ball 21 from Gambhir set the stage for Virender Sehwag and MS Dhoni.
The duo, not always the best of friends, combined to take India past the 100-run mark. Sehwag departed for a well made 64, off just 36 balls, and in came the talented Yuvraj Singh when there were still nearly a 100 to get in less than 10 overs.
The local lad got the crowd soaring into delirium with a brilliant 25-ball 60 containing five sixes to essentially put the match to bed. Dhoni made an untimely departure, but Yuvraj saw India through in the company of Dinesh Karthik to level the series.
#3 England vs South Africa, March 2016
South Africa currently has one of the most devastating batting line-ups in the world, and the line-up is one that can be a threat to any opponent in any format of the game. This attribute was in full display as South Africa posted a massive total of 229 in 20 overs at the Wankhede Stadium, Mumbai in the 2016 ICC World T20.
England had won the toss and elected to bowl first considering the dew factor at Wankhede. After witnessing the batting onslaught, it did not seem like England would find it hard to chase down the target.
Quinton de Kock and Hashim Amla were involved in a partnership of 96 in just 43 balls, with both of them scoring fifties. Although AB de Villiers and Faf du Plessis did not contribute much, JP Duminy played a valuable knock of 54 off 28 balls to help the Proteas propel their total.
In the chase, England opener Jason Roy started the innings in brilliant fashion as he scored 43 off 16 balls. Joe Root followed up Roy's brilliance with a 44-ball 83 to help England stage the second-best chase in T20Is and the best chase in World T20s.
#2 West Indies vs South Africa, January 2015
Chris Gayle is perhaps the most impressive T20 batsman of this generation. And on 11th January 2015, another Gayle special saw the West Indies thump South Africa in their own lair. Incredibly, Gayle helped his team believe and chase down a staggering 232 run target with as many as four balls to spare.
South Africa had never surrendered a T20 international when they were defending a score in excess of 180 runs. Faf du Plessis had set his team up to level the series with a belligerent hundred of his own; his hundred came off just 46 balls.
But with Gayle in a murderous mood, no target was too high. He launched into bowler after bowler to feed his lust for striking the ball. And when his 50 came off 20 balls, three more than in the previous match, the scene was set for a memorable chase.
The team threatened to implode after the departure of Gayle, but captain Darren Sammy held his nerve to see the team through to the top of the highest successful run chases in T20 internationals.
#1 New Zealand vs Australia, February 2018
In the first-ever T20 international tri-series played across the Tasman Sea between Australia, New Zealand and England, the record for the highest successful T20 international chase was achieved by the mighty Australian line-up. With the short boundaries at Auckland bringing in raining fours and sixes, Martin Guptill bashed 105 from 54 balls with 6 fours and 9 sixes. His opening partner Colin Munro hammered a 33-ball 76 as New Zealand racked up 243/6, the highest T20 score against Australia.
Cometh the chase, stand-in captain David Warner and young D'Arcy Short whacked at will, piling up a 121-run opening stand in just 8.3 overs. Warner hit 59 with 4 fours and 5 sixes, while Short smacked 76 from 44. Batting at four, Glenn Maxwell's cameo of 31 off 14 deliveries and number five Aaron Finch's 36* from 14 balls propelled Australia to a record run chase.
With seven balls to spare, Australia finished at 245/5 to achieve the highest T20 international chase.