WrestleMania Rewind: Shawn Michaels vs Ric Flair
3.73K //
Timeless
The granddaddy of them all, Wrestlemania is roughly a month away. The anticipation for the extravaganza is sky high among the WWE Universe. And since the pay-per-view is richer than Richie rich when it comes to history, we have decided to take a look back at some of the best Wrestlemania matches with this latest series.Over the last thirty years, WWE fans have witnessed some great Wrestlemania matches. One of those classics came from two legends at WrestleMania 24 when Shawn Michaels wrestled Ric Flair in a career threatening match that could prove to be Flairs final bout.
#1 The build-up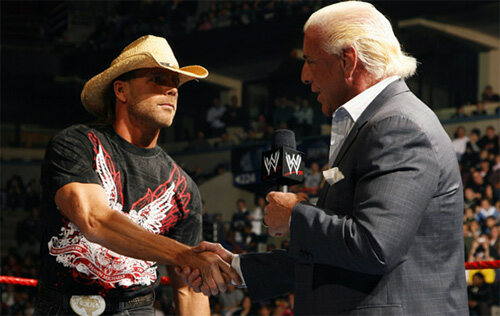 Flair had been fighting for months due to a harsh stipulation to keep his job but the inevitable would soon happen. Vince McMahon had announced that the next time Ric Flair were to lose a match, he would have to retire.
On 25th Feb Raw, Flair challenged Michaels to a match at Mania which Michaels was reluctant to accept because he didn't want to be the one to end a legend and his friend's career. Flair stated that if he couldn't compete with the best then he didn't want to anymore and Michaels ultimately accepted.
The night before WrestleMania, Ric Flair was officially inducted into the WWE Hall of Fame. An odd occurrence for at that point a still active competitor. However, that seemed to signal the end. Most assumed this would be Flair's final dance but not too many were ready to accept it yet.