| | |
| --- | --- |
| Full Name | Richard Morgan Fliehr |
| Date of Birth | February 25, 1949 |
| Nationality | USA |
| Birth Place | Memphis, Tennessee |
| Height | 6'1" |
| Weight | 243 lb (110 kg) |
| Theme Song | Dawn |
| Debut | December 10, 1972 |
| Nickname | The Nature Boy |
| Family | Jackie Beems m. 2009–2014 Tiffany VanDemark m. 2006–2009 Elizabeth Flair m. 1983–2006 Leslie Goodman m. 1971–1983 |
Ric Flair: A Brief Biography
The man known as the nature boy is considered a legend in professional wrestling. His career spans over 40 years winning world titles in NWA, WWE, WCW, etc. Ric Flair was adopted as a child by Dr. Richard Reid Fliehr and Kathleen Kinsmiller Fliehr. He was born in Memphis, Tennessee but was raised in Edina, Minnesota.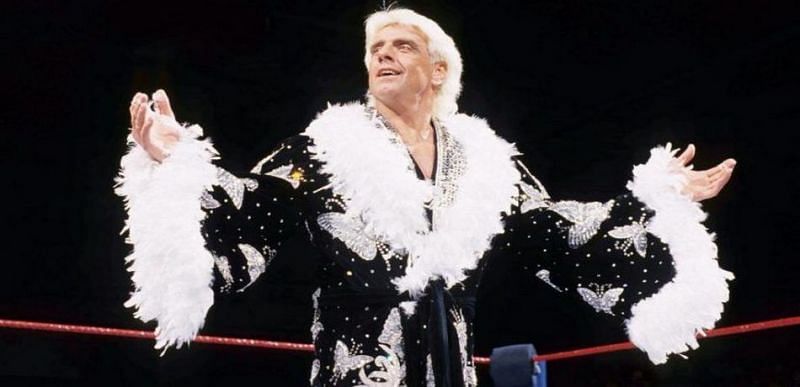 Early Years
He was trained by Verne Gagne. He made his professional wrestling debut on Dec 10, 1972, for the AWA. His travels took him to Japan, where he perfected his craft competing against the likes of Genichiro Tenryu, Riki Choshu, Jumbo Tsuruta, Harley Race, and Kerry Von Erich.
Jim Crockett Promotions/WCW
In 1974, he would make his way to Jim Crockett Promotions which would eventually become World Championship Wrestling (WCW). It is at this promotion where Ric Flair would truly become the nature boy. It was also the place he would form one of the greatest pro-wrestling stables of all time, The Four Horsemen. Ric Flair spent most of the 1980s in WCW.
Ric Flair First WWE/WWF Run
In 1991, he left WCW for the WWF, due to a change in management as well as proposed changes to his character. One of the major reasons this was notable is that Ric Flair was still the NWA World Heavyweight Champion at the time. In Sept 1991, he debuted on WWF Television with the 'Big Gold Belt' promoting himself as the real world champion. While his first run with the WWF was notable with feuds with Hulk Hogan, Rowdy Roddy Piper and Bret Hart, it was still not even close to his WCW run.
WCW Return
In February 1993, Rick Flair returned to WCW as a face and once again became a top draw in the company. With the arrival of Hulk Hogan and Randy Savage in 1994, he would enter into multiple feuds with them. Once the NWO formed in 1996, Ric Flair reformed the four horsemen to feud with the competing faction. Besides Sting, Ric Flair defined WCW. It was fitting that the final Monday Nitro in 2001 was between Ric Flair and Sting.
Second WWE Run
After sitting out his AOL Time Warner Contract, Ric Flair returned to WWE in 2002, acting as the storyline co-owner with Vince McMahon. He feuded with Vince McMahon which resulted in a brand split between WWE Monday Night Raw and WWE SmackDown. With Ric Flair on Raw, he formed a new group with HHH, Batista, and Randy Orton called Evolution from 2003 to 2005. During Ric Flair's second run, he competed in matches against the likes of The Undertaker, Shawn Michaels, HHH, and others. Ric Flair's last official match was WrestleMania 24 losing to Shawn Michaels. Ric Flair was inducted into the WWE hall of fame in 2008 and in 2012 as part of the four horsemen.
TNA Run
Ric Flair stunned the world when he returned to the squared circle after a perfect send-off. He did so at Ring of Honor, where he stayed for a while before joining TNA which would go on to become Impact Wrestling. Flair acted as a wrestler and a manager and even brought back The Four Horseman concept and renamed it The Fourtune. The Nature Boy left the promotion in 2012 and announced that he would never wrestle again.
Appearances as a Legend
in 2012, Ric Flair became the first superstar in the history of WWE to be inducted into the Hall of Fame twice, first as an individual and then as a member of The Four Horseman. He acted as a mentor to The Miz for a brief period and also occasionally appeared on NXT to support her daughter Charlotte Flair.
He became an almost full-time manager for her daughter when she won the Divas Championship on the main roster and continued to assist her in matches until she turned on him. Flair made sporadic appearances as a legend before getting attacked by Batista in 2019.
Flair then aided his fellow Evolution member Randy Orton in 2020 until the latter attacked him. The last storyline The Nature Boy was involved in before getting released by WWE was a romantic angle alongside Lacey Evans, which was scrapped due to latter's pregnancy.
Ric Flair WOO
While Ric Flair has multiple catchphrases, the Woo deserves its own place in the WWE Hall of Fame. The WOO Chant is said to have been taken from Great Balls of Fire by Jerry Lee Lewis. In the song, Jerry Lee Lewis can be heard using 'Woo' extensively throughout the song. Ric Flair used that song as inspiration and ran with it. When he would perform chops in the ring, the crowd goes 'Woo.' His daughter uses it to great effect with her version of the 'Woo' chant.
Ric Flair Spouse
Ric Flair has been married a total of 5 times. Ric Flair's current spouse is Wendy Barlow, who he recently married in 2018.
Championships And Accomplishments
| | |
| --- | --- |
| Championships | Number of Times |
| NWA Hall of Fame | 1 |
| NWA Mid-Atlantic Heavyweight Championship | 3 |
| NWA Mid-Atlantic Tag Team Championship | 3 |
| NWA Missouri Heavyweight Championship | 1 |
| NWA World Heavyweight Championship | 10 |
| NWA World Tag Team Championship | 3 |
| Royal Rumble Match | 1 |
| WCW International World Heavyweight Championship | 2 |
| First WCW Triple Crown Champion | - |
| WCW World Heavyweight Championship | 7 |
| World Tag Team Championship | 3 |
| WWE Hall of Fame | 2 |
| WWE Intercontinental Championship | 1 |
| WWE Triple Crown Champion | - |
| WWE World Heavyweight Championship | 1 |
FAQ
What happened to Ric Flair's son?
He died from an overdose of heroin which was mixed with other prescription drugs. He was found dead in his hotel room.
Is Charlotte Flair Ric Flair's daughter?
A second generation professional wrestler, she is the daughter of Ric Flair.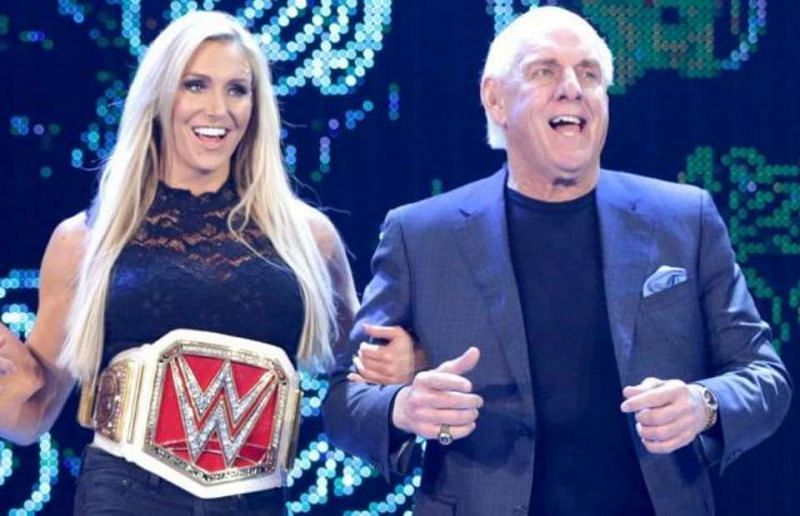 Who is Ric Flair married to?
Jackie Beems (m. 2009–2014)
Tiffany VanDemark (m. 2006–2009)
Elizabeth Flair (m. 1983–2006)
Leslie Goodman (m. 1971–1983)
How old is Ric Flair new wife?
59 years (7 May 1960)
How much money does Ric Flair have?
Ric Flair's net worth is estimated to be roughly $500 Thousand dollars as of 2019